Twitter breaking client apps by lying about API rules has not impressed anyone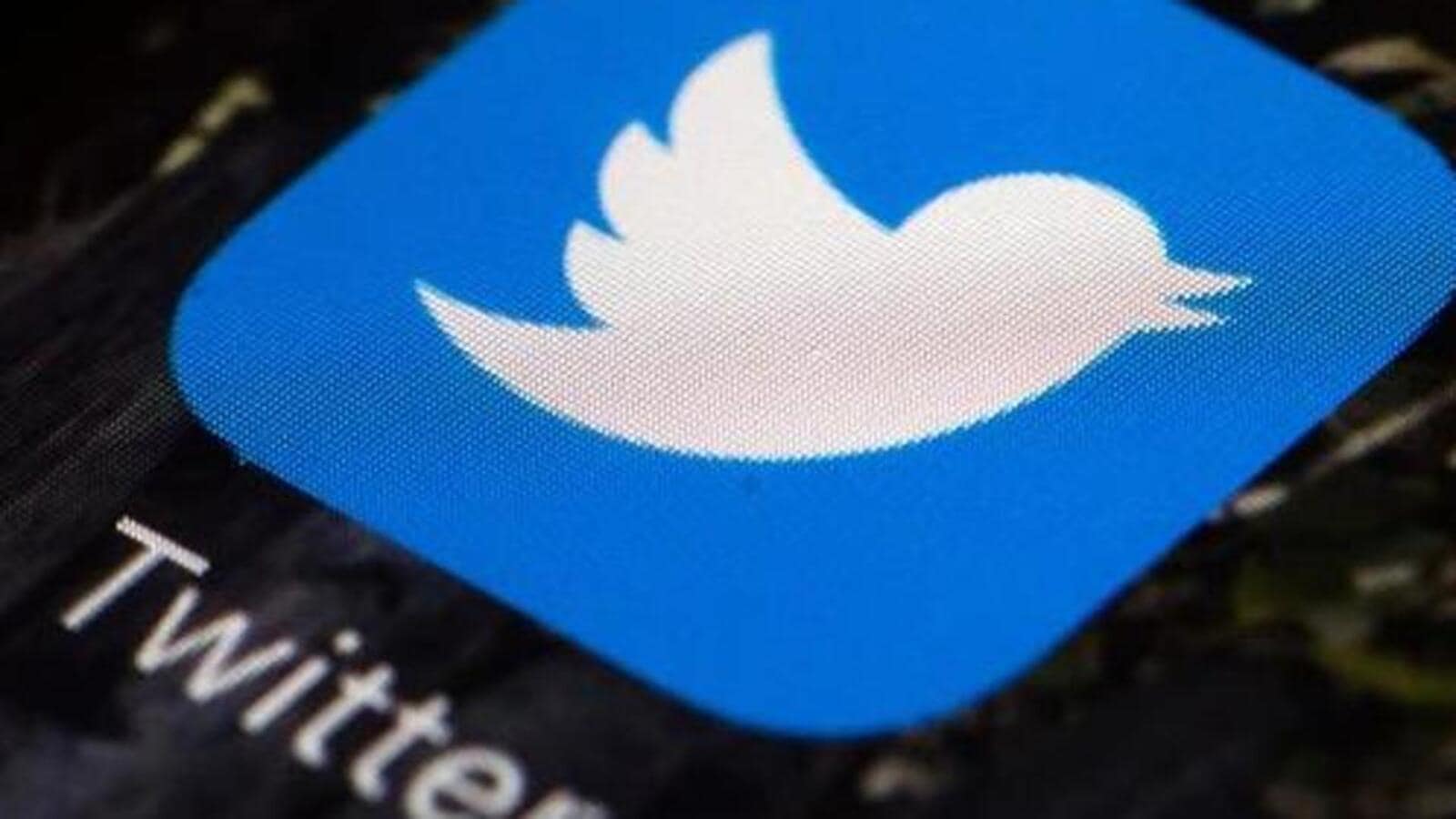 It is becoming nigh impossible to Twitter to announce any changes in a dignified manner these days. After almost a week of bewilderment as access for some third-party apps was blocked, there is finally confirmation (or rules cobbled together at the last minute). Twitter clients that you may have been using till now, will no longer work. This has impressed no one, least of all developers who were locked out with no prior communication about any changes that were in the works.
This means apps such as Twitterrific, Tweetbot, Fenix, Aviary, Birdie and Echofon, just to name a few, will no longer pull in new tweets. There is no coming back either. Twitter on Thursday updated the developer agreement to include "use or access the Licensed Materials to create or attempt to create a substitute or similar service or product to the Twitter Applications" as part of the restrictions regarding Twitter API.
API is a software layer, short for application programming interface, which allows two apps or platforms to communicate with each other. In this case, third-party clients were using the API (and had been doing so for years) to give you access to your Twitter feed and messages, outside the Twitter app.
Also Read: Twitter revenue dropped 40% YoY, over 500 advertisers have paused spending: Report
There are many reasons why users preferred these apps. One is familiarity having used these for years. Second is the extra set of features and customisation that client apps could offer, which official Twitter apps didn't. Third, and this is probably what irked the Elon Musk owned social media platform the most, is these clients were a nice way for users to bypass ad layers you may otherwise have seen.
Developers are not impressed that their revenue stream has been blocked and apps rendered useless, with immediacy, after a swift update to the developer agreement.
Twitterrific, which had been around since 2007, remained one of the most popular Twitter app alternatives in the 16 years of its existence.
"We are sorry to say that the app's sudden and undignified demise is due to an unannounced and undocumented policy change by an increasingly capricious Twitter – a Twitter that we no longer recognize as trustworthy nor want to work with any longer," writes the company, in a post.
"Finally, some clarity we apparently broke the long-standing rule of "use or access the Licensed Materials to create or attempt to create a substitute or similar service or product to the Twitter Applications". I guess I didn't realize long standing actually means a couple hours ago, once again I'm deeply sorry," says Paul Hadad, co-founder at Tapbots, makers of the Tweetbot client.
In 2021, Twitter which was then safely in the pre-Elon Musk era, had in-fact updated the developer agreement to remove a clause that discouraged app makers from developing and marketing Twitter clients. It was part of Twitter's larger effort to reach out to developers, particularly appreciating efforts which helped add features to Twitter.
This is most surprising at a time when Twitter's current CEO, Elon Musk is quite active in posting musings, rants, polls, and policy changes to his followers (or bots, depends on which side of the coin you're looking at), almost by the minute. There has been deafening silence on this one, however.
The only communication around API changes was on Jan 17, days after some clients were already blocked from access, when the Twitter Dev account posted, "Twitter is enforcing its long-standing API rules. That may result in some apps not working".
Twitter no longer has a communications department which can be tasked with, in an ideal world at least, disseminating important information for developers and users.
It absolutely wouldn't be a surprise that the reason by this is – money. Remember the brouhaha a few weeks ago about the supposed "Apple tax" which was used as the pretext to drive up the price of the otherwise $8 Twitter Blue subscription to $11. It was then said, this is the specific price for iPhone users, because Apple takes a cut. Now it turns out, Android users have to also pay $11 for subscribing via the Google Play Store.
Yet, strangely missing is Elon Musk's outrage and tweet barrage, this time around.
Twitter is frankly, in worse shape now than when Elon Musk was forced to complete his Twitter acquisition last year. In a compilation done by research firm Pathmatics for Reuters, it has emerged that 14 out of the top 30 advertisers previously, stopped all advertising on Twitter after Musk took charge in late October.
The overall advertising spending by the top 30 companies is estimated to have dipped 42% to an estimated $53.8 million, for November and December combined. Many advertisers are unhappy with content moderation on the platform since Elon Musk took over, including hate speech and reinstating previously blocked accounts, such as that of former US President Donald Trump.
Union Budget 2023 today: What to expect from Nirmala Sitharaman | Top points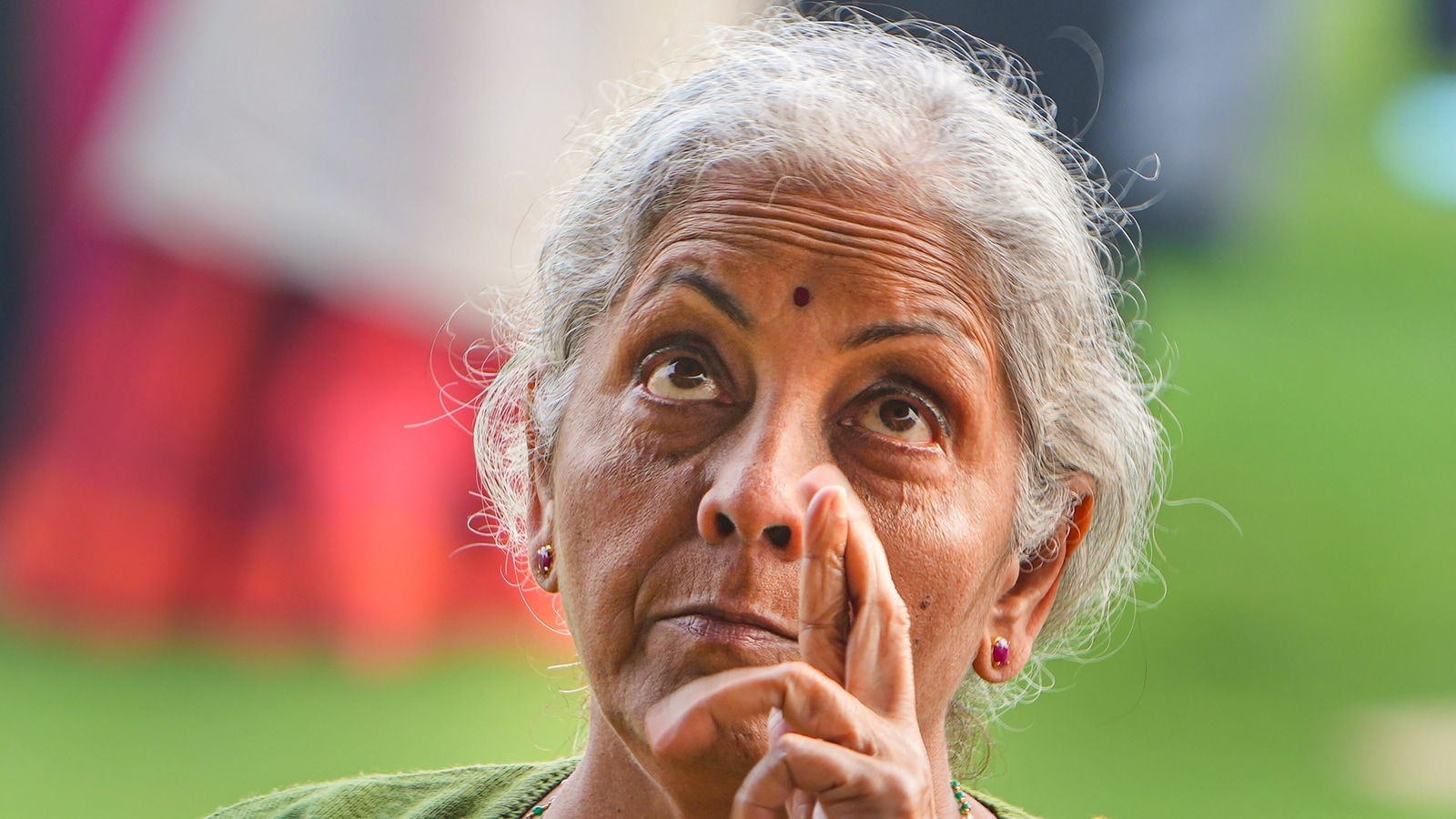 Union finance minister Nirmala Sitharaman on Wednesday will unveil the last full-year budget before Prime Minister Narendra Modi-led NDA government seeks a third term in the 2024 Lok Sabha election.
From 11am in Parliament, Sitharaman is expected to announce a spending plan of over $544 billion in the financial year starting April to boost employment, fund social welfare and provide perks for manufacturing.
Bloomberg reported that Sitharaman may make a few changes to income-tax slabs to provide relief to the middle class and increase the spending on the poor through programmes such as rural jobs. The Union Budget 2023 may also focus on ramping up financial incentives for local manufacturing.
Union Budget 2023: Here are big expectations
> There are expectations that Sitharaman would put some money in the pockets of taxpayers. She is also likely to raise import duties on items such as private jets, helicopters, high-end electronic items and jewellery to encourage domestic manufacturing.
> India's jobless rate jumped to a 16-month high of 8.3 per cent last month. DBS Group economist Radhika Rao told Bloomberg that the spending on rural job guarantees to top this year's allocation of ₹730 billion ($9 billion), with crop insurance, rural road infrastructure and low-cost housing also getting attention.
> The budget may see production-linked incentives getting extended to sectors such as shipping containers and toys.
> The focus is expected to be on increasing the number of nursing and medical colleges, introducing HPV vaccine in the National Immunisation Program and enhancement of Pradhanmantri Jan Arogya Yojana (PMJAY) coverage. Reports indicate that the health ministry has proposed the inclusion of many other requirements and its expected that some of them will be included in Budget 2023-2024.
> The Budget 2023 is a much-anticipated event for the real estate sector in India. Industry experts and stakeholders have high expectations from the government as they hope to see a number of reforms and initiatives that can help boost the real estate market and encourage investment in the sector.
> Live Mint reported that the government may provide record budgetary support to strengthen the infrastructure of Indian railways as well. The gross budgetary support for the railways is likely to increase by 29 per cent to ₹1.8 trillion in the year starting April 1 from ₹1.4 trillion in the current year.
> The budget session of the Parliament began on Tuesday with President's address. This year's budget session is going to have 27 sittings till April 6 with a month-long recess to examine the budget papers. The first part of the session will conclude on February 13. Parliament will reconvene on March 12 for the second part of the Budget Session and conclude on April 6.
> The Union Finance Minister, Nirmala Sitharaman on Tuesday tabled the Economic Survey for the Financial Year 2022-23.
> The Economic Survey said India's economic recovery from the Covid pandemic is complete and the economy is expected to grow in the range of 6 per cent to 6.8 per cent in the coming financial year 2023-24. This is in comparison to 7 per cent this fiscal and 8.7 per cent in 2021-22.
Number Theory: What does the Economic Survey tell us about the Budget?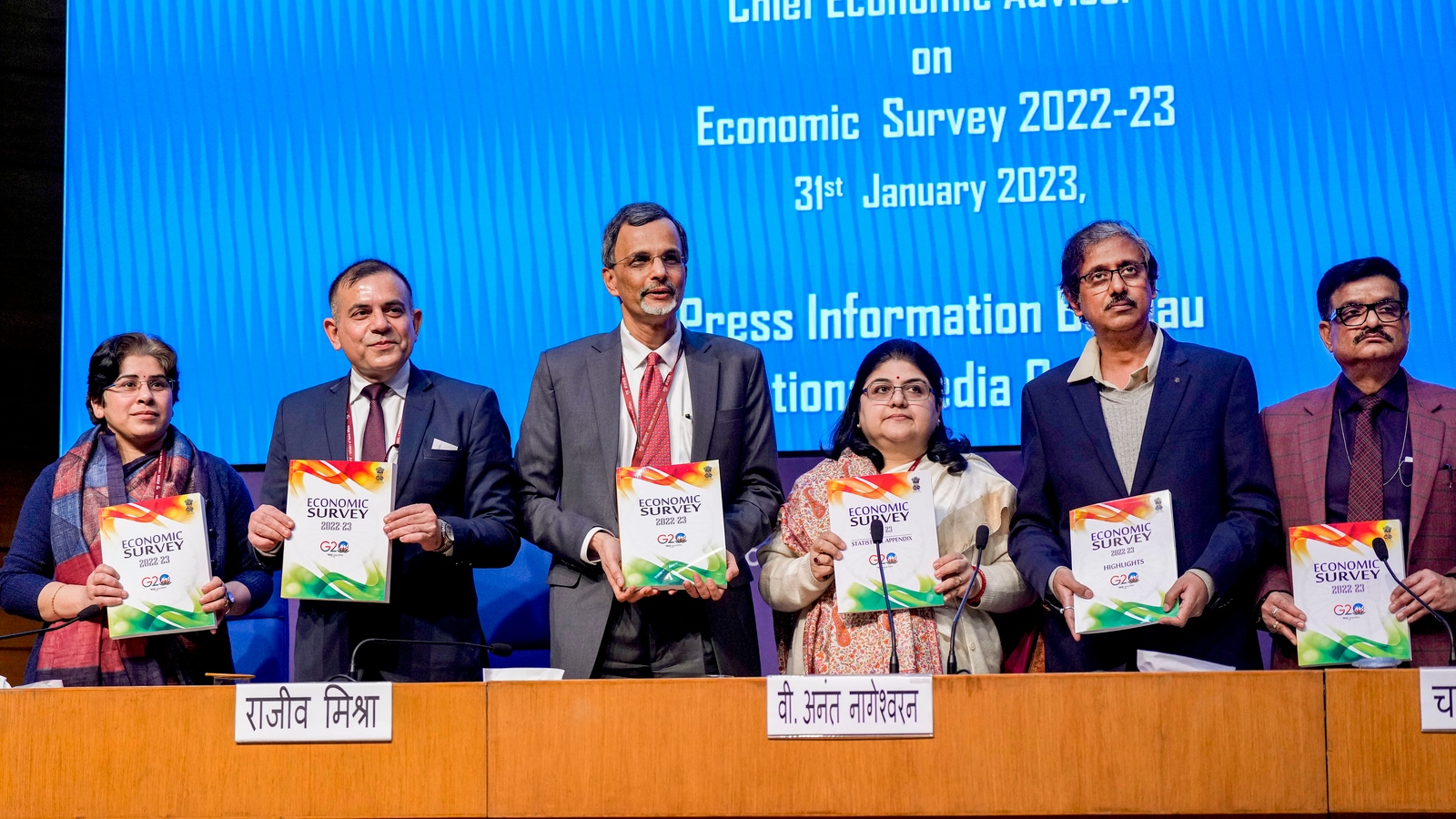 What does the 2022-23 Economic Survey — it was tabled in Parliament on January 31 — tell us about the Union Budget? Here are four things that stand out.
Revenue growth in 2023-24 could slow down with a lower nominal GDP growth
The survey has projected a nominal growth rate of 11% for 2023-24. Real GDP growth, according to the survey, is expected to be in the range of 6-6.8%. The first advanced estimate of GDP, which was released by the National Statistical Office (NSO) earlier this month, put nominal GDP growth in 2022-23 at 15.4%. This means that nominal growth is expected to slow down significantly in the next fiscal. Unless there is a significant increase in tax buoyancy – the change in tax collections per unit change in GDP – growth in tax revenues in 2023-24 will likely be lower than what it was in 2022-23. To be sure, the moderation in nominal growth is more because of a decline in inflation rather than a fall in real GDP growth, which as per survey's baseline projection is likely to be 6.5% next year.
UNION BUDGET 2023: FULL COVERAGE
The government will likely achieve its fiscal deficit target for 2022-23 and consolidate further in FY24
Last year's Budget estimated fiscal deficit for 2022-23 at 6.4% of GDP. While the Revised Estimate (RE) for fiscal deficit will presented in tomorrow's budget (and even RE numbers are liable to changes) the survey does drop a hint that the government will be able to achieve its fiscal deficit target for 2022-23. This, the survey suggests, has happened because of buoyant growth in direct taxes and Goods and Services Tax (GST) and limited revenue expenditure, "which should ensure the full expending of the Capex budget within the budgeted fiscal deficit".
ALSO READ: After 'smart recovery' from Covid, what do MSMEs expect from Budget 2023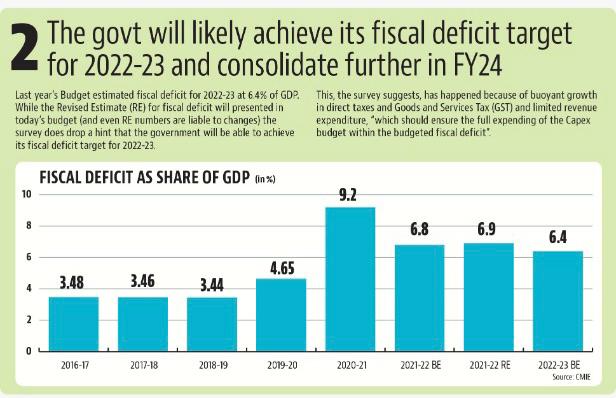 Focus on disinvestment and asset monetisation programme will continue
One area where the budget has fallen significantly short of its targets in the recent past is disinvestment. For example, the Budget Estimate (BE) for disinvestment receipts in the 2021-22 Budget was ₹1.75 lakh crore, which was brought down to ₹78,000 crore in the RE numbers for 2021-22. BE numbers for 2022-23 put disinvestment receipts at ₹65,000 crore. While the RE numbers for 2022-23 are likely to be lower than this number, the survey suggests that the government's disinvestment push is likely to continue. The survey, in fact, has tied disinvestment and the asset monetisation programme of the government to the capex tilt in government spending. "A capex thrust in the last two budgets of the Government of India was not an isolated initiative meant only to address the infrastructure gaps in the country. It was part of a strategic package aimed at crowding-in private investment into an economic landscape broadened by the vacation of non-strategic PSEs (disinvestment) and idling public sector assets", the survey said.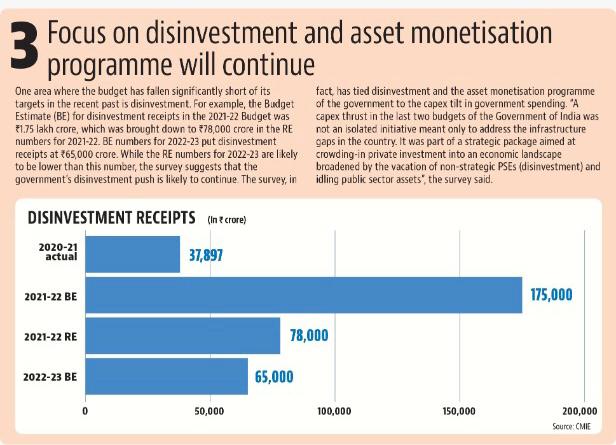 A big stimulus to mass demand may not be in the offing
Here the survey has said more by way of omission than commission. Chapter two of the survey, which talks about India's medium-term growth prospects, makes an argument that India is set to leapfrog into a sustained high growth trajectory in 2023-2030 as a result of policy driven reforms during the 2014-2022 period. The growth boom, the survey argues, was delayed because of "balance sheet stress caused by the credit boom in the previous years and secondarily due to the one-off global shocks that followed". "Once these global shocks of the pandemic and the spike in commodity prices in 2022 fade away, the Indian economy is well placed to grow faster in the coming decade".
To be sure, it is to be expected that the Economic Survey – it is after all a government document – will paint a comforting picture of the state of the economy. However, this year's survey has made a larger argument to suggest that the concerns of a K-shaped recovery in the economy where the rich (both firms and households) have done better and emerged as the primary driver of the growth revival, are unfounded. This also means that the government does not see any need to support the aggregate demand of the non-rich, which would entail larger spending on the revenue and not just capital account.
This has in fact been the driving philosophy of the budget in the post-pandemic period, and the survey's line of argument suggests that it will continue to be the case. While such as approach has helped India's macroeconomic fundamentals, keeping the fiscal deficit and debt-GDP ratio in check, its exact implications for long-term growth are still to be seen. That India does not have a Consumption Expenditure Survey after 2011-12 has only made this debate more difficult to resolve.
What Economic Survey says about education: Decline in…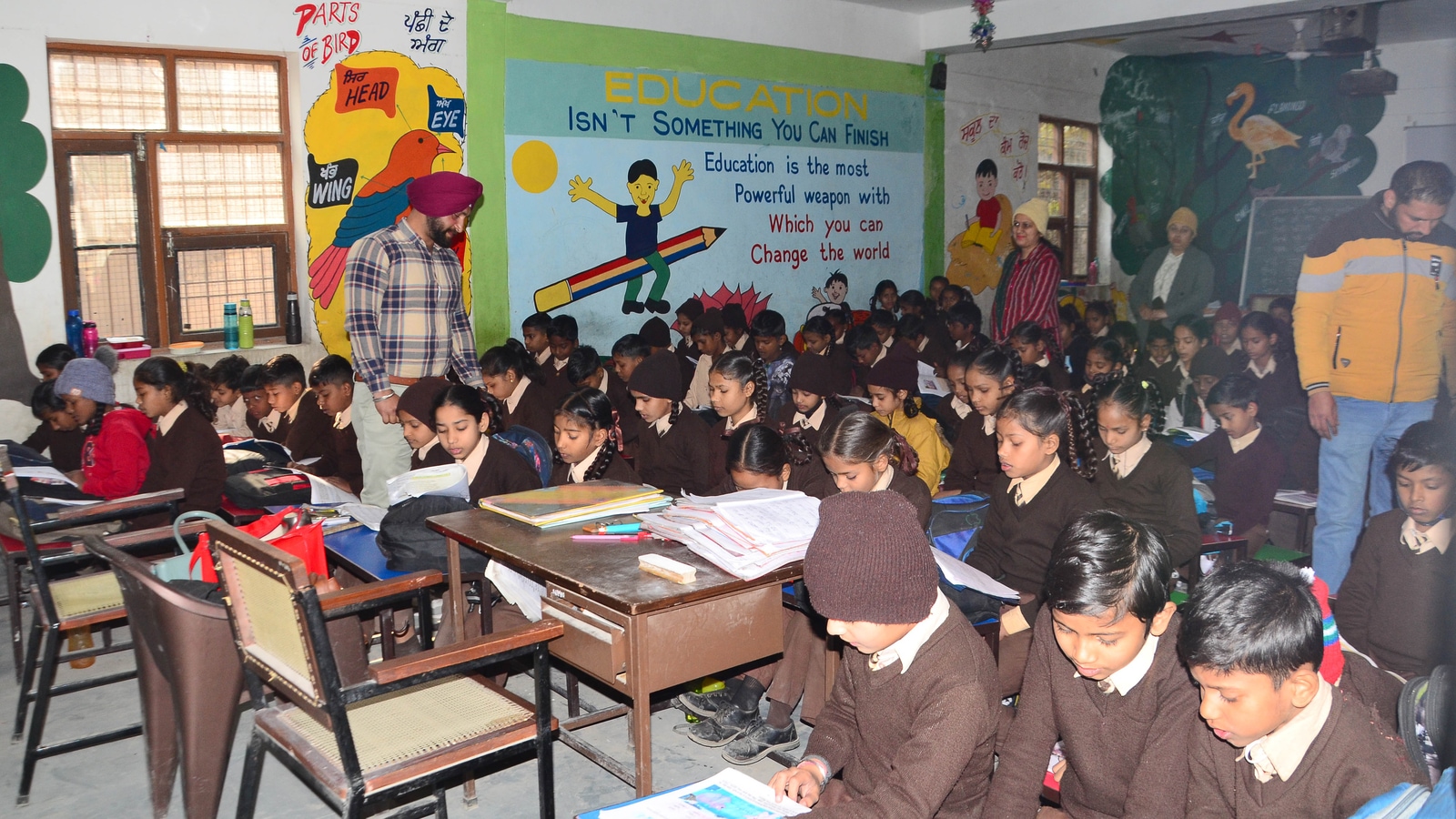 Enrolment of students increased in schools across the country in financial year 2022, with an additional 194 million students being enrolled, while at the same time the drop-out rate witnessed a "steady decline", the economic survey 2022-23 said.
The survey tabled by Union finance minister Nirmala Sitharaman in Parliament on Tuesday said financial year 2021-2022 (FY22) witnessed an improvement in the gender parity in school enrolment, growth in basic infrastructure facilities at school level, and a better pupil-teacher ratio in schools.
UNION BUDGET 2023: FULL COVERAGE
According to the survey, 265 million children were enrolled in schools across the country with around 194 million additional children being enrolled in primary to higher secondary levels. Of these 194 million, around 10 million children were enrolled in pre-primary (pre-nursery, nursery and kindergarten), 122 million in primary (classes first to fifth), 67 million in upper primary (classes sixth to eighth), 39 million in secondary (classes 9 and 10) and 29 million in higher secondary classes (classes 11 and 12).
The enrolment has increased at all levels except for pre-primary. "At the pre-primary level, enrolment reduced from 1.1 crore [11 million] in 2021 to 1.0 crore [10 million] in 2022," said the survey.
Read | What does the Economic Survey tell us about the Budget?
The survey says that the financial year 2021-22 saw an improvement in Gross Enrolment Ratios (GER) in schools across all levels. GER stands for the enrolment in a specific level of education, regardless of age, expressed as a percentage of the eligible official school-age population corresponding to the same level of education in a given school year.
"The GER in the primary enrolment in class I to fifth as a percentage of the population in age 6 to 10 years – for girls as well as boys have improved in FY 22. This improvement has reversed the declining trends between FY17 and FY19," the survey said.
According to the survey, at the upper primary and primary level, the GER for girls is better than that for boys.
For instance, at the primary level, 104.8% girls and 102.1% boys were enrolled in 2021-22. It recorded an improvement from 2020-21 when 104.5% girls and 102.2% boys were enrolled. Similar trends have been observed at the upper primary level as well. In 2021-22, 94.9 % girls were enrolled as opposed to 94.5% boys. This was 92.7% and 91.6% for girls and boys respectively in 2020-21.
In higher education, the total enrolment increased to nearly 41 million in FY21 from 39 million in FY20. Since FY15, there has been an increase of around 7.2 million in enrolment , approximately by 20%. "The female enrolment has increased to 20 million in FY21 from 19 million in FY20," said the survey.
The survey highlighted an increase in the GER in higher education as well. "The GER in higher education, based on 2011 population projections (revised), was recorded at 27.3 in FY21, which is an improvement from 25.6 in FY20. The GER for males increased from 24.8 in FY20 to 26.7 in FY21 while GER for females has also shown improvement from 26.4 to 27.9 during the same period," it said.
The survey highlighted a "steady decline" in school drop out rates at all levels from 14% in 2020-21 to 12.6% in 2021-22. The survey emphasised that government schemes such as Samagra Shiksha, and Right to Education (RTE) Act 2009, improvement in school infrastructure and facilities, residential hostel buildings, availability of teachers, regular training of teachers, free textbooks, uniforms for children, and the PM POSHAN Scheme played the major role in increasing enrollments and retaining students.
It also mentioned that distance education in India also witnessed a 7% increase in enrolment in the financial year 2021-22 from FY20, and 20% increase since FY15.
"Basic facilities in schools continued to improve in FY22 over earlier years except for medical check-ups in schools as the schools remained closed physically in the wake of Covid-19 curbs," the survey stated.
In terms of school basic facilities, including toilets (girls or boys), drinking water, and hand-washing facilities, and digitisation, the survey showed a significant improvement. For instance, the number of schools having the internet increased to 33.9% in 2021-22 from 24.5% in 2020-21.
Terming Pupil-Teacher Ratio as an indicator which is inversely related to improvement in quality of education, the survey stated that it has improved at all levels continuously between FY13 to FY22. "It has increased from 34.0 to 26.2 at primary, 23.0 to 19.6 at upper primary, 30.0 to 17.6 at secondary, and 39.0 to 27.1 at the higher secondary level. The improvement in the number of schools, teachers' availability, and facilities in schools is expected to help improve enrolment and reduce dropout rates," the survey started.