Priyanka Chopra's daughter Malti 'was so quiet' during magazine photoshoot | Bollywood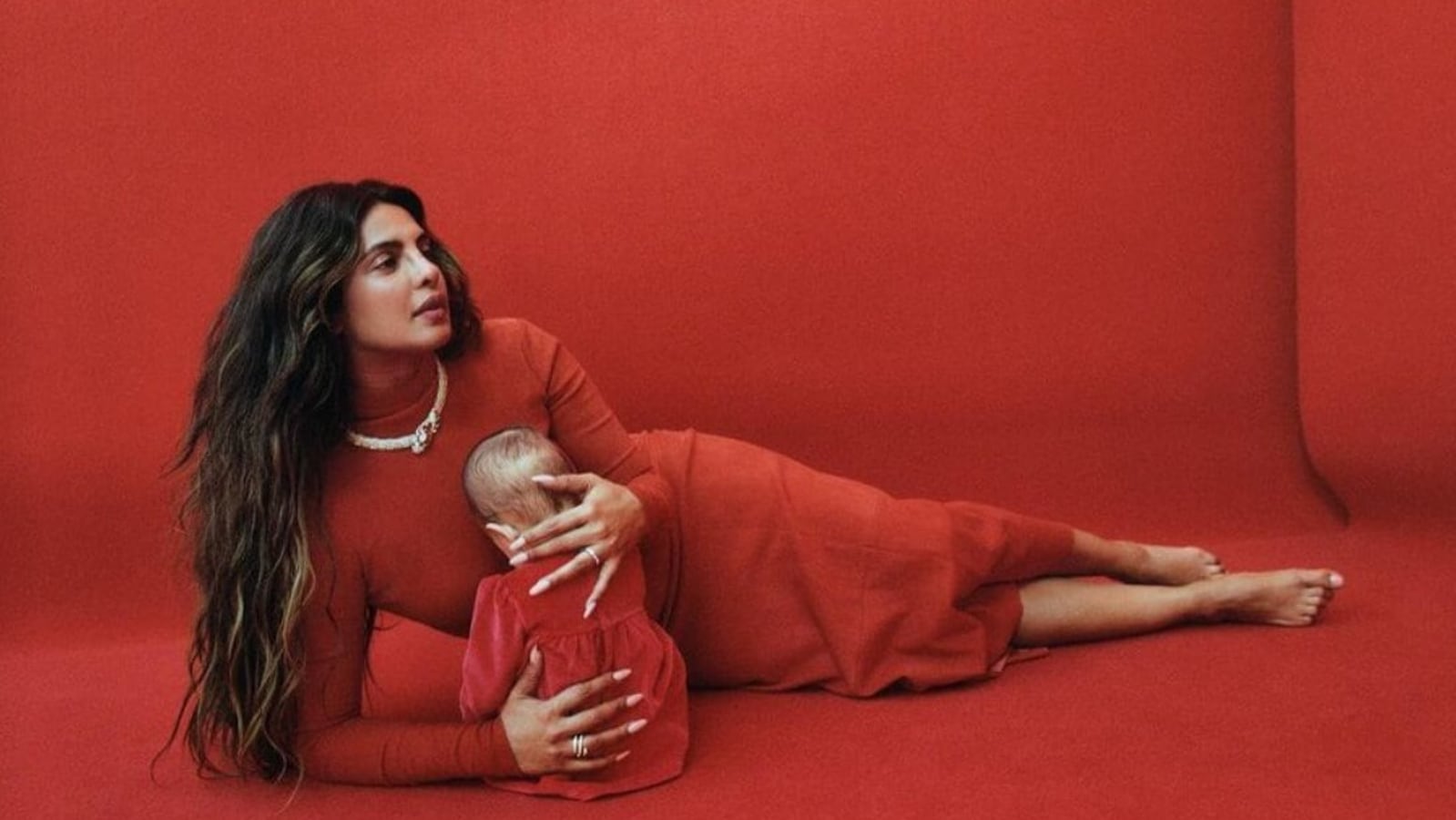 Priyanka Chopra opened up about her surrogacy journey with singer-husband Nick Jonas in a new interview. Much to everyone's surprise – due to the couple's tendency to keep their family life private – their daughter Malti Marie Chopra Jonas made it into the magazine's photo feature, where the two matched in red dresses. Their looks were curated by Priyanka's personal stylist, Law Roach, who spoke about working with Malti, his youngest client, in a new interview. Also read: Priyanka Chopra poses with Malti for magazine, recalls her premature birth complications
In a picture from British Vogue's February 2023 cover photoshoot, Priyanka Chopra posed barefoot in a red midi dress worn with a statement choker. Priyanka kept daughter Malti close to her chest and hugged her, showing off her baby's red dress as her back was turned to the camera while modeling with her mother. Speaking about Malti, celebrity stylist Law Roach said the baby, who turned one this month, was 'so quiet' on the set, but when prompted to pose, she would 'just smile."
"(Malti) was ready to perform! She was so quiet, but when prompted to do anything she just smiled," Law Roach told British Vogue in a new interview. Speaking about the mother-daughter's photo, one of the most-striking images from Priyanka's latest magazine photoshoot, he said, "It's art." The stylist, who has worked with celebs like Bella Hadid, Megan Thee Stallion, Zendaya, and many others, also added that he wanted Priyanka and Malti's photo to be 'blown-up and framed' to hang in their Los Angeles home.
In January, last year, Priyanka and Nick Jonas had shared a simple, picture-less post celebrating Malti's arrival, writing, "We are overjoyed to confirm that we have welcomed a baby via surrogate. We respectfully ask for privacy during this special time as we focus on our family. Thank you so much." While their Instagram post garnered millions of 'likes', many were quick to voice their opinion on the couple's choice of surrogacy. In her new British Vogue interview, Priyanka said she witnessed accusations of 'outsourcing' her pregnancy and 'renting' a womb, among other things. "I've developed a tough hide when people talk about me," she said, adding, "But it's so painful when they talk about my daughter. I'm like, 'Keep her out of it.' I know what it felt like to hold her little hands when they were trying to find her veins. So no, she's not going to be gossip."
Pathaan box office week 1 roundup: Fastest Hindi film to cross ₹300 cr in India | Bollywood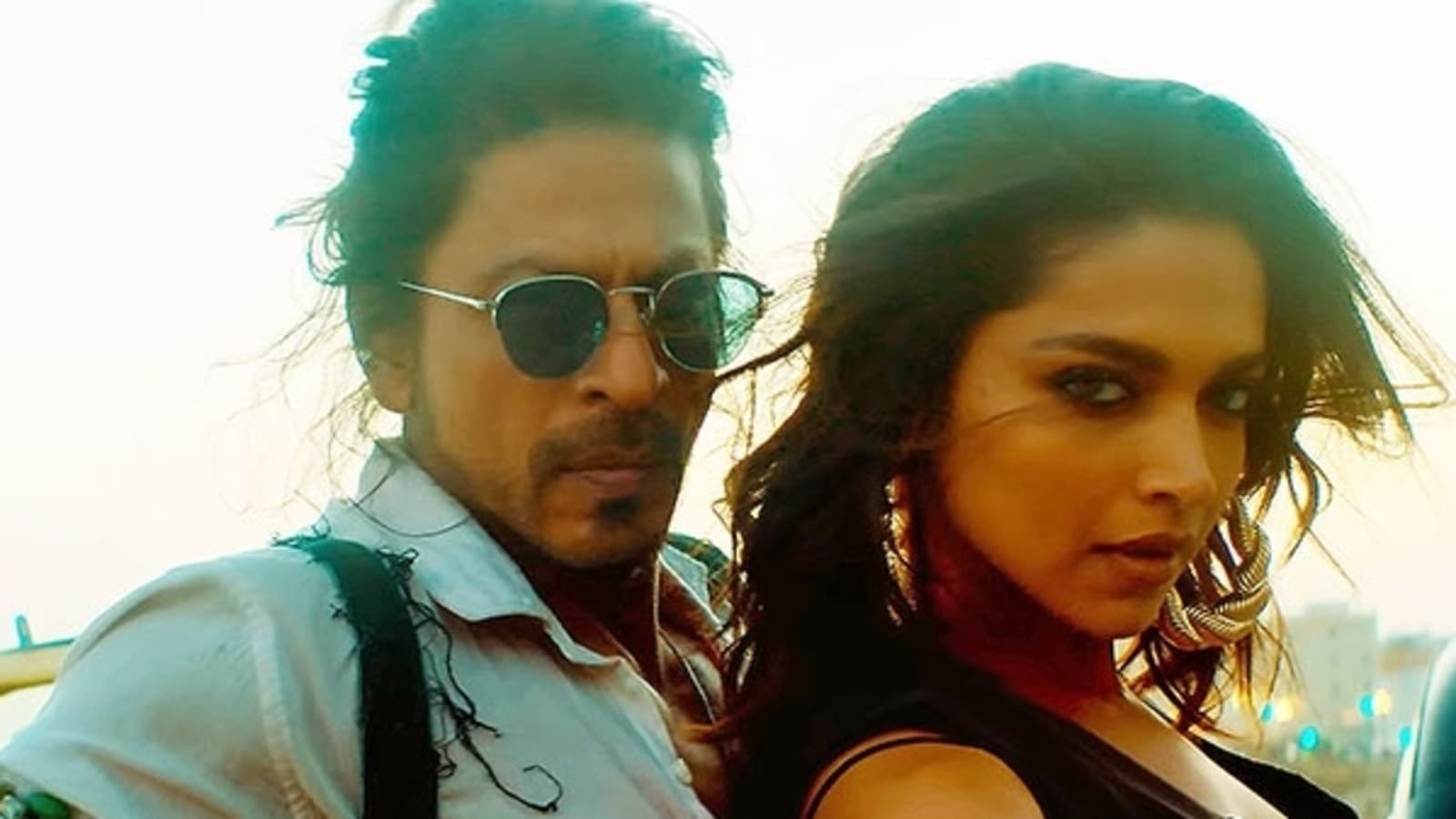 After Pathaan earned ₹21 crore crore nett on its seventh day in India, the Shah Rukh Khan-starrer became the fastest Hindi film to cross ₹300 crore mark after Baahubali 2: The Conclusion. Pathaan's first week collection at the domestic box office now stands at ₹315 crore nett. Pathaan, which also stars Deepika Padukone, John Abraham, Ashutosh Rana and Dimple Kapadia, was released on January 25. Also read: Pathaan box office day 6 collection
Pathaan, which has been making and breaking records since it was released worldwide, entered the ₹300 crore club in only seven days, beating the record held by Baahubali 2: The Conclusion's Hindi version since 2017, which took 10 days to enter the ₹300 crore at the domestic box office, tweeted trade analyst Taran Adarsh on Wednesday. He added that the Hindi version of KGF: Chapter 2 (2022) reached the ₹300 crore-mark in 11 days, while Aamir Khan's Dangal (2016) took 13 days for the same. Both Sanju (2018) and Tiger Zinda Hai (2017) took 16 days each to enter the ₹300 crore club. Meanwhile Aamir's PK (2014) and Hrithik Roshan's War (2019) took 17 days and 19 days, respectively, to achieve the ₹300 crore-feat.
| | |
| --- | --- |
| Pathaan | Day 7 |
| Baahubali (Hindi) | Day 10 |
| KGF 2 (Hindi) | Day 11 |
| Dangal  | Day 13 |
| Sanju  | Day 16 |
| Tiger Zinda Hai | Day 16 |
| PK  | Day 17 |
| War  | Day 19 |
| Bajrangi Bhaijaan | Day 20 |
| Sultaan | Day 35 |
Moreover, Pathaan's week one box office collection – ₹315 crore nett – is ₹65 crore nett more than KGF: Chapter 2, which held the highest first week total before Pathaan swept passed it in five days, as per a Box Office India report. Directed by Siddharth Anand, Pathaan was released a day before Republic Day 2023 in Hindi, Tamil and Telugu languages. The action film backed by Yash Raj Films also has a special appearance by actor Salman Khan.
Pathaan has been breaking records ever since its release. Earlier, the film has crossed the ₹200 crore nett-mark in only four days, making it the fastest Hindi film to enter the ₹200 crore-club. Even before the release of the film, Pathaan had smashed records with its incredible advance bookings. The advance bookings for Pathaan were opened on January 20.
Due to growing demands, theatre owners in many parts of India had reportedly decided to have early morning screenings of the film. Earlier, there were also reports that the film's morning shows had been cancelled as protests emerged outside theatres in Indore on Pathaan's opening day. Pathaan was released on January 25, after facing boycott calls and protests against the film's cast and crew in recent weeks.
Inside Kareena Kapoor's bday bash for Amrita with Malaika Arora, AP Dhillon | Bollywood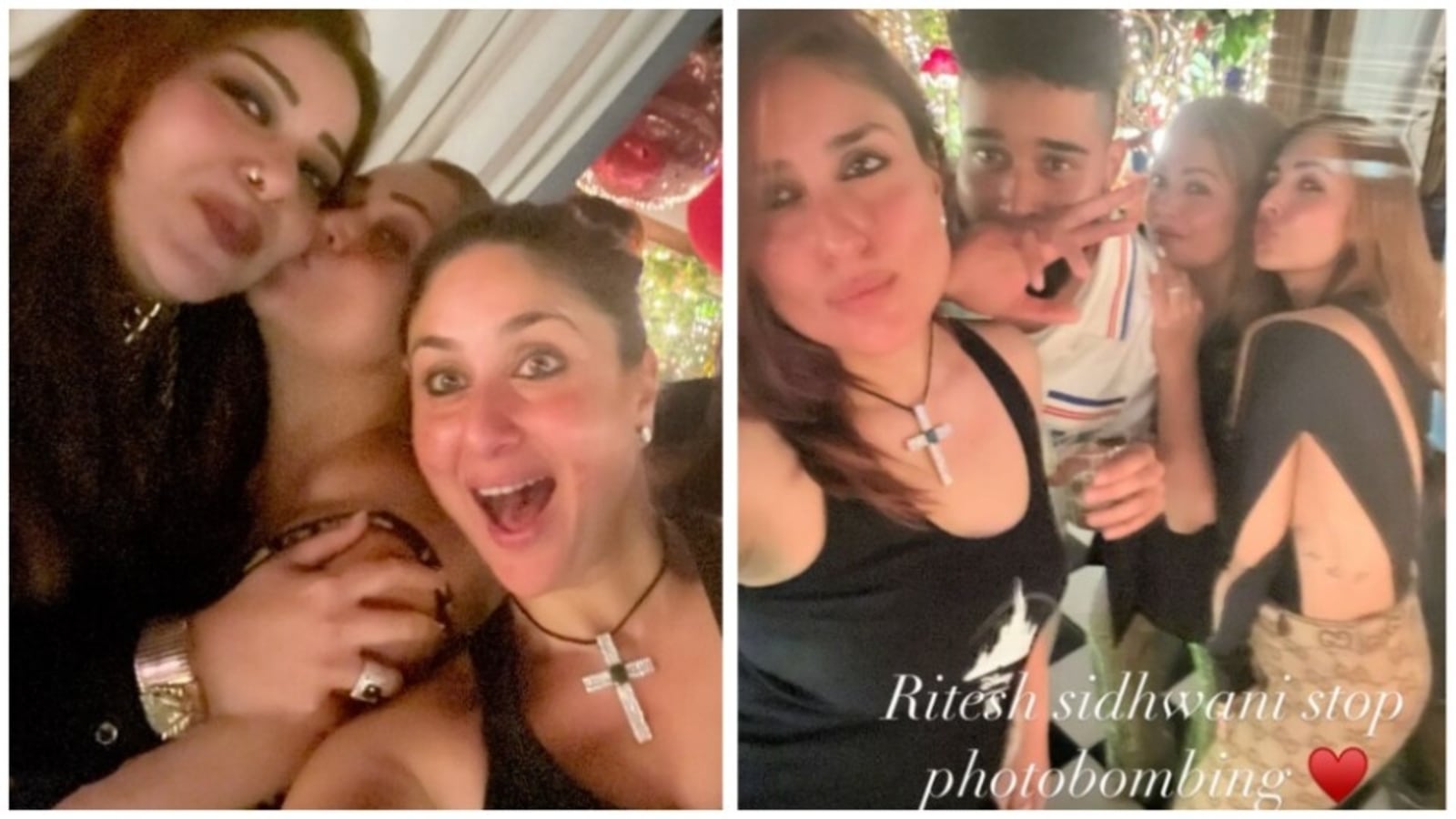 Kareena Kapoor proved she is a great best friend to have as she threw a cosy birthday bash for Amrita Arora at her own home. Kareena decked up her new Mumbai home in balloons and flowers and threw a party. In attendance were all these best friends and even Punjabi singer-rapper AP Dhillon. Also read: Kareena Kapoor wraps up new year celebrations with a perfect family photo from Switzerland
Kareena wore a black tank top for the occasion with a large cross around her neck. Amrita also wore a black outfit. Her big sister Malaika Arora was seen in a black top with sheer details and a pair of beige pants. She was joined by her boyfriend Arjun Kapoor, who arrived in casual clothes. Also spotted outside Kareena's home was her big sister Karisma Kapoor in a red printed dress. AP Dhillon was seen in a white silk shirt. Also present for the party were Farhan Akhtar and Shibani Dandekar; and Ritesh Sidhwani with his wife Dolly Sidhwani.
Kareena also took to Instagram Stories to share inside pictures from the party. In one, she was seen with her hair tied him, smiling wide while Amrita gave a kiss to Mallika Bhat on her cheek. Another photo showed Malaika, Amrita and Kareena posing with AP Dhillon, who tried to hide his mouth with his hand. Ritesh was seen in the background and Kareena wrote, "Ritesh Sidhwani stop photobombing."
Amrita shared pictures of Kareena's home on Instagram and showed how her BFF decorated the terrace for her. There was a large golden balloon surrounded by plants, fairy lights and lamps. She thanked Kareena for throwing a party for her.
Amrita and Kareena have long been friends. She even appeared on her radio show, What Women Want. In an earlier interview with HT, Kareena said about her friends group, "Lolo (Karisma) is most shy, and I would say Malaika is the most adventurous. She is quite fearless. Ammu and me, we are only interested in wine and pasta! (laughs) Lolo is the shy prude, and she has always been that type of person."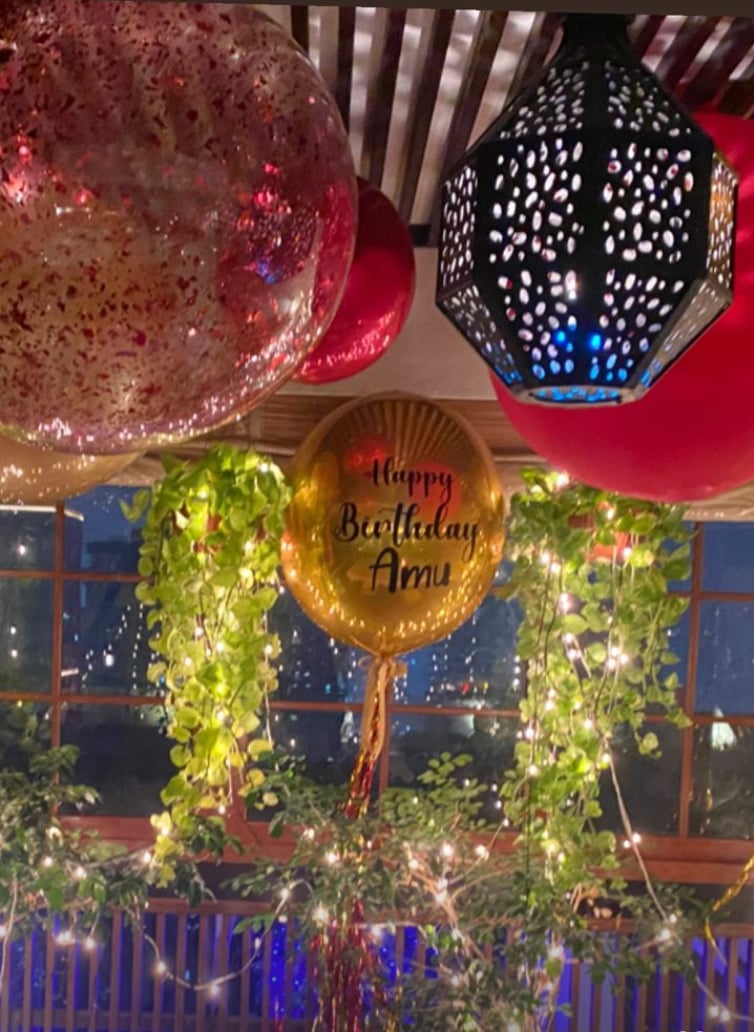 Kareena's last release was Laal Singh Chaddha with Aamir Khan. She has a bunch of projects lined up now. One is The Devotion of Suspect X by Sujoy Ghosh and then her maiden production, a thriller by Hansal Mehta. She will soon begin work on her film with Tabu and Kriti Sanon, The Crew.
Interview | Kartiki Gonsalves on The Elephant Whisperers' Oscars nom and more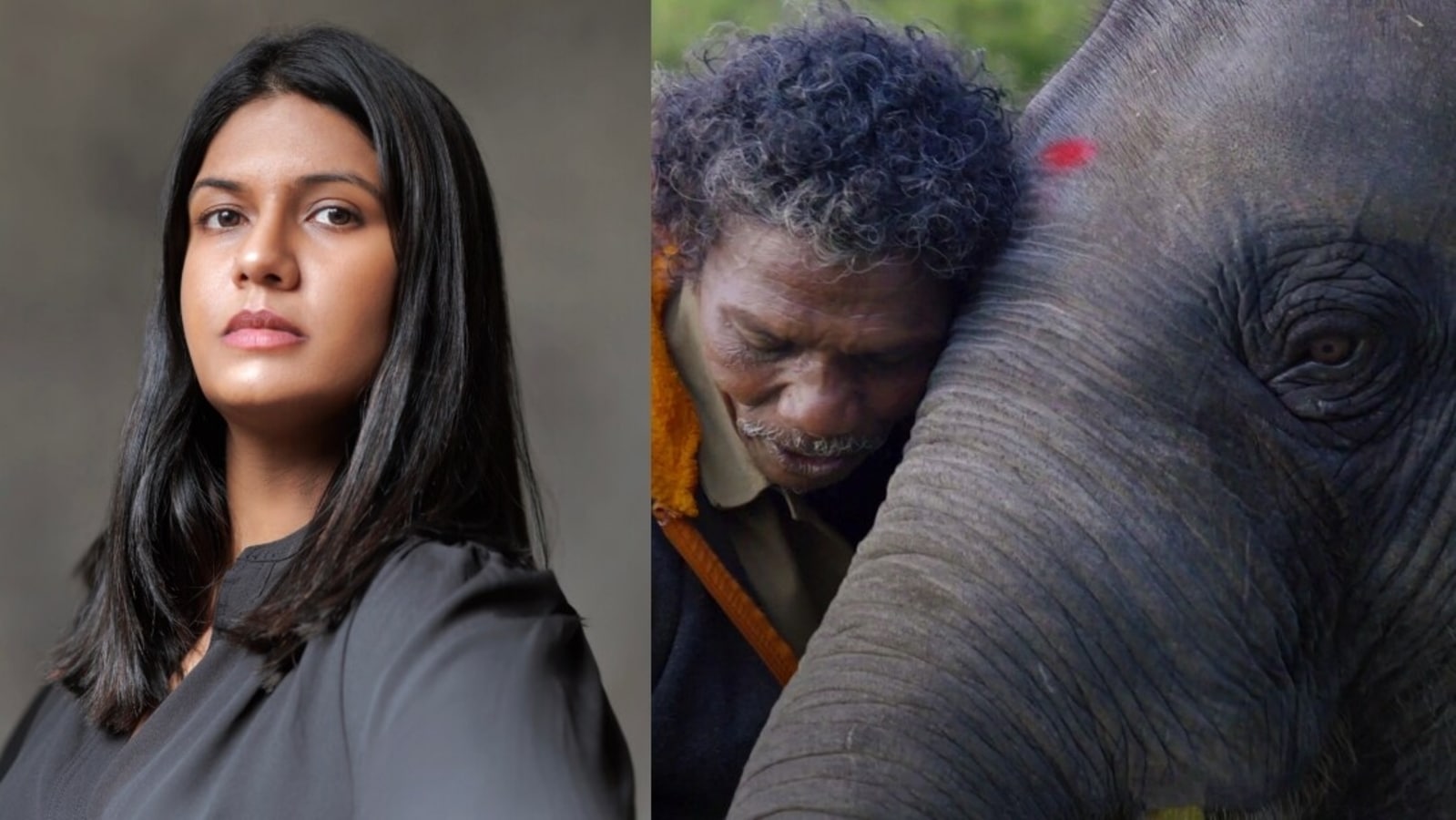 Director Kartiki Gonsalves, who is nominated for an Oscar for her first documentary short film The Elephant Whisperers, shares that what drew to make the project was the "extremely unusual family dynamic" between a man, a woman and a young elephant. For her, the core idea of the documentary was to document the sacred bond between man and nature. With her background in documentary photography and cinematography, she worked hard to get the film's subjects comfortable to the point where the production team were almost invisible. (Also read: Guneet Monga on The Elephant Whisperers' Oscar nom: 'Wanted to do everything to nurture this film')
For her passion project, she picked cinematographers that had previously worked with animals and weren't scared of being in the forest. Krish Makhija, Karan Thapliyal (who had worked on Oscar-nominated documentary Writing With Fire), and Anand Bansal, along with Kartiki on second camera, became a tight family to capture the emotions behind the story between man and animal.
In an interview with Hindustan Times, the first-time filmmaker spoke about her reaction to being an Oscar nominee, the unbreakable bond she shares with Bomman and Bellie, the elephant caretakers of Raghu, the orphan, and the message she hopes people will take from the Netflix film. Excerpts below:
Congratulations on the Oscar nomination for The Elephant Whisperers. How does it feel to get this recognition for your directorial debut?
It's really special and I'm just really hoping for the best. We've come a long way since the beginning of 2017 when we began the movie. On behalf of Bomman and Bellie and elephant friends Raghu and Ammu, I think we're all really thrilled to receive this great honour. I'm also thrilled for the extra publicity that will help spread the message of the film.
How did you first come to know about Bomman and Bellie and the elephant camp in Tamil Nadu?
I grew up in that same space. I was driving on my way Ooty to Bangalore to shift and bring my things back to my hometown in the Nilgiris of the Western Ghats. I saw Bomman walking with Raghu and he noticed my curiosity and beckoned me to come. I pulled my car over and I jumped out of the car and joined them. They were going on to the river and he was going to take his bath. I didn't hesitate at all. I've been visiting the sanctuary since I was three years old but this experience was really different. Over the course of that evening, I just forged this unbreakable bond with [three-month old] Raghu.
It brought me so much happiness to be able to share this beautiful connection with a being so wild and so young, and extremely vulnerable. I observed that Bomman had this really special connection with Raghu like nothing else I'd ever seen before. Raghu was a son to Bomman and so much more than that. There were moments where Raghu would just be holding on to Bomman's arm and he would just not want to let him go. I think that comes from the fear of when he was orphaned as a young calf. I think 2017 and 2018 was a very special part of my life and the beginning of a journey that will live on for the rest of my life.
What made you decide to make a short documentary out of this?
I think it happened very organically. There wasn't a specific moment that made me want to start documenting. It was a correlation of a lot of years of storytelling and photography. I was existing with Bomman, Raghu and Bellie and just building trust. And now that I look back on it, I realised that those times were just so special because it was just being with them with no agenda. I was just being there because I wanted to be there. I had been to the park, I had walked through the forests on my own. I've encountered tigers and leopards on foot and done so many other things, but this was just very special. I've seen wild elephant calves but never one I could get this close to or observe on such a deep level. It all blossomed from that part.
What do Bomman and Bellie think of the Oscar nomination?
I've been talking to them very regularly. They've been getting a massive footfall at the elephant camp to see the elephants. They're all over the news. I've been trying to be the middleman and passing by everything that we come across. There's a massive following internationally and locally of people just falling in love with Bomman and Bellie, their values, the simplicity of the story and how passionate they are about looking after elephants and doing their bit for the planet and its conservation. They are just really happy and almost in tears every time I speak to them about how happy they are that their lives have gone out to and have touched so many people. I think it's my duty to keep sending them all the messages and emails of people from across the world.
How are Raghu and Ammu doing?
They are doing very well. In fact, Raghu has become very obedient now. He's much taller now. When I first met Raghu, he was about the height of my knees and now he's much more than me. In fact, Ammu herself is much taller than me at this stage and I met her when she was three and a half – four feet tall. It's just really special that they are very healthy, doing extremely well. These are bonds I will have for life.
What do you hope people will take away from The Elephant Whisperers after watching it?
While most films have focused more on humans being cured by a bond with an animal, humans being harmed by wild animals or wild animals suffering from human expansion into their territory, The Elephant Whisperers lets viewers understand both the elephant and the human carers with minimal, outside interpretation. It portrays the dignity of both the magnificent elephants and the indigenous people who have lived with them and cared for them for centuries. I also wanted the audience to stop seeing animals as the other and start seeing them as one of us. Indigenous people have such an in-depth ancient knowledge and respect for the land they live on and share their space with. There's so much we can learn from them, respect for the land and only taking what they need.