Shah Rukh Khan reacts to troll calling him 'femme fatale': I know I'm attractive | Bollywood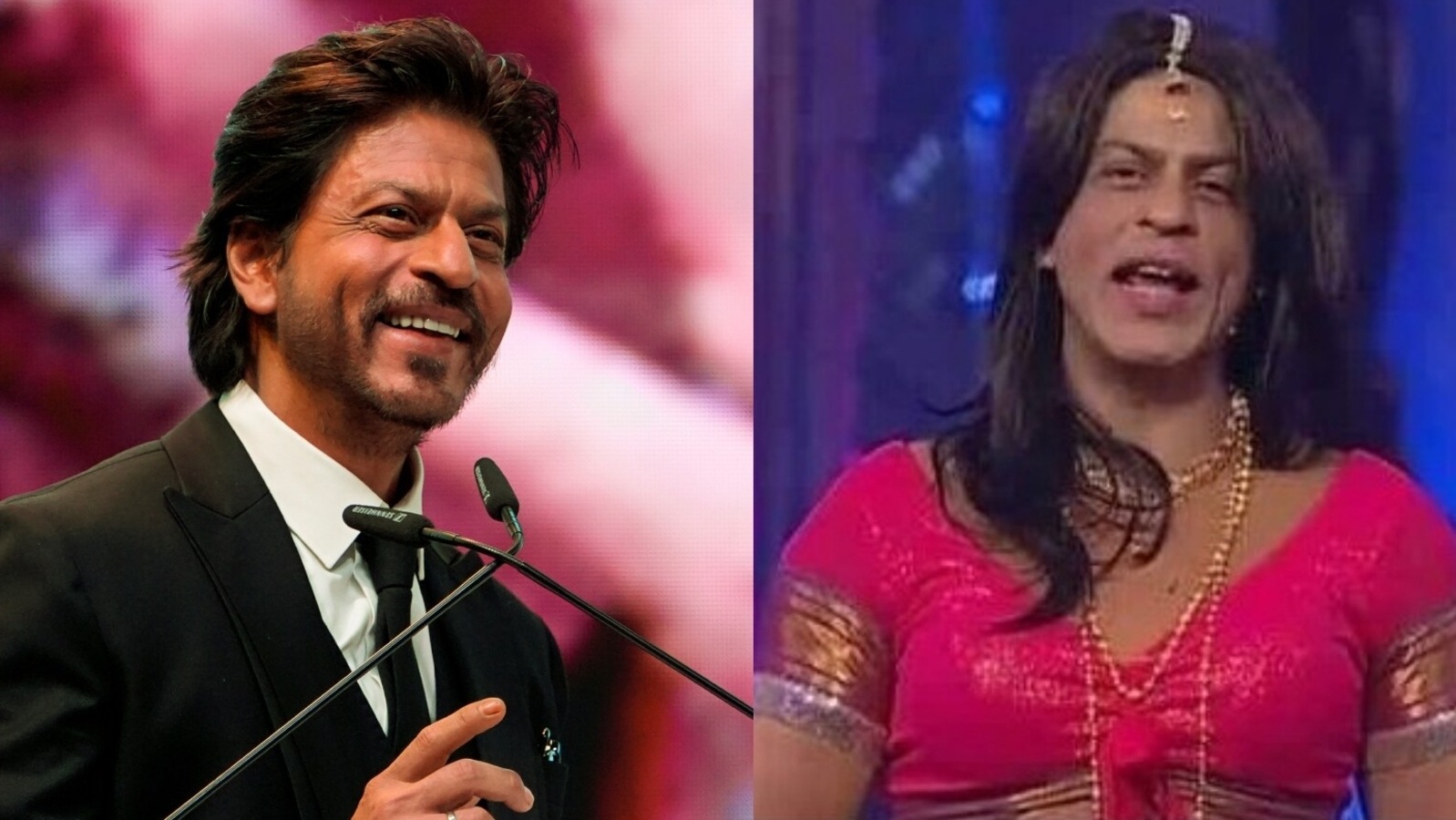 Shah Rukh Khan is only a day away from the release of his much-awaited film, Pathaan. It marks his return to the big screen after four years. Ahead of the release, the actor took to Twitter to chat with his fans and hosted an 'Ask Me Anything' session. Also read: Pathaan craze: Over 1 million tickets sold on BookMyShow, 2.75 lakh tickets sold across INOX cinemas
Shah Rukh tweeted, "A big hug to all for making #Pathaan so loved. Those who danced, put up cut outs, bought out halls, all fan clubs, made t shirts, prayed, helped to ease issues & made it a festival. It's good to be in theatres, feels like home. A quick #AskSRK for fun." While many fans rushed to drop their questions for the actor, a user tried trolling Shah Rukh and commented on his female avatar from an award show.
Replying to a post shared by Yash Raj Films on the micro-blogging site, the troll wrote to Shah Rukh, "Femme fatale" with laughing emojis alongside a photo of the actor, dressed as a woman. Responding to the user, Shah Rukh wrote back, "Arre no no this is me dressed as a lady. I know I am attractive in all avatars, but u will have to find yourself a better muse my friend!! Apologies for misleading you."
Meanwhile, the original post shared by YRF who is backing Pathaan, read, "She is a total femme fatale in #Pathaan as she transforms into a spy with a license to kill! Watch @deepikapadukone bare her heart about her role, what makes her and @iamsrk one of the biggest all-time blockbuster jodis of the Indian film industry & much more." It shared a snippet from Deepika's chat where she talked about the film and her work experience.
Shah Rukh has been interacting with fans actively, ahead of Pathaan release. Directed by Siddharth Anand, the film also has Deepika Padukone and John Abraham in the lead roles. So far, the advance booking for Pathaan has clearly indicated a blockbuster opening ahead of the Republic Day on Wednesday. With over a million tickets having already been sold on the movie booking website BookMyShow, the cinema chain INOX has also confirmed a sale of 2.75 lakh tickets by Monday. The film is also said to revive about 25 shut single-screen theatres across India.
Guneet Monga on The Elephant Whisperers at Oscars: 'Absolutely surreal'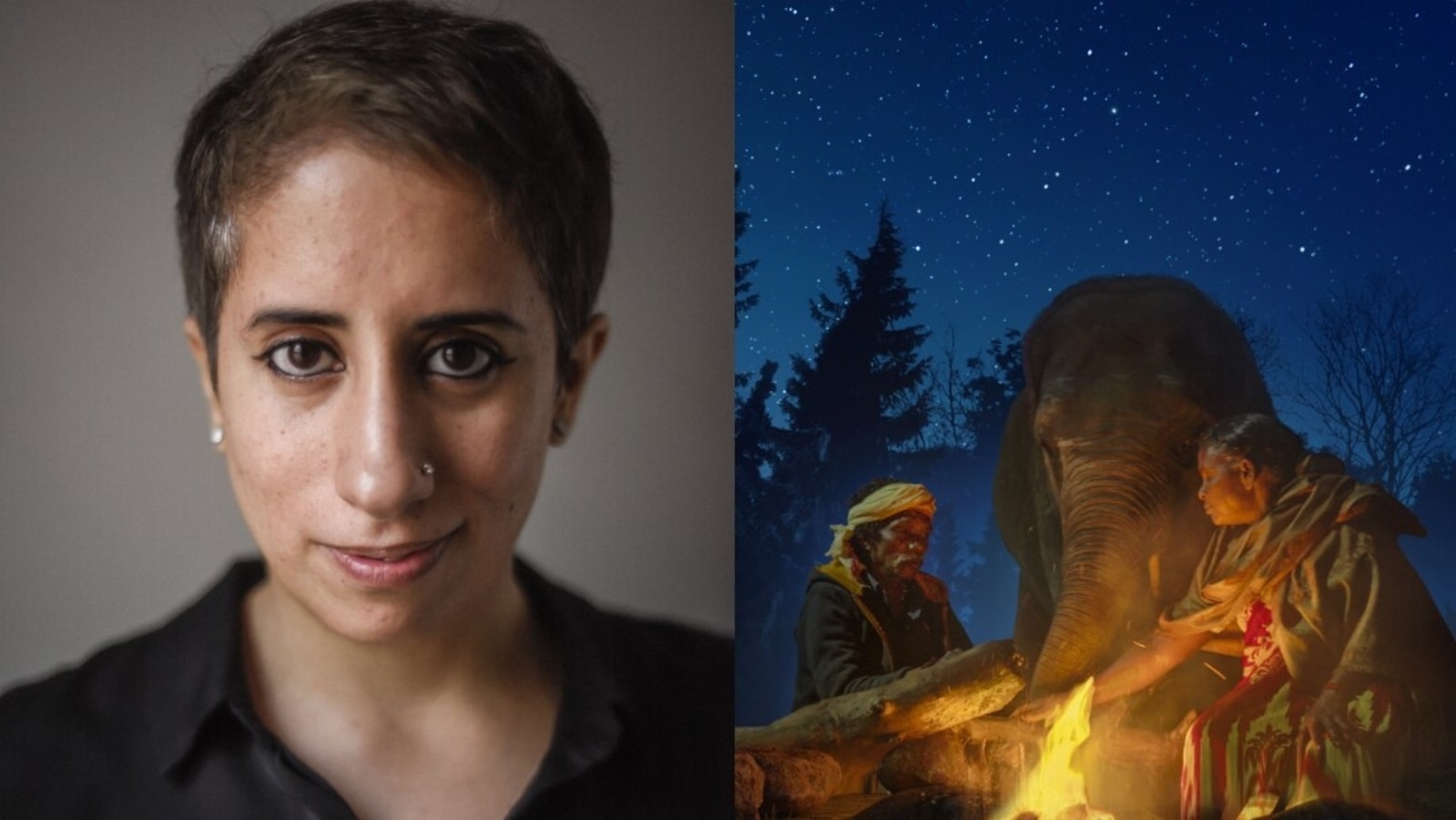 After backing Rayka Zehtabchi's Period. End of Sentence, Guneet Monga finds herself once again heading to the Oscars. In 2019, Period. End of Sentence won the Academy Award for Best Documentary (Short Subject) and now the producer's latest project The Elephant Whisperers is competing in the same category at the 95th Academy Awards. (Also read: Guneet Monga and Sunny Kapoor tie the knot as per Sikh rituals, twin in blue. See pics)
Guneet, who is also a member of The Academy of Motion Picture Arts and Sciences (AMPAS) in the producers' branch, spoke to Hindustan Times about the incredible honour and working with Karthiki Gonsalves, the first-time filmmaker behind the documentary short. She also gave a run-down on the busy month and a half ahead as she works to make sure that voters get to watch the film ahead of the final voting period from March 2 – 7. The awards ceremony will be held in Los Angeles on March 12. Excerpts below:
Congratulations on the Oscar nomination. Now that you have had time to process it, what does this second nomination mean?
It's absolutely surreal. Just so grateful, more than anything else. I actually got married and booked my honeymoon in places where I had no network. I was actually eight hours delayed to even find out that we were even shortlisted. First the shortlist came to me as a beautiful, gorgeous surprise. I'm so grateful to be nominated and be amongst the top five in the world. Let's see if we make it to the top.
Additionally, this year India has two other nominations as well with All That Breathes and RRR. Is this a hopeful sign going forward for Indian filmmaking?
I think this is our diversity at its best. It's really a display of our strengths in cinema. With RRR, it is the epitome of a commercial film and also in the Telugu language. And then there is this documentary in Kattuanayakan made by a Tamil woman, first-time female filmmaker and me, who is Hindi-based. And then there is All That Breathes. It's just a whole spectrum of who we are.
How did this project first come to your notice and how did you get on board as producer?
Kartiki, my director, discovered the story about the spiritual bond [between man and animal] and shot there for a while, and made a trailer. [She] took that trailer to the Netflix team. The documentary team at that time was the Singapore team and from there, the Netflix team brought it to me, if I would consider producing it as I was on the journey of Period. End of Sentence. It was amazing to collaborate again with Netflix. When I met Kartiki, it was incredible to see a female filmmaker with such ideas and so driven. I wanted to do everything to support her and nurture this film. And once I came on board, the film officially got greenlight.
When the rushes of the film started to come to you, what were you noticing about the story?
Vérité documentary is difficult. We had 450 hours of footage. Every day shooting in the wild, there's definitely a certain schedule. Vérité is just that you're following real life people. Over the years, you really discover the story. It can't happen overnight, so I'm so grateful to be on this journey with a studio like Netflix that has the global experience that allowed this breathing space for this film to unfold. I mean, who knew Raghu would be taken away? Or Ammu would come in? We could put together this story and their life like that.
I really think it's like putting a hoarding on the moon. So people are experiencing The Elephant Whisperers, talking about it, and writing to us. There's DMs on Instagram and mails coming to us directly. It's really heartening that people are discovering the film. I think I'm at a stage in life where I really want to have beautiful journeys together with filmmakers. That means a lot to me. And I've had the most incredible time collaborating with Kartiki.
Regarding Oscar campaigns, you've been doing this now for a few years also as you've taken other films to the Academy. What have you learnt and what are your plans for The Elephant Whisperers?
When we got shortlisted, the only [requirement] is that you submit your film to a certain festival. Certain festivals are Oscar-qualifying festivals. After that, you get a qualification tag, you submit to the Academy and then hopefully you get shortlisted. Post the shortlist, only the documentary film branch voters can vote for a nomination. So now that the nomination has happened, my plan is to get to LA and start working closely with the US team of Netflix and do the campaign. We will do a bunch of screenings, interviews, conversations, spreading the word of The Elephant Whisperers because now in this round, the whole Academy votes.
So it's more than 9,000 people voting globally. How do you reach them? How do you make sure they've seen your film? Netflix is a huge boom in that journey because people have Netflix and it's easy to watch. There's also the Academy Screening Room. But the next one month and a half is just outreach, press and making sure more voters experience the film. Everything adds up and if they are curious, they read about the film and that's when they get to know some of our journey. Hopefully, vote for it and hopefully we win.
In the last couple of years, Indian documentaries, both short and feature, have managed to make a mark for themselves at film festivals and amongst international critics. To what do you attribute this welcome growth for documentaries?
They need more support, more funding, more structure. I feel like as a format, it's starting… It's more like a testimony of some incredible filmmakers that we have in our country. With international platforms coming in and actually opening up the market for documentaries to be consumed also by regular people who are so used to fiction storytelling, I think it is just the start of an incredible time ahead.
Athiya Shetty, KL Rahul spotted on dinner date for first time after wedding | Bollywood
Athiya Shetty and KL Rahul made their first public appearance as a married couple on Monday, days after they had briefly posed for the paparazzi on their wedding day. The two were seen in casuals at a Bandra restaurant and paused for a moment to pose for the photographers before getting into their car. Also read: Suniel Shetty, Athiya Shetty, KL Rahul dance their hearts out in pics from mehendi ceremony, Krishna Shroff also spotted
A paparazzo shared a video from Monday night on Instagram. It shows Athiya in a printed blue and brown shirt and denims and Rahul in a white tee and blue denims. Athiya is seen asking the photographers to step back as she paused for a moment to pose with Rahul with a big smile on her face.
Athiya and KL Rahul tied the knot at Suniel Shetty's Khandala farmhouse last week. She was in a neutral-toned embroidered lehenga with polki jewellery while Rahul was in an off-white sherwani. They stepped out of the venue after the wedding ceremony to pose for the paparazzi waiting outside. Before them, Suniel and son Ahan Shetty greeted the media and distributed sweet boxes to the photographers.
The wedding was an intimate affair with only few friends and close family members in attendance. Suniel has said he will be hosting a wedding reception in some time.
Neither Athiya nor Rahul confirmed their relationship or the wedding date until the D-day. They announced their wedding by sharing pictures from the ceremony on Instagram with the caption, "In your light, I learn how to love…" Today, with our most loved ones, we got married in the home that's given us immense joy and serenity. With a heart full of gratitude and love, we seek your blessings on this journey of togetherness."
Athiya, 30, daughter of actor Suniel Shetty and Mana Shetty, made her Bollywood debut with 2015 film Hero. Since then, she has appeared in two more films including Mubarakan with Arjun Kapoor and Motichoor Chaknachoor with Nawazuddin Siddiqui. KL Rahul, 30, is currently the vice-captain of the Indian cricket team in test cricket.
Priyanka Chopra finally shows Malti's face, fans say 'looking like daddy' | Bollywood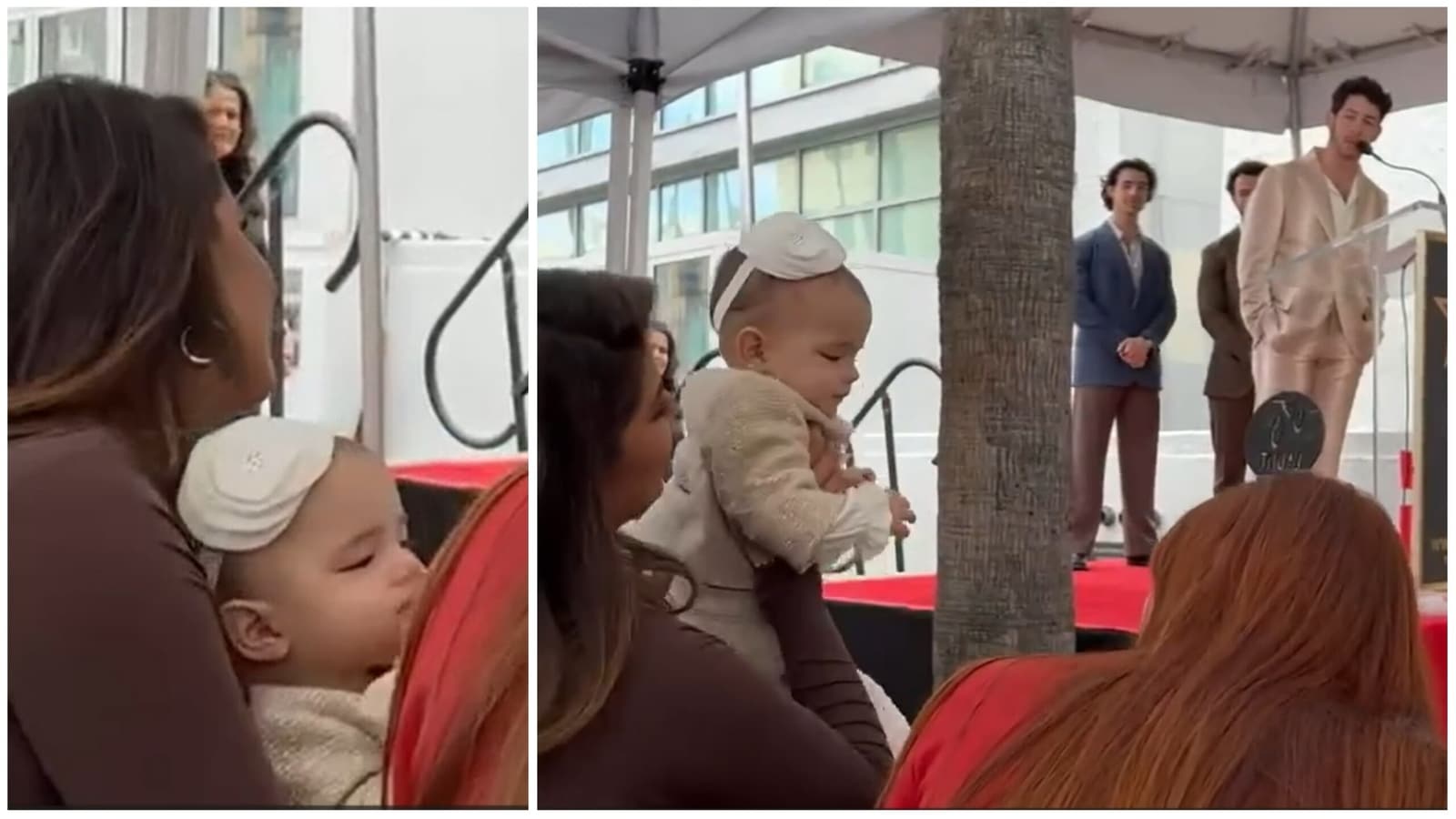 Priyanka Chopra has finally revealed the face of her baby girl, Malti Marie Chopra Jonas. She attended an event where the Jonas Brothers, including her husband Nick Jonas, unveiled their Hollywood Walk of Fame star. Priyanka was seated in the front row with Malti in her arms. The kid looked cute in a cream outfit and a matching hairband. She also wore tiny ear studs. Priyanka shared a picture and a video from the event on Instagram in which Malti's face can be seen clearly. Also read: Priyanka Chopra goes high on bling as she decks up for a bash, clicks closet selfie
Sharing the picture and video on Instagram, Priyanka wrote, "So proud of you my love! Congratulations @jonasbrothers." The picture shows the three Jonas Brothers standing with their Walk of Fame certificates on the stage while Priyanka and Malti are seen watching them from among the audience.
The video shows Priyanka playing with Malti who also got a shoutout from Nick Jonas. He said, "To my beautiful wife, you are the calm in the crazy, the rock in the storm and I love being married to you. It is the greatest gift. And I love being a parent with you." Waving to Malti, he said, "Malti Marie, hi there, I can't wait to come back here in 15 years and embarrass you in front of your friends."
Priyanka and Nick's fans were elated on seeing Malti's face for the first time. A fan wrote in reaction to the post, "Awww got to see baby Malti M for first time! (Nazar utaarlu (let me ward off the evil eye)." Another wrote, "Can see you cute baby." One more fan wrote, "Your daughter is just beautiful! So amazing for her to be there!" Many also found her resembling Nick. A person commented, "OMG your daughter is the DNA of your husband!" Another wrote, "omg we see her face now. She is nick whole face." One more fan said, "Finally got that glimpse..looking like daddy as the first child always does..I reckon."
Priyanka and Nick welcomed Malti via surrogacy. She recently turned one. The family of three lives in their plush Los Angeles home. Till now, Priyanka shared several glimpses of the baby but always with her face hidden with a heart emoji.