Vasan Bala says people protest only against a popular actor's film | Bollywood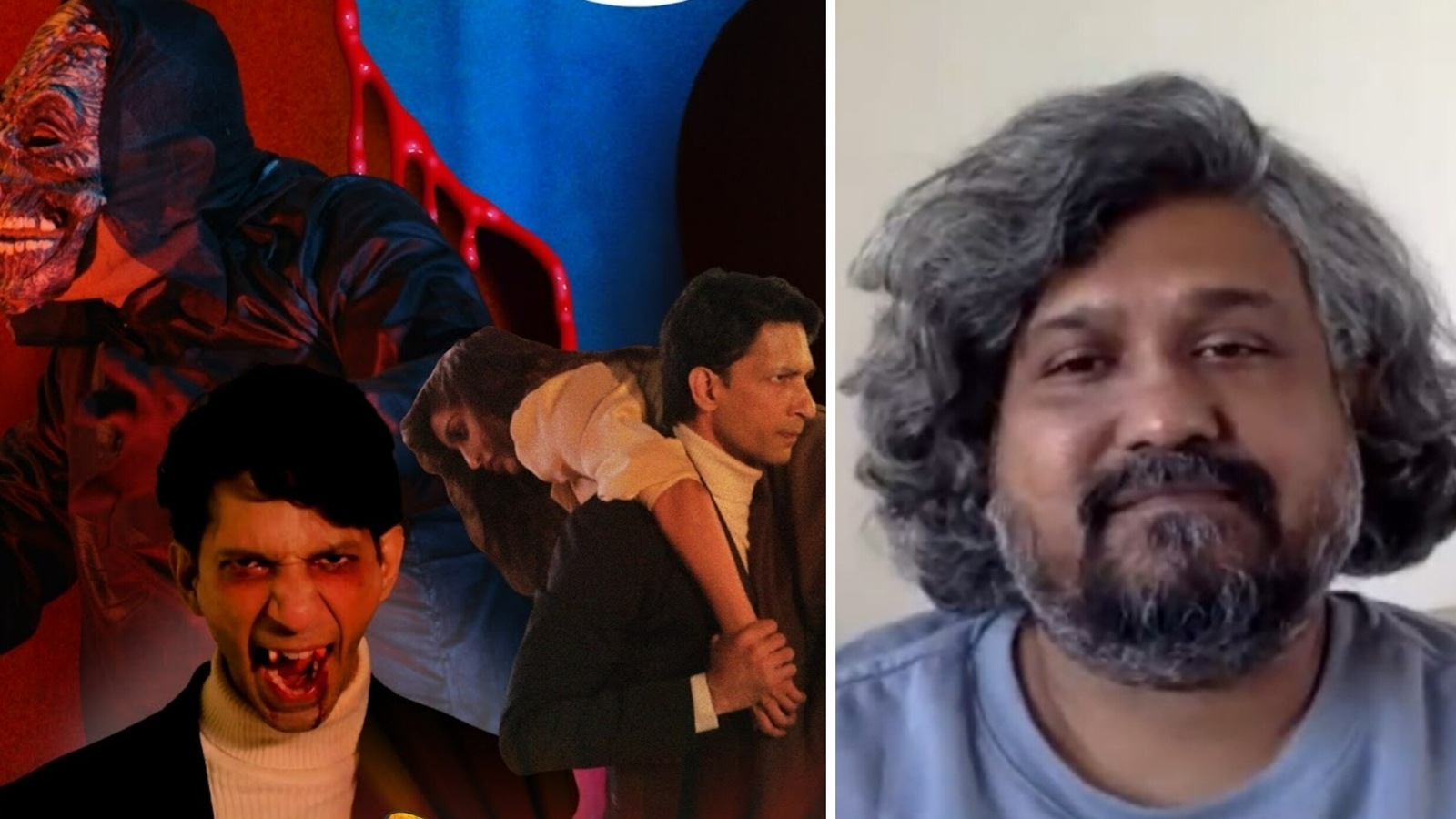 Vasan Bala, currently basking in the critical acclaim coming his way for Netflix film Monica O My Darling, is back with an unscripted docuseries titled Cinema Marte Dum Tak that takes the viewers to the era of B-grade films. Vasan is aware how the pulpy cinema has been the fodder of memes on social media but claims there is still a lot to learn from even that kind of filmmaking. He feels inspired from their passion to complete films in minimum time and budget, and also shares his story of how he was introduced to the world of B-films as a child. Also read: Vasan Bala's Mard Ko Dard Nahin Hota makes history at Toronto, see reactions
In the Amazon Original reality docu-series Cinema Marte Dum Tak, the filmmaker brings four ingenious filmmakers from the 90s: J Neelam, Vinod Talwar, Dilip Gulati and Kishan Shah to recreate the fascinating and flourishing world on screen once again. He spoke to Hindustan Times about the novel concept and all that is worth noting about the era. Excerpts:
What is the concept behind Cinema Marte Dum Tak?
There were so many different types of filmmakers and so many markets for films way back in the 80s and 90s. With Apps coming, its now an even playing ground. Talking about pulpy cinema, it's the world that exists in the periphery but no one really knows much about it. It made a lot of money and a huge impact at some point of time. We were very intrigued and went back to that cinema – the industry you know exists but don't know much about. So, we decided to deep dive and bring them in the foreground, understand who they are and why they do what they do. We were getting into the really pulpy, underground cinema that existed back in the 80s, 90s and almost died in early 2000s with the advent of the multiplexes.
Are we talking about B-grade films here?
Yes, it's a term we loosely use. Here we call them B-grade, in Hollywood they are called B movies. They have become really cool in Hollywood because they are the blockbuster films. We prefer to call them pulpy cinema, we don't look down on them but give essence of what they are chasing after, for instant gratification.
The current generation makes fun of such movies, their glimpses are mostly seen as memes on social media.
Our responsibility was not to look at them that way and keep away from judgements, show them in real light, which would probably be an interesting conversation with the eventual viewer and what they were laughing at. Now after knowing them, they may probably create a certain kind of empathy or understanding of who these people are. The show wasn't capitalising on the spoof value of the industry. The viewers can have their own opinion about them.
Your take away from that era of pulpy cinema.
The biggest take way was how efficient they were in finishing their movies. They could have one white wall and 50% of their film could be shot on that one wall. That was a great learning, to tell a story is not about the locales or the background but it is what a maker wants to do. They were so efficient in that sense. All these filmmakers are great editors. If actors are not around for the shoot, they would just make sure that through editing, you feel they all are in the same room and interacting at the same time. While one actor would have given just half a day to shoot, the other would have given 3 days after 3 months. And all of it is put together in one film. Sometimes, it makes complete sense and sometimes, it makes no sense. But the fact that they tried and had an ambition is so fascinating about this world, which we are trying to showcase through the series.
Is there a tip you picked up from the making of this docuseries which you wud like to incorporate in your own style of filmmaking?
Of course, I have made films like this only. My first film, Peddlers, I tried to make it under ₹60 lakhs. There was no money so we painted the same wall again and again. When you are desperate to tell a story and have no resources, these are the cinema hacks which one uses. It's heartening to know that cinema is such a great equalizer where you have to apply your mind and can tell a story. Even the biggest filmmakers must have used these techniques when they started out in industry. James Cameron, when he made The Terminator, he would have had to use these techniques.
How would you describe the movies you saw in your growing up years.
I discovered them (pulpy cinema) through VHS. If we went to rent out Ramsay Brothers' films and they were already rented out, then the VHS guy would push these films, saying, 'these are also horror, actors look similar'. That's how you kind of discover a Harinam Singh or Mohan Bhakri. These are the films given to you when Ramsay films were not available.
Back in 2008, Richa Chadha would hold screenings of these films in her house, like Khooni Dracula of Harinam Singh, and discuss and have her friends watch them. That tribe was always around. There are a nice set of people who invest in them, watch them, discuss them and are very serious about their passion of seeking them out. At certain centres, these films were making more money than a Subhash Ghai film. Gunda blew up and became the most blockbuster pulp.
These days objections are raised on almost every movie. Can these films be made today without the censor board ordering several cuts?
They were facing the same problem back then. Hath pair jod ke reel bachate they (they would beg to save their film reels). Sometimes they would go with a two-hour film and return with a half hour film. Now the connotations have become lot more different.
Can such films release in theatres now without protests?
Jisko halla karna hai wo to karenge hi. Log tabhi halla karte hain jab koi bada insan juda hota hai. Chhote mote logo mein headline banegi nahi (the ones who want to shout, will shout. People make noise only when a big name is associated with it. Targeting small names doesn't make headlines). It is not really the morals they are voicing out, it's the name they are going out for. The noise is not for the content but for their own names. They are there on the apps. Jisko heera dhundna hota hai wo dhundh lega (those who seek the diamond, find it).
You just directed Monica O My Darling which had so many interesting Easter eggs.
Easter eggs were there in Mard Ko Dard Nahi Hota as well, its just that people didn't watch it much. Easter eggs should always be in the background, not in the foreground. It is a surprise, not a part of the narrative as such. It wont affect the way you watch the film. If you notice them, there is an added layer of interaction. Easter eggs are for me, those who discover them there is a connection.
Your films become cult over a period of time. Can these films do better commercially?
I am so far away from commercially evaluating anything. Main bhi bangley mein rah raha hota (I would have been living in a bungalow), which I am not. I have no knowledge. What I know is my films and stories I want to tell. I don't know about the business side of it. Commercially, I have no clue. How things work and how they should be put together. I am more into the creative side and just protective about them.
Mira Rajput reacts as Shahid Kapoor gifts her fake flowers: 'How cheap…' | Web Series
Shahid Kapoor took to Instagram and shared a video featuring wife Mira Rajput and actor-brother Ishaan Khatter on Monday. He sent big boxes filled with gifts for the two. However, Mira and Ishaan were left disappointed after unboxing their parcels. Shahid sent 'fake flowers' to Mira, while Ishaan received 'artificial cookies'. Mira called her husband's act 'cheap' and Ishaan said he's having 'trust issues' with his brother. Many fans reacted to Shahid's promotional video for his upcoming series Farzi. (Also read: Shahid Kapoor shows off his massive helmet collection, calls them 'my ladies'; fans want to know Mira Rajput's reaction)
In the beginning the video, Mira said, "Hi guys! I am Mira" and Ishaan, said, "And I'm Ishaan." Mira was then heard saying, "So Shahid's been really sweet and sent us a whole bunch of gifts. So many gifts from such a busy schedule." Ishaan said in happiness, "The sweetest brother." Mira then said, "Oh flowers," as she held them with a smile on her face. Her brother-in-law said to her, "Orchids, your favourite!" She then replied, "I love them!" She brought the flowers closer to her and smelt them. Ishaan then asked, "Kya hua (What happened)?" She then asked him, "Are they fake?" He said, "Plastic!!" She then said, "How cheap!" and threw away the bouquet of flowers. Ishaan laughed, and said, "Plastic flowers. He made you a fool. Well at least they will have a longer shelf life."
Mira asked Ishaan, "What did he get you?" Ishaan picked up one of two small gift boxes and said, "Which one should I open?" He shouted, "Choco-chip cookies" and ate them. He had a weird reaction on his face. Mira asked him, "Fake?" He said, "Dhoka (Betrayal)." She consoled him, "It's okay." He spit out the cookies, and said, "Trust issues, is everything fake?" Mira showed her engagement ring, and asked, "Ye bhi nakli hai kya (Is it also fake)? The symbol of our love?" The two then shouted, "Shahid… bhai (brother)."
Shahid said, "Hi guys, why are you shouting?" An angry Mira said, "Just come here! What's with all these fake gifts?" He said, "Fake gifts? Oh fake! guys it's fake… I have nothing to do with this. This is Sunny." Mira and Ishaan asked him 'Who is Sunny?" Shahid said, "Well my new show, where I play Sunny! Farzi!"
Sharing the video on Instagram, Shahid wrote, "Farzi scenes [email protected] @mira.kapoor." He used 'Farzi on Prime' as the hashtag. Reacting to the post, one of Shahid's fans commented, "Bhai (brother) we are very excited for your show." Another fan wrote, "Arey Shahid aap bohot funny ho aur Ishaan toh mashallah (Shahid you are very funny and Ishaan is amazing)." Other fan commented, "Make some noise for Farzi."
Shahid will be next seen in web series, Farzi. It will stream from February 10 on Prime Video.
Sana Khan-Anas call 'this umrah special', fans ask if they will become parents | Bollywood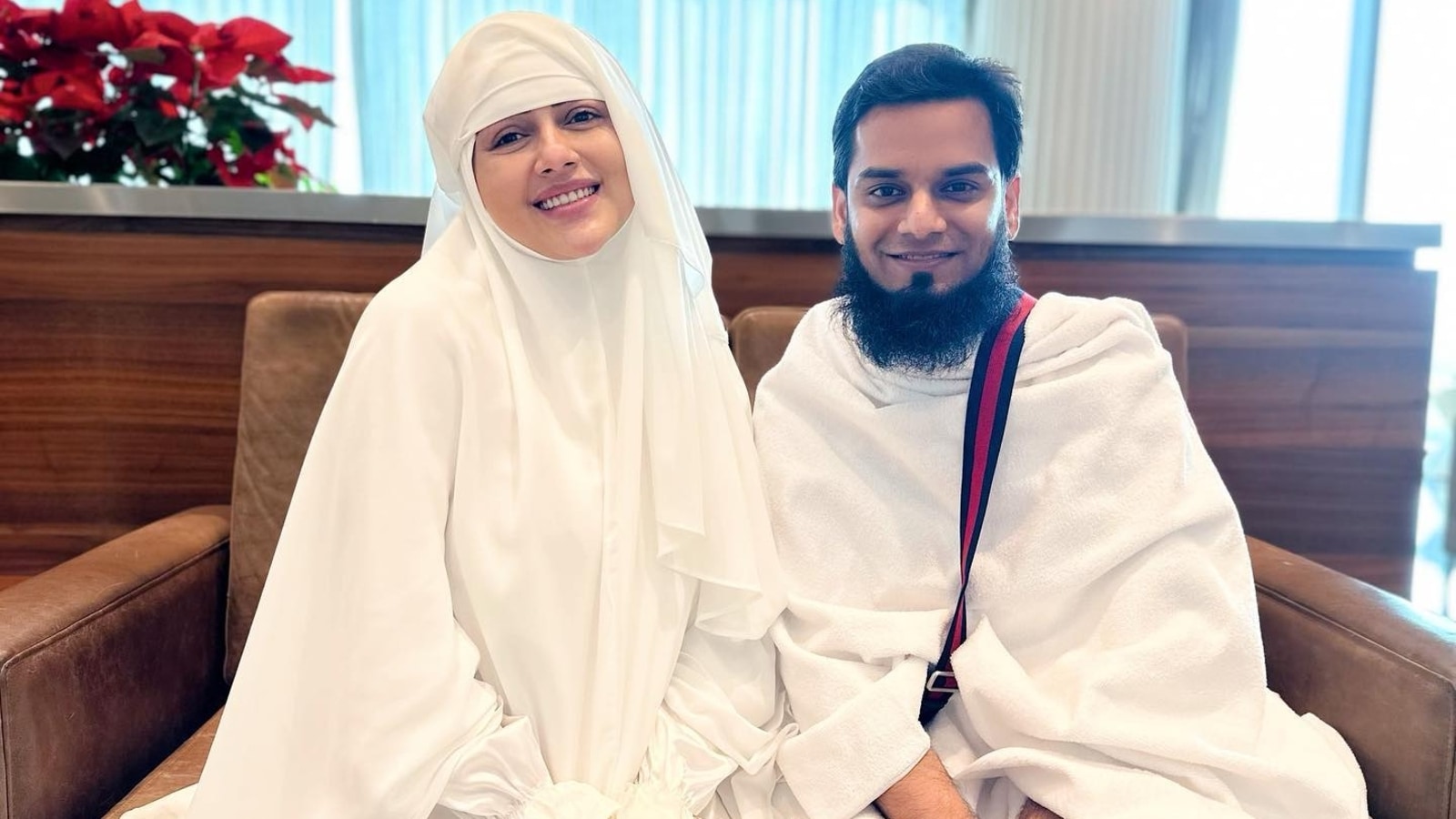 Former actor Sana Khan and her husband Anas Saiyad have shared new pictures as the couple travelled to perform Umrah. Taking to Instagram on Sunday, the duo shared a post revealing that 'this umrah is very very special'. Moments after they shared the post, fans started speculating that they are set to embrace parenthood. (Also Read | Sana Khan reveals why she chose to wear hijab after depression)
In the first photo, the couple sat on a sofa in white outfits as they smiled for the camera. In the second picture, they were seen inside an aircraft. Seating next to each other, they smiled while posing for the lens. They captioned the post, "Alhamdullilah soooo Happy. This umrah is very very special for some reason which In Sha Allah I will share soon with all. May Allah make it easy."
Reacting to the post, a fan commented, "May Allah bless you with a healthy child. MashAllah." A comment read, "Alhamdulillah i think your both are going to be parents soon, in shaa Allah." "You're gonna be mother ??? Is that why this umrah is special?" a person wrote. "You are expecting ma shaa Allah ….i know it since 1month. Congratulations," said another fan.
Last year, Sana and Anas visited Saudi Arabia for her first Hajj with her husband. On Instagram, Sana posed with Anas after they landed in Mecca. A part of her caption read, "Can't wait to experience the most beautiful journey of my life of hajj with my @anas_saiyad20." She also added the hashtags–Sana Khan, Anas Saiyad, Al khalid, Saudi Arabia, Hajj, 2022 and Alhamdulillah.
Sana had posted a video before flying to Mecca with Anas. She had said, "This is my first Hajj and you can see my eyes are swollen. I'm very very excited of course as this was my dream that God has fulfilled today… It's amazing." A part of her caption read, "Allah ka Ehsan (God's grace). I don't have words to express my feelings…Can't wait to land there."
Sana tied the knot with Anas in an intimate ceremony on November 20, 2020. They got married just a month after she announced her decision to quit acting. Celebrating their first wedding anniversary in 2021, Sana shared a picture of the couple along with a note on Instagram. Sana featured in several films such as Wajah Tum Ho and Jai Ho. She was also a contestant on Khatron Ke Khiladi 6. She also participated in reality shows including Bigg Boss 6 where she was a finalist.
Renuka Shahane replies as Shah Rukh Khan teases her for being his 1st 'heroine' | Bollywood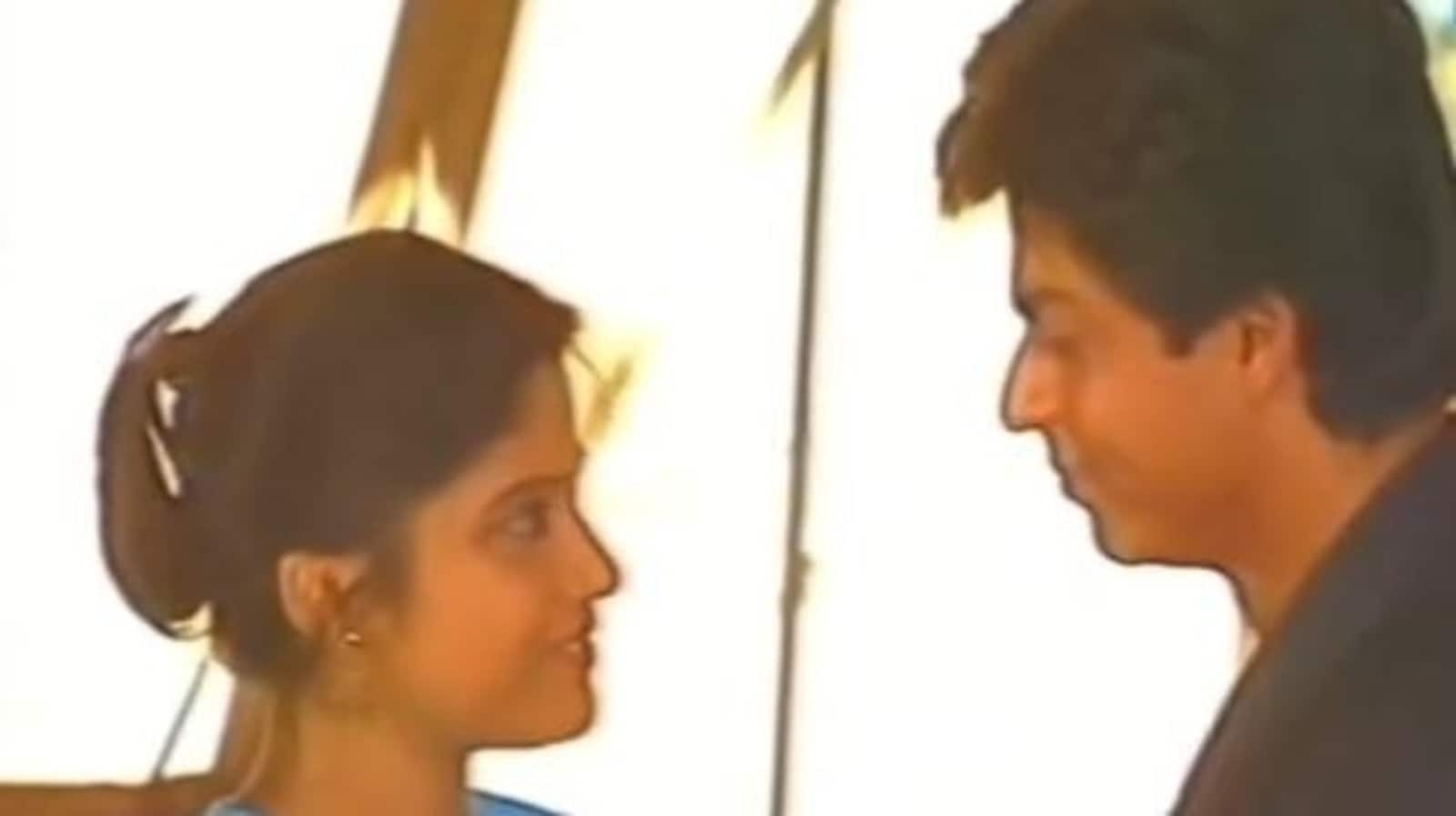 Actor Renuka Shahane has shared pictures also featuring her husband-actor Ashutosh Rana as the duo went on a movie date, to watch his latest film Pathaan. Taking to Twitter on Sunday, Renuka posted the selfies, clicked by Ashutosh. Actor Shah Rukh Khan reacted to the post teasing Renuka about being his 'first heroine'. (Also Read | Renuka Shahane responds as Shah Rukh Khan calls Pathaan co-star Ashutosh Rana 'gyaani, antaryaami')
In the first photo, Ashutosh and Renuka sat inside a car as they wore ethnic outfits. The second selfie was seemingly clicked inside the theatre as the duo smiled and posed for the camera. She captioned the post, "Finally going to watch #Pathaan. Mausam bilkul sahi hai, kursi ki peti baandh li hai (The weather is good, have fastened the seat bealts). With Col Luthra ji."
Ashutosh Rana plays the role of Colonel Sunil Luthra in Pathaan. A Twitter user asked Renuka, "You weren't invited on premium (sic0? Why?" She replied, "Arey we were invited bhai but couldn't go."
Reacting to the post, Shah Rukh commented, "Col Luthraji ko bataya aapne ki aap meri pehli heroine hain (Did you tell Col Luthra that you are my first heroine)!! Or should we keep it a Top Secret otherwise he may fire me from the agency!!!" Shah Rukh and Renuka essayed Shekharan Rai and Maria respectively in the 1989 television series Circus.
Renuka responded, "Hahaha unsey koi baat chhupti kahaan hai? Aaphi ne unhe antaryaami kahaa hai. Aur chaahey jo ho jaaye, woh aapko fire nahi kar saktey kyunki jo kaam aap kartey hain woah koi aur nahi kar saktaa (Can anything be hidden from him? You only have called him all-knowing. And whatever might happen, he can't fire you because nobody can do the work you do)."
In Pathaan, Shah Rukh essays the role of a RAW agent while Ashutosh is seen as RAW joint secretary, Colonel Luthra. Last month, during Shah Rukh's AMA session on Twitter, a fan asked him to say something about Ashutosh. He had replied, "He is a Gyaani (intellectual) and Antaryaami (one who knows from within) apart from being a very very fine actor." Renuka had responded, "You are unfailingly kind and generous and truthful," along with smileys and hands joined together emoji.
Helmed by Siddharth Anand, Pathaan also stars Deepika Padukone as a cop and John Abraham plays an antagonist in the film. Apart from them, the film also stars Dimple Kapadia. The spy thriller released in theatres worldwide on January 25.