Bayern Munich held by Leipzig as Bundesliga resumes after 2 months | Football News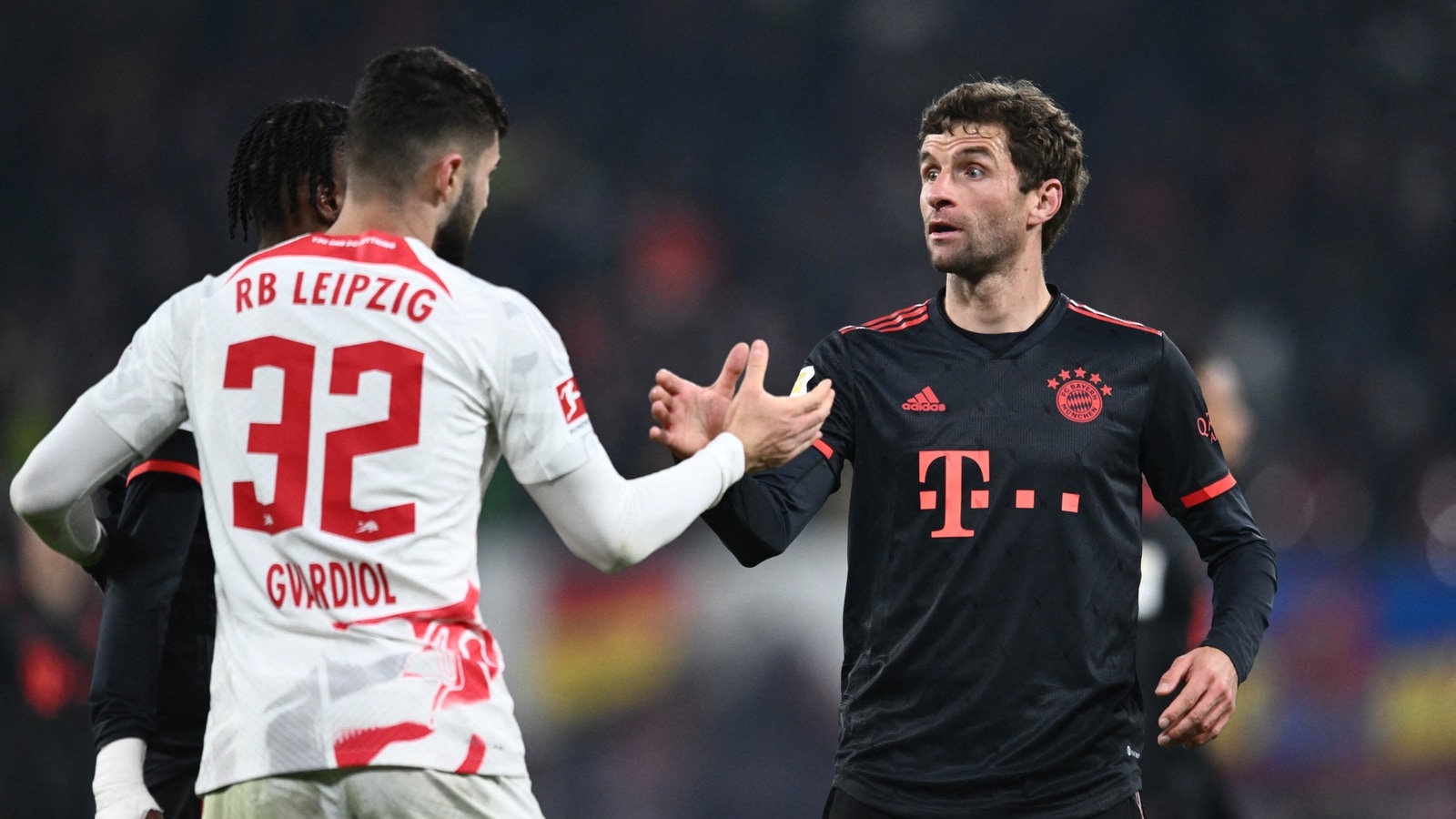 The Bundesliga restarted Friday after its unprecedented two-month winter break with Bayern Munich and Leipzig grinding out an error-strewn 1-1 draw.
Leipzig defender Marcel Halstenberg equalized after Eric Maxim Choupo-Moting's first-half strike as third-place Leipzig stayed six points behind league leader Bayern.
"After a two-month break there were things we did well and other things we could have done better," Bayern coach Julian Nagelsmann said. "We were a bit too hectic in the final third."
Goalkeeper Yann Sommer made his Bayern debut following his transfer from Borussia Mönchengladbach as the injured Manuel Neuer's replacement on Thursday, but the Swiss goalkeeper had little opportunity to shine in a lackluster encounter.
"I was so looking forward to it," Sommer said. "Of course, a new team, and I'm a new goalkeeper, so it wasn't always perfect, but it was fun. We'd have liked to have won."
The German league's winter break was extended to accommodate the World Cup, which was itself moved mid-season to avoid the searing summer temperatures in Qatar.
Bayern, which also had its winter training camp in the Persian Gulf country, enjoyed the better start with Serge Gnabry's deflected shot hitting the post and Leon Goretzka having a goal ruled out for offside.
Gnabry crossed for Choupo-Moting to finally break the deadlock in the 37th.
Halstenberg equalized early in the second half, but Bayern players were unhappy about a perceived foul on Joshua Kimmich from André Silva in the buildup. Goretzka was booked for over-protesting. Kimmich's careless clearance beforehand was more to blame.
The draw leaves Bayern five points clear of second-place Freiburg, which visits Wolfsburg on Saturday. Bayern is chasing a record-extending 11th-straight German championship title.
This story has been published from a wire agency feed without modifications to the text.
Australian Open final Stefanos Tsitsipas vs Novak Djokovic: All you need to know | Tennis News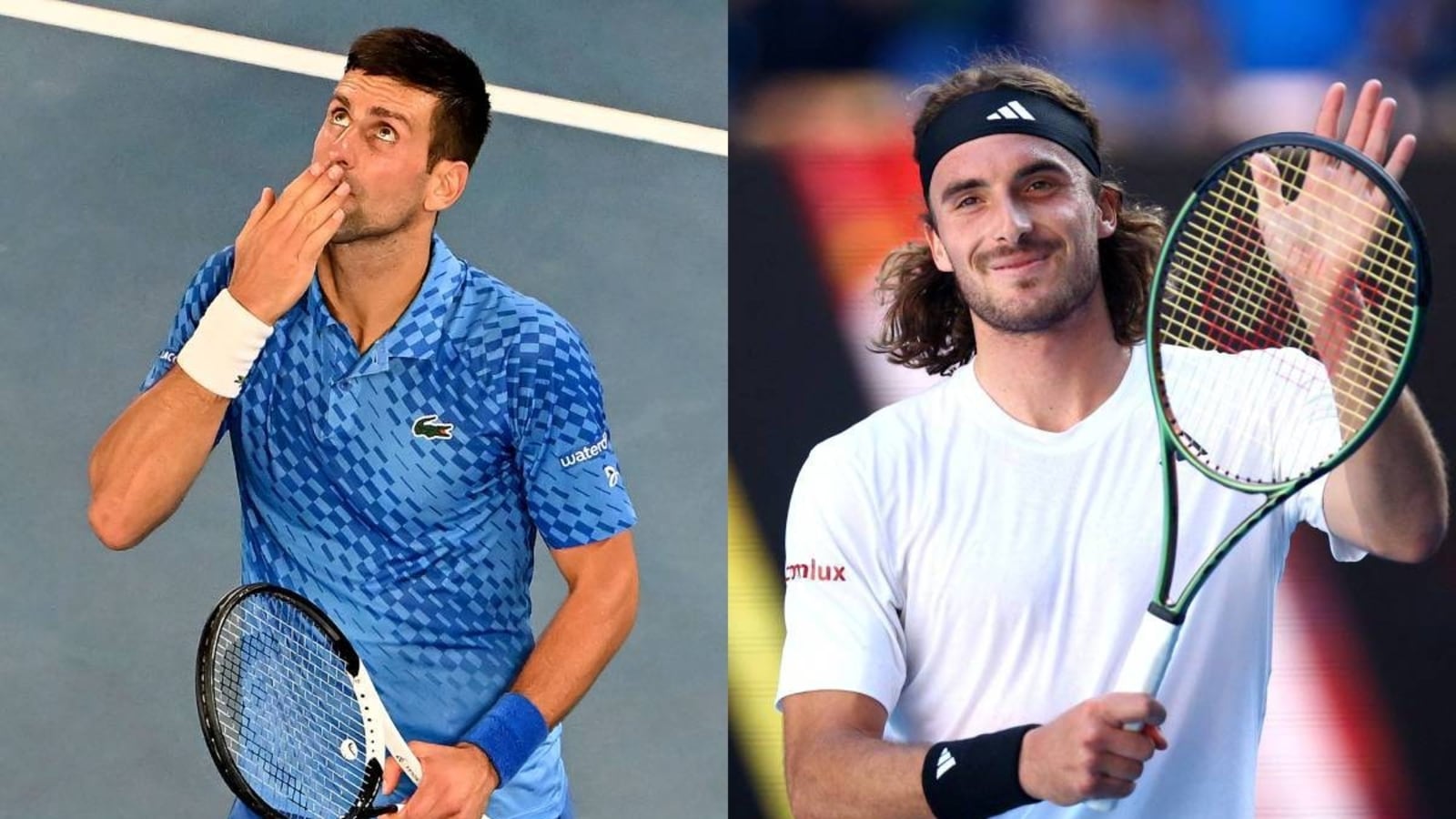 After being denied thrice in his career at the Rod Laver Arena – by Rafael Nadal (2019) and Daniil Medvedev (2021-22) – Stefanos Tsitsipas finally cracked the code this time to make this first ever final at what he calls his 'home Slam'. But in a bid to walk home, to Greece, with the biggest prize of his career, Tsitsipas would have to take down the toughest barrier at the Australian Open, Novak Djokovic. Not only is the Serb a nine-time champion at the Melbourne Park, the two most telling stats that perfectly sums up his dominance in Australian Open is his 9-0 record in the final and his 27-0 record in this Slam since 2019. Not to forget, this is a man on a mission, eager to provide the fitting reply to the drama that unfolded last January and to level Nadal in etching his name in history.
Ahead of the blockbuster Australian Open final between nine-time champion Novak Djokovic and Stefanos Tsitsipas at the Melbourne Park, we take a look at the head-to-head record, key stats and records in line for the match…
HEAD-TO-HEAD TIE:
Sunday's tie will be their 13th ATP meeting between the two with Djokovic being the overwhelming favourite in the head-to-head record. Although it was Tsitsipas who had stunned the Serb in their very first meeting back in 2018 Canadian Open, and then again in the Shanghai Masters in the following year, Djokovic silenced the Greek winning all the next nine matches, including two at the Grand Slam level, both of which were at the Roland Garros.
Seven of these 12 meetings have been on hard court and Djokovic leads 5-2. However, Tsitsipas has won two of their three meetings on outdoor hardcourt.
This will also be their second meeting in a major final. Tsitsipas has gone down from a two-set lead in the 2021 French Open final to lose 6-7(6), 2-6, 6-3, 6-2, 6-4.
BATTLE FOR NO.1 RANKING:
Three players – Casper Ruud, Djokovic, Tsitsipas – had set out to topple injured Carlos Alcaraz from the world no.1 spot in the ATP rankings. It is now down to the final two and with them reaching the summit clash, Alcaraz's 20-week run ends on Monday as the winner of the Australian Open trophy will emerge as the new world no.1. The loser will be third in the world.
If Djokovic wins, he will ascend to the top spot in ATP rankings for the first time since June 6. He has already spent a record 373 weeks as World No. 1 across his career. For Tsitsipas, it will be first such feat in his career.
KEY STATS:
On reaching his 33rd Grand Slam final, already a record in itself in the Open Era in men's singles tennis, Djokovic became the fourth oldest male player in the Open Era to reach the final at the Australian Open, younger only than Ken Rosewall (1972 and 1971), Mal Anderson (1972) and Roger Federer (2018). The 35-year-old presently has a 21-11 record in Grand Slam finals.
The win against Tommy Paul in the semis also took Djokovic past Andre Agassi's long-standing tally of 26 wins as he now holds the record of longest men's singles main draw winning streak at the Australian Open in the Open Era. Djokovic hasn't lost a match at the Australian Open since 2019 and owns a 9-0 record in the final at the Melbourne Park.
This will be Tsitsipas' second appearance in a Grand Slam final and he became only the youngest male player to reach the final at the Australian Open since Novak Djokovic and Andy Murray who faced each other in 2011.
RECORDS IN LINE:
Djokovic will be aiming for not one but two of Nadal's most glorious feats in Open Era tennis. With the elusive trophy on Sunday night, Djokovic will level The Spaniard's record tally of 22 Grand Slam titles, the most ever in men's singles tennis. He will also become the second player after Nadal to win 10 titles at a single Grand Slam, joining the 36-year-old's tally of 14 French Open hauls.
Lifting his maiden Grand Slam trophy, Tsitsipas will become the first singles player from Greece to achieve this feat.
Australian Open final: How Tsitsipas can defeat the indomitable Djokovic | Tennis News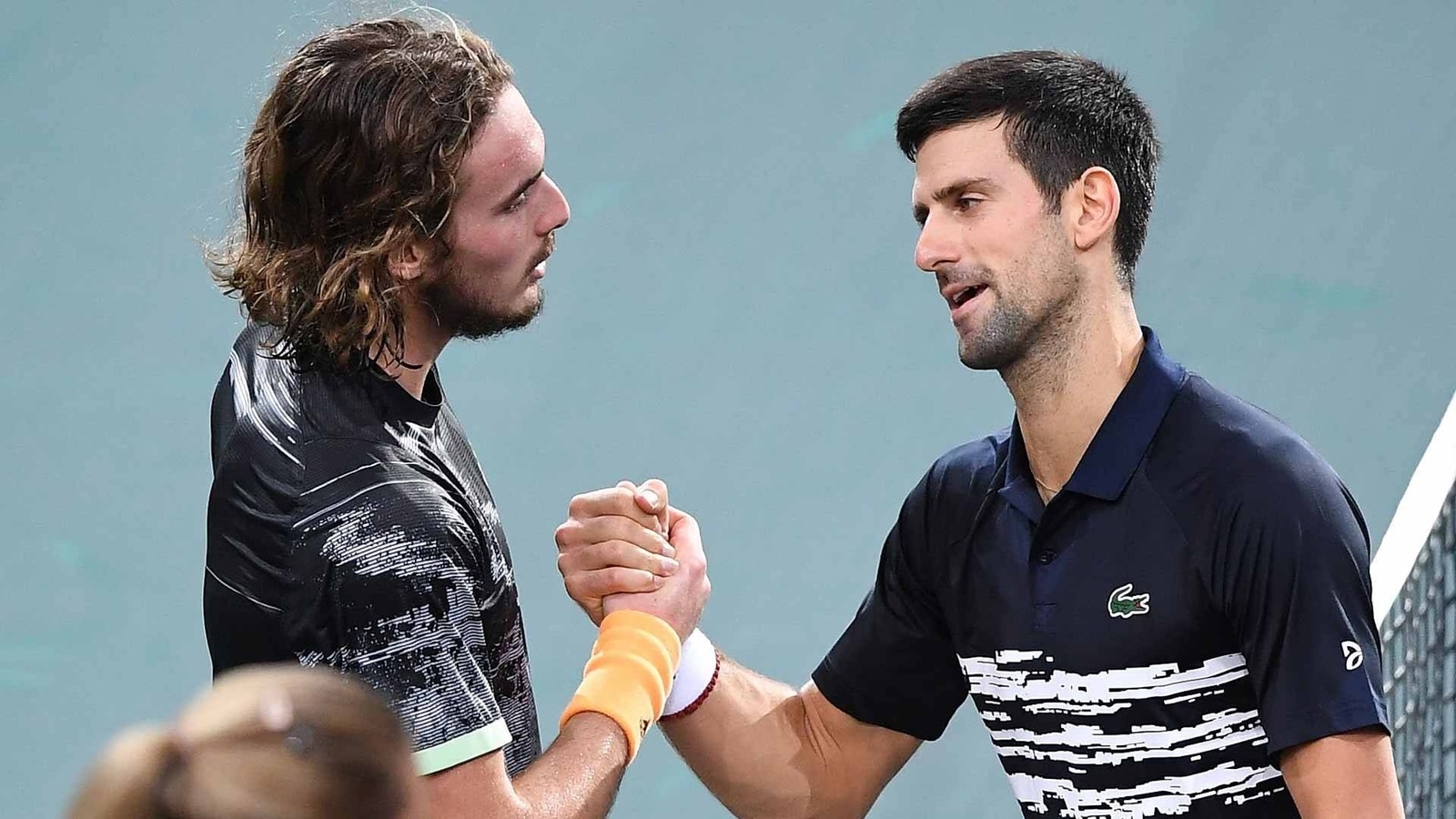 After thrashing Alex de Minaur in the fourth-round tie earlier this week, nine-time Australian Open champion Novak Djokovic was asked on the remainder of the draw. Of the seven men left, he narrowed it down to just Stefanos Tsitsipas, but for Djokovic, their only ever Grand Slam final meeting, at the 2021 French Open, had faded into oblivion.
"Tsitsipas [is] probably the most experienced guy out of all the quarterfinalists. He has played the final stages of a Grand Slam quite a few times. I think he has never played a final. Am I wrong?" asked Djokovic.
On being reminded by the journalist, he smirked and said, "That's right. Sorry, my bad."
In the context of their second Grand Slam final meeting, and first ever tie at the Australian Open, one could call it mind games. But for a player so has incurred just two losses in a Grand Slam since 2021 and only two on the tour since May last year, it could be rightfully down to the Serb's sheer forgetfulness. Tsitsipas' loss from two-set lead in Roland Garros is part of his indomitable Slam streak. Add to that Djokovic's 9-0 record in the Australian Open final, 27-0 record in Melbourne Park since 2019 and 9-2 head-to-head record against the Greek and the 24-year-old has one of the toughest barriers to break in a bid to claim his maiden Grand Slam title.
But here stands Tsitsipas, the only man, of the 63 others, from his section of the draw, standing between Djokovic and his unprecedented 10th title at Rod Laver Arena, having reached the final by playing his career-best tennis. He sure has the weaponry to pull off an upset in the final, but against an opponent of this stature, Tsitsipas needs to be flawless with his skill, consistent with his aggression and poised from the inside. Ahead of the blockbuster meeting in the Australian Open final on the Rod Laver Arena, we take a tactical dive into the factors that could help Stefanos Tsitsipas beat nine-time champion Novak Djokovic…
"Stefanos should call Daniil!"
When Karen Khachanov was asked about how Tsitsipas could beat Djokovic, moments after his semifinal loss to the third seed, the Russian was apt in pointing out that "nobody from that generation beat him, except Daniil I think in the US Open final," before cheekily adding, "Maybe Stefanos has to call to Daniil to ask him what he did that day (smiling). I don't know if that's going to happen…"
It is unlikely that Tsitsipas would give the 2021 US Open winner a call, given their on-court tensions, during their rivalry meetings, which is well-documented. But it wouldn't harm the Greek to keep aside his differences and revisit Medvedev's winning strategy at the Flushing Meadows.
Bouncing back the thrashing he received from Djokovic in the Australian Open final at the start of that year, Medvedev decided to change his plan and overload the Serb's Ad court with umpteen backhand-to-backhand exchanges, although much of that tactic also relied on the Russian's ultra-flat backhand which gave Djokovic nothing to work with.
Pull a leaf out of Holger Rune's book
The only player to have troubled Djokovic since last May, apart from Rafael Nadal in the French Open quarters, was the young Holger Rune. And it was Djokovic during his best run in 2022 and at one of his most favourite venues, the Paris Bercy. On back of titles in Tel Aviv and Astana, Djokovic had reached his eighth final in Paris Masters, hoping to add a seventh title to his name at Bercy. But his run was halted by an aggressive Rune who used a rather risky approach in scripting a turnround in the match and it was all down to his serve.
The Danish used the Serve + 1 forehand approach which handed his 16 of the 18 points. The strategy allowed him to unsettle Djokovic by taking time away from him.
One of the crucial factors that could alleviate Tsitsipas' chances of beating Djokovic for the first time in 10 meetings is sheer aggression – willingness to keep the rallies short, not allow Djokovic from settling into long rallies and baseline exchanges, and come to the net as often as possible.
Germany vs Belgium, Hockey World Cup 2023 Final Live Streaming: How to watch | Hockey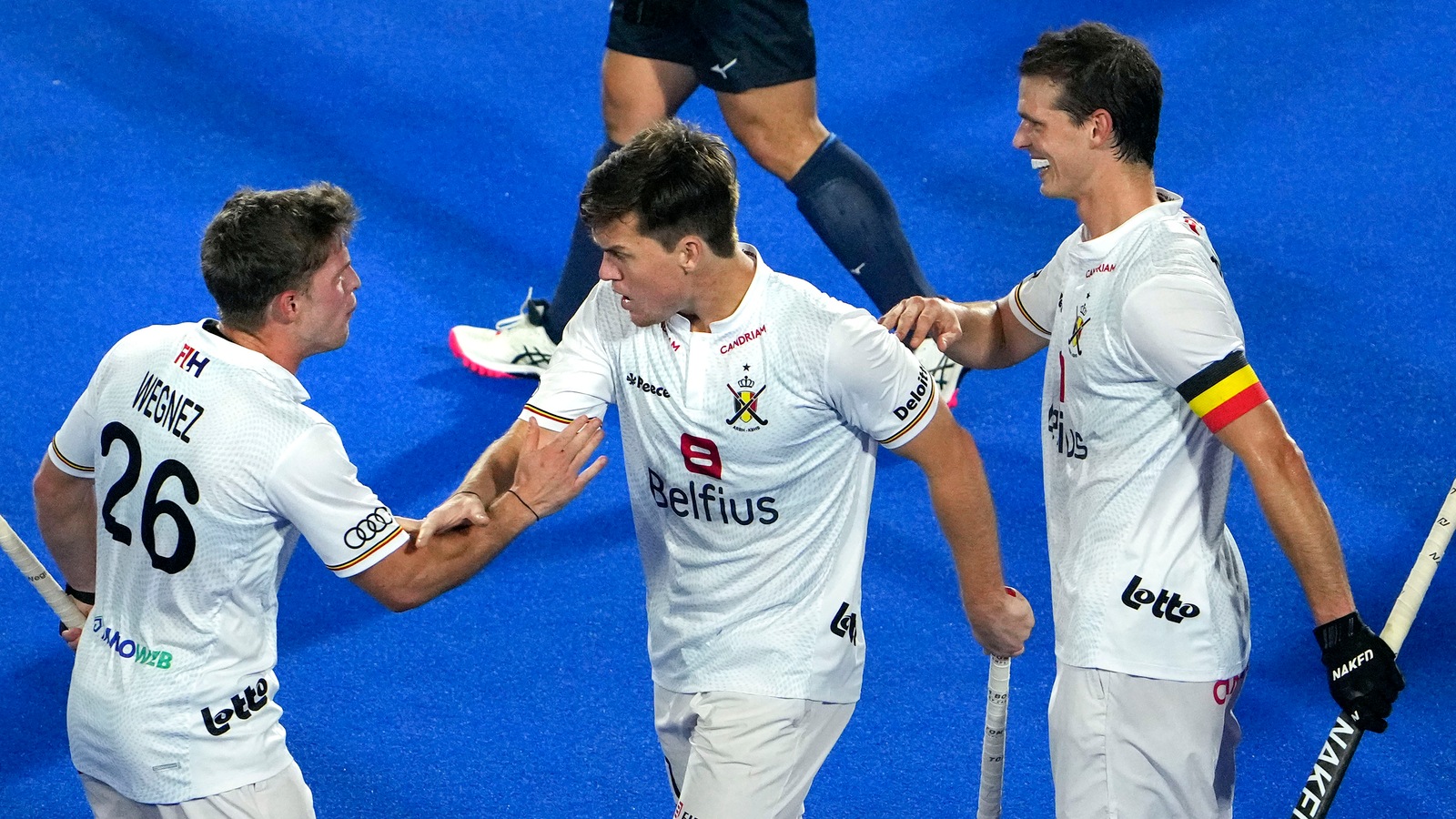 Germany will take on Belgium in the final of FIH Hockey Men's World Cup 2023 on Sunday. Belgium are the defending champions and have won the title only once while Germany have done it twice. A nail-biting contest is on the cards as both Belgium and Germany have been undefeated in the tournament thus far.
Belgium are currently ranked No.2 in the world while Germany are just one spot below at No.3. Going by recent head-to-head record, Belgium have the upper hand as they have beaten their opponent 10 times in 16 matches that they played against each other since mid-2017. The two teams squared off in the group stages of the ongoing tournament and drew 2-2.
Both teams have got some brilliant players who have delivered at the big stage. Belgium's Tom Boon is the second highest goal scorer in the tournament, having scored seven goals. While Germany also have Niklas Wellen who has found the net on six occasions.
Here are the live streaming details
When will the Germany vs Belgium Men's Hockey World Cup 2023 final take place?
The Germany vs Belgium Men's Hockey World Cup 2023 final will take place on Sunday, January 29, 2023.
Where will the Germany vs Belgium Men's Hockey World Cup 2023 final be played?
The Germany vs Belgium Men's Hockey World Cup 2023 final will be played at the Kalinga Stadium in Bhubaneswar.
What time will the Germany vs Belgium Men's Hockey World Cup 2023 final start?
The Germany vs Belgium Men's Hockey World Cup 2023 final will start at 7:00 PM IST.
Which TV channels will broadcast Germany vs Belgium Men's Hockey World Cup 2023 final?
The Germany vs Belgium Men's Hockey World Cup 2023 final will be on broadcast on the Star Sports First, Star Sports Select 2 and Star Sports Select 2 HD TV channels in India.
Where can I watch the live streaming of Germany vs Belgium Men's Hockey World Cup 2023 final?
The live streaming of Germany vs Belgium Men's Hockey World Cup 2023 final will be available on Disney+ Hotstar app and website. FanCode will also be streaming the matches in India for free.