From Boston to Hyderabad to back in the US: Srivedya begins quest for Olympics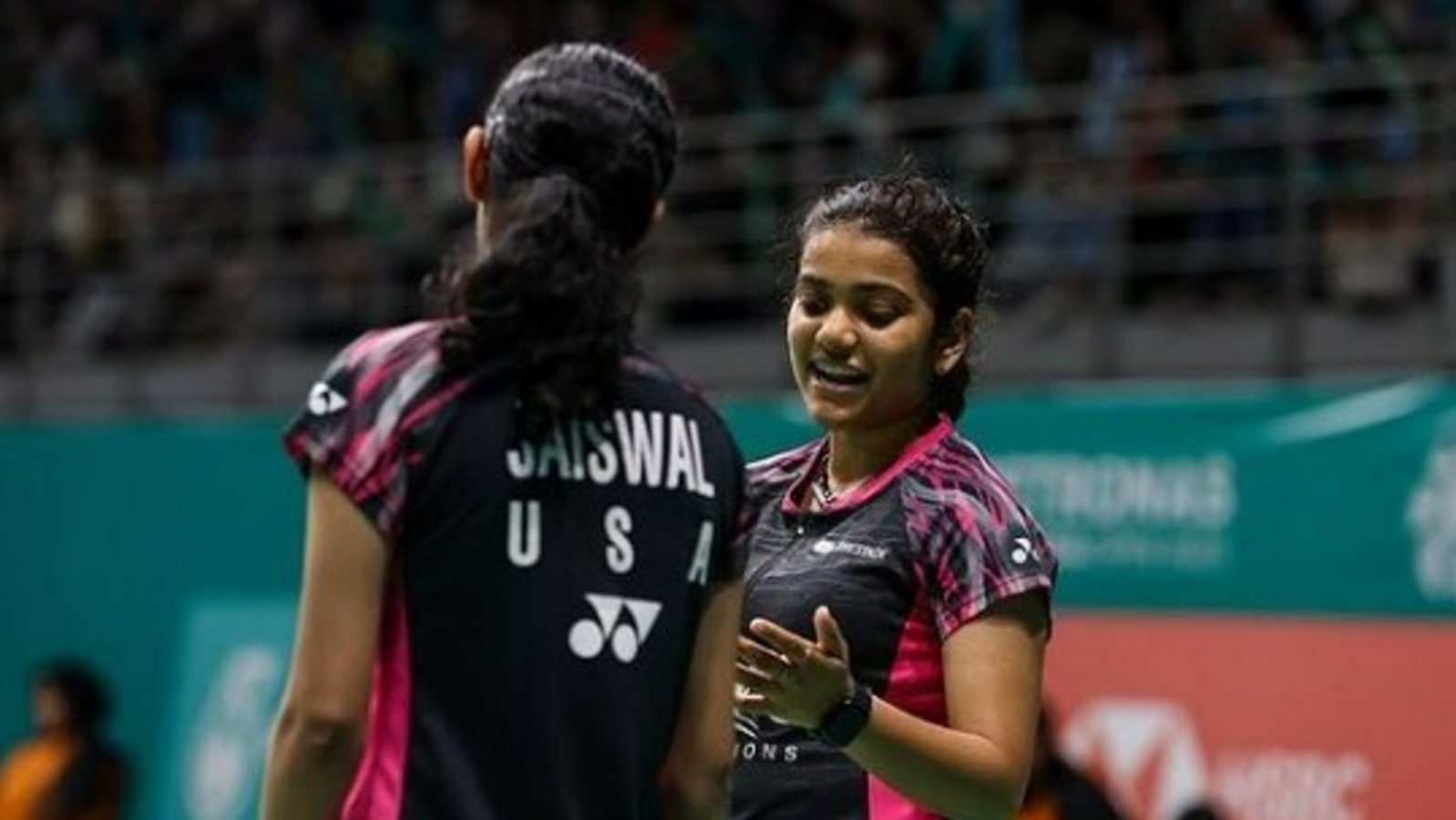 Born in Boston. Trained in India. Appeared in Indian colours, but it all changed for Srivedya Gurazada in October last year, when she decided to switch to the United States.
When a 19-year-old Gurazada turned up at the 2022 India Open, she still had the Indian tricolour beside her name. Gurazada had partnered Ishika Jaiswal of the US, making a rare badminton doubles combination of two players hailing from different countries. In fact, Gurazada and Jaiswal were the only pairing of such kind across all doubles categories at the India Open in the last edition. This year, the count for the same was back to zero as Gurazada officially represented the USA.
The pair had a good start to the year at the Malaysia Open – its first Super 750 tournament – where it defeated a much senior Spanish duo of Clara Azurmendi and Beatriz Corrales in three games. In New Delhi, however, Gurazada and Jaiswal were drawn with third-seeded pair Kim So Yeong and Kong Hee-yong of South Korea; the young duo lost 9-21, 10-21. But at this stage of her career, Gurazada is happy to take on the players from higher rankings and accumulating a wealth of experience.
Talking to Hindustan Times in an exclusive chat during the India Open, Gurazada opens up on why she made the switch, the challenges of playing badminton in the United States, and targets for this year:
How was the experience of playing at the India Open this year?
It was really good. It's the second time I'm playing at the India Open, but the last time when I was here, there were no fans. This is the first-time playing India Open with the crowd. It's a different feeling. Even though I have played (with fans) in the US, I'm fortunate to have played in front of the home crowd.
Tell us about your switch to the United States. What prompted the decision?
It happened in around October 2022. I made the switch because I was born in Boston, that makes me a US citizen. And we shifted to India when I was 3-4 years old. I started playing badminton in India and I trained at the Chetan Anand academy. He asked me to play some tournaments in India, so I started playing here. But the thing is, I can't represent India at the Olympics. I don't hold the citizenship, so that's why I made the switch. It will help me in the Olympic qualification.
When I was playing for India, I didn't get to practice with the Indian team. There were times we were practicing (with Indian players) during the tournaments, but not so much. The thing is, even though I played for India, I sparred rarely with the Indian team.
Also read: 'Translating motivation into medals': Satwik-Chirag eye breaking into top-3 after stellar 2022
The switch, specifically to the US, must be a big change for you…
When I shifted to the US, it wasn't the same. Even though I was an independent player in India, I did have players sparring with us once in a while. When I shifted to the US… the standards of the Indian players are absurd. When you compare them, you feel there's a difference. We try to practice in the academy in India, she (Jaiswal) comes to the academy and we train here. But then again, there's a difference between sparring with local players and the national players. That's where we find the huge gap.
Did you consider applying for an Indian citizenship?
"No. I wanted to move back to the US at some point in my life. There's some politics too, you don't see it on the surface but it's there in the system. There's politics in the US too, it's everywhere essentially, but here, since there are a lot of people, you can visibly see it.
Badminton isn't quite as popular in the US as it is in India. How hard was it to adapt?
I've been practicing and staying in India even though I've been playing for the US. I played some tournaments at the Pan-American circuit as well. In US, we don't have a team. When we travel, we find ourselves playing on individual sponsorships. They cover all of our expenses. We have an association but we don't have a team, so it's a little difficult for us to spar with other players because it's only the two-three of us.
So, I think that is a flaw in the system. Like in India, we have 10,000 players fighting. We don't have that sort of quantity in the US.
Your partner Ishika Jaiswal has been playing with the US since the beginning of her career, but you've partnered with her even while you were representing India. How did you two start playing together?
I played the junior nationals in 2019. She played too. We played against each other and she won against me and my partner. After that, Covid happened. In 2021, she reached out to me asking whether I'd play with her in tournaments and try to work things out. I was already playing in the tournaments she proposed and that's how we started playing. In some tournaments where I didn't play with her, I played with Poorvisha (S. Ram). She gave me a heads up in advance for that.
You went to second round at the Malaysia Open last week. Your doubles ranking is 34 at the moment. What are your targets this year?
I'd say the target for now is to break into top-20. Play better, perform better, and go to the top-20. Win some challengers in 100s maybe, and slowly get to the next level. We do feel there's a gap because we don't practice together. She lives in the US and I live in India. There's a gap, and obviously there's a difference in singles and doubles practice. But I do feel confident that we will do well.
Are you planning on shifting to US at some point?
Maybe. I see myself doing that. Maybe not now, but in two or three years.
Also read: Viktor Axelsen lauds 'tricky opponent' Srikanth after first round win at India Open
Did you have interactions with players from Indian team when you played here?
I didn't have much of an interaction with them team because I wasn't the part of the team during all India events as well. I was an independent player. I did had conversation with N Sikki Reddy and Ashwini Ponnappa when we played in Indonesia. It was very beneficial. One senior player who helped me a lot with exposure is Poorvisha S Ram (former world no.30). When I played in Cameroon and Bangalore with her, I learnt a lot on how I should act on court. She keeps talking to me about how to turn a bad day into a good day. We are still in touch and she has been a support system for me.
You also play in singles. What do you find most comfortable?
I play doubles more freely than singles but I enjoy playing both of them. As long as I can play singles, I will do that. I would like to play in big tournaments but my ranking wouldn't let me get into those for now. I'll play in the 100s and I hope to break into the 750 as well. I'm planning on playing the challengers and the 200s as well.
Who did you idolize growing up?
My idol is my coach, Chetan Anand. Ever since I started badminton, I have played under him. He remains calm and composed on the court and that's something to learn. Because it's very difficult to not show emotions on the court. Normally, as a woman's player, I idolize Carolina (Marin). I admire her aggression and determination to make comebacks even on her bad days.
What's next for you after India Open?
"We have sent an entry to the German Open. So, if we get into the tournament, it will be the Germany and then, All England.
Leading Mexico players snub Davis Cup tie over differences with federation | Tennis News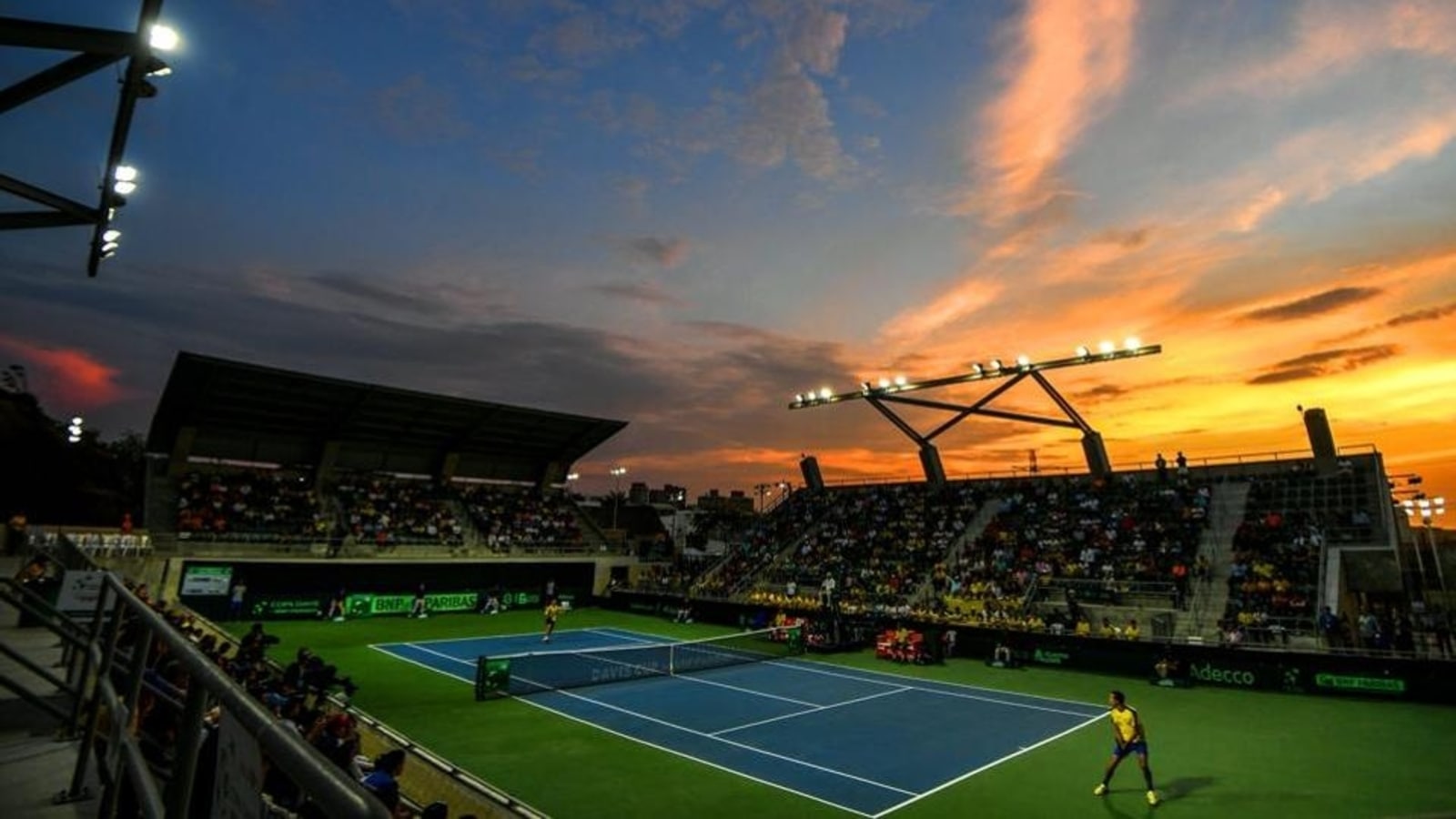 Mexico's leading tennis players have decided not to play in next week's Davis Cup World Group playoff tie against Taiwan due to differences with the Mexican Tennis Federation (FMT).
Led by Santiago Gonzalez, Alejandro Hernandez and Miguel Angel Reyes-Varela, the players said they will not take part in the Feb. 4-5 Group I playoff tie in Metepec, State of Mexico.
"After a difficult deliberation, we have not reached a positive conclusion, so we have decided not to participate in the upcoming series against the Chinese Taipei team," said the players' statement, published on social media on Monday.
"The lack of communication, lack of planning and lack of interest show that the situation has not been handled in the right way and that personal interests have taken precedence over sporting ones.
"It is sad that the FMT does not have the minimum standards in dealing and planning with the best national representatives."
The players said they had already informed the federation of their reasons for not participating in the Davis Cup tie.
The statement was also signed by players Ernesto Escobedo, Lucas Gomez, Hans Hach, Gerardo Lopez, and Manuel Sanchez.
The FMT was not immediately available to comment.
West Ham set up Man United tie by beating Derby | Football News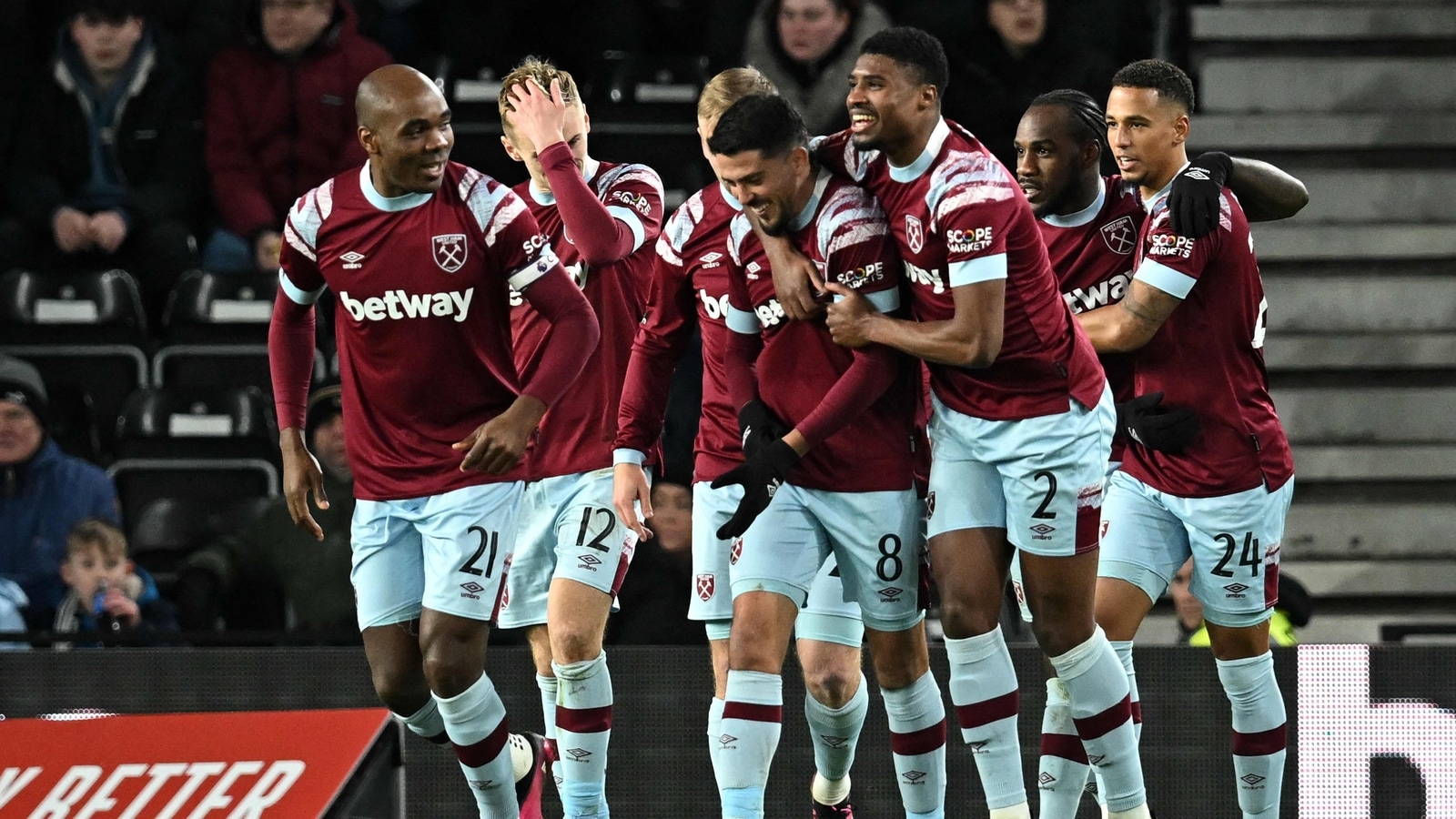 West Ham United eased into the FA Cup fifth round with a comfortable 2-0 victory away to third-tier Derby County on Monday to set up a meeting with Manchester United.
Derby, fourth in League One, went into the match on the back of 14 matches unbeaten in all competitions but were quickly overrun by the Premier League side, who took the lead in the 10th minute with a close-range volley from Jarrod Bowen.
Bowen went 12 matches without a goal before netting twice against Everton last week and now has three in his last two games.
The forward then crossed for striker Michail Antonio to head in a second goal five minutes after the interval to break his own goal drought stretching back to November.
David Moyes' side saw out the victory without conceding many chances, recording back-to-back wins for the first time since October, and Bowen said he hoped the win would boost his side, who are 16th in the table, one point above the relegation zone.
"Two wins on the bounce is good for us it's all about results and momentum and we can use this as a real springboard," he said.
Midfielder Pablo Fornals added: "Everyone knows it hasn't been an easy season so every game we can win gives us massive confidence.
"We work hard every day in training to get a chance and then you have to take it. That's what the players tried to do tonight."
Valencia sacks coach Gennaro Gattuso for poor results | Football News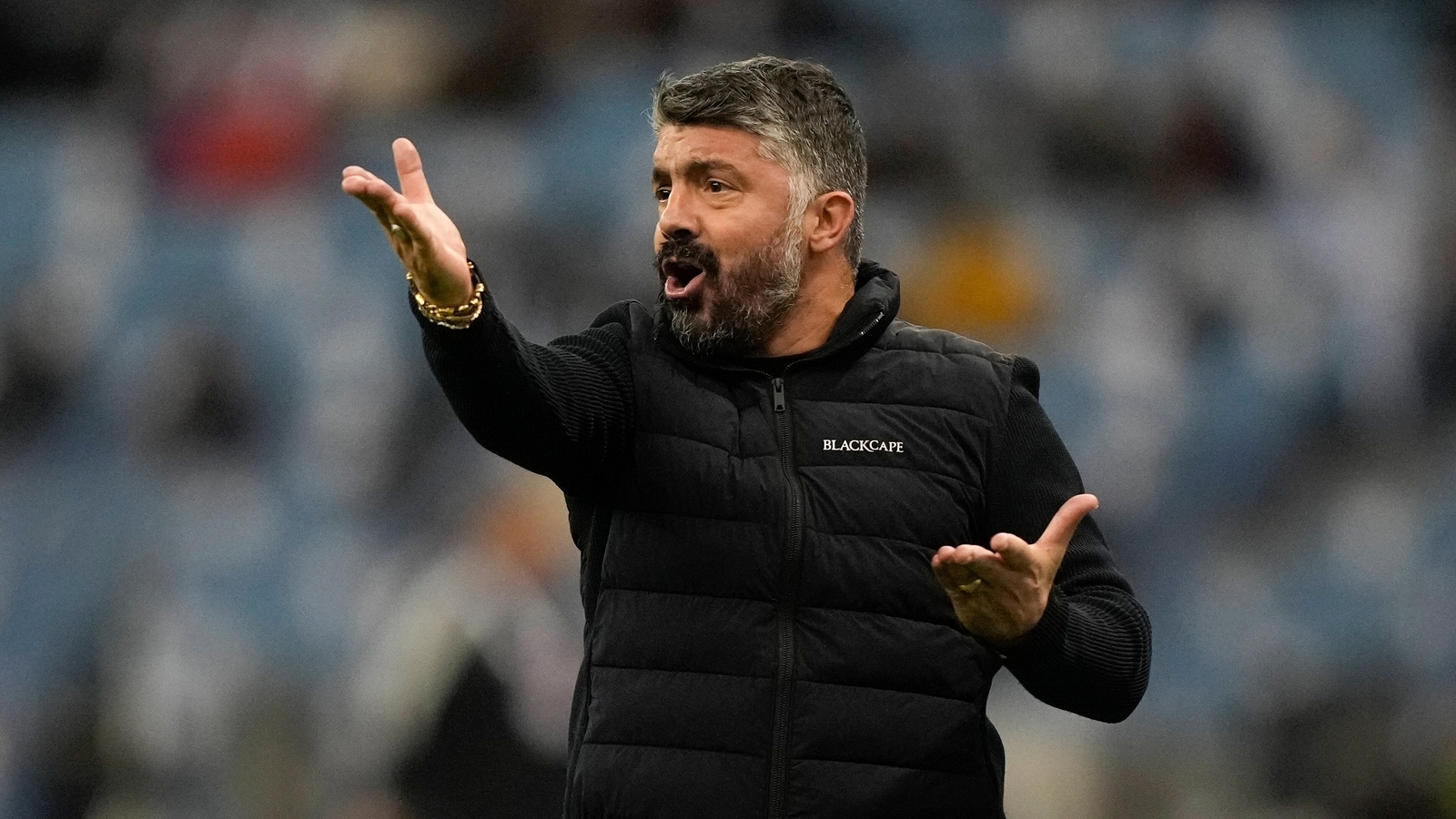 Spanish club Valencia sacked coach Gennaro Gattuso on Monday following the team's poor results.
Valencia said in a statement it reached a mutual agreement with Gattuso to end their contract.
The announcement came after a 1-0 loss at Valladolid in the Spanish league on Sunday. The club has won only one of its last 10 league games, before the World Cup.
The latest defeat dropped Valencia to 14th place, one point above the relegation zone.
Its only two wins this year came in the Copa del Rey, though it was eliminated in the quarterfinals by Athletic Bilbao at home last week. In the Spanish Super Cup, Valencia lost to Real Madrid in a penalty shootout in the semifinals.
The 45-year-old Gattuso arrived last June on a two-year contract.
The former defensive midfielder helped Italy win the 2006 World Cup and AC Milan win two Champions League titles, both as a player. He coached Milan and Napoli in Italy.
Valencia did not announce a replacement for Gattuso.