More points home and away in Arsenal's forward march | Football News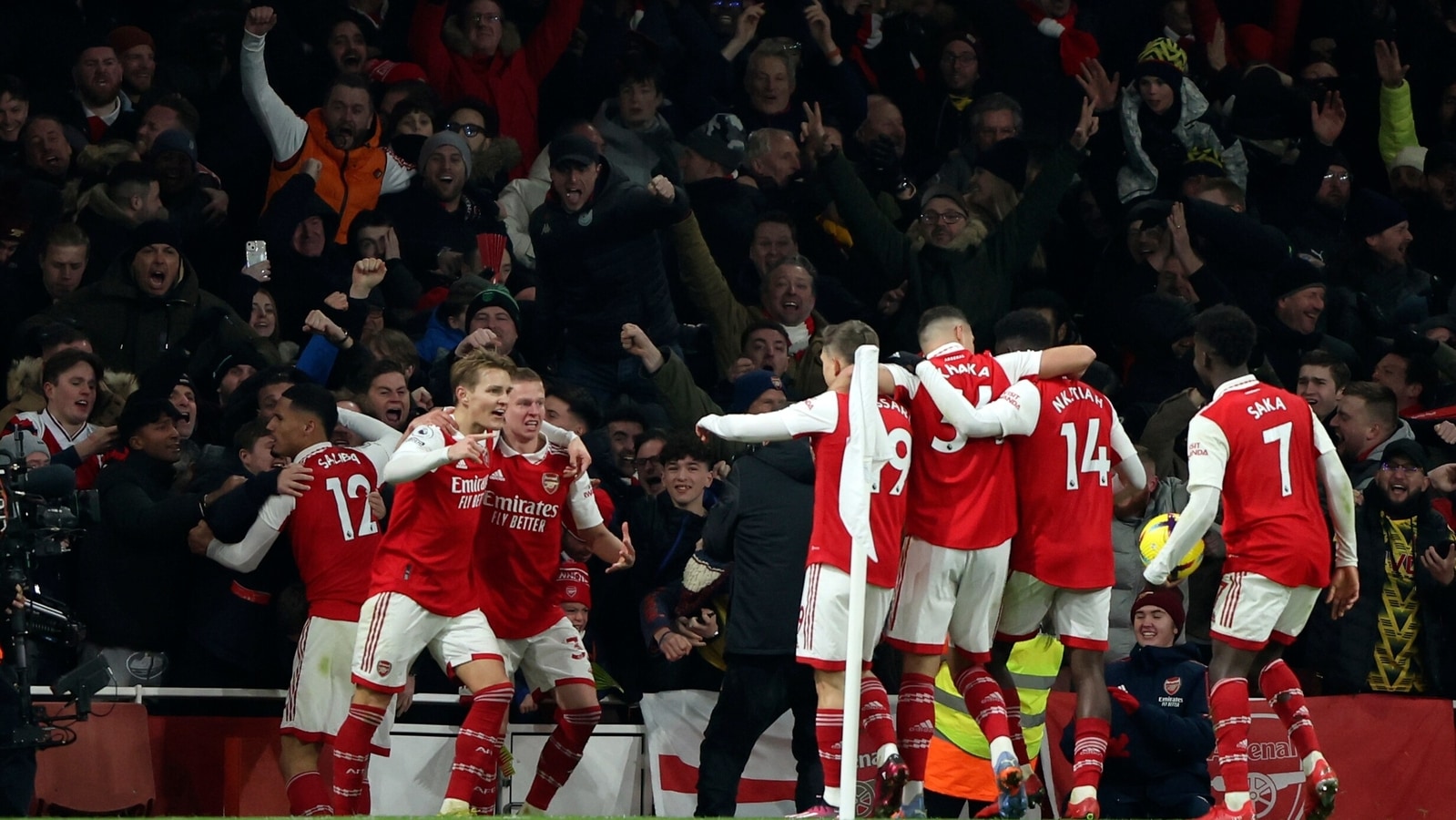 Halfway through a season Arsenal manger Mikel Arteta has termed extraordinary, his team sits on top of the Premier League pile with 50 points. Erling Haaland's fourth hat-trick on Sunday though, meant Pep Guardiola and Arteta, master and protégé, could be in a riveting race till summer.
Appropriately, Arteta dodged talking of the league title, which would be Arsenal's first since 2003-04, after Sunday's come-from-behind 3-2 win against a Manchester United that didn't bend till the very end. But only once in the Premier League has a team got to 50 points and not finished first. That was Liverpool in an incredible 2018-19 season. Adjusting to three points for a win, it is also the only time since 1888-89, according to The Athletic.
Pegged back by a Marcus Rashford stunner from range – it was only the fourth time in all competitions that Arsenal had let in the first goal in 2022-23 – Eddie Nketiah's strikes on either side of a wonderful effort from Bukayo Saka helped the leaders avenge their only league loss this term. Lisandro Martinez's intelligent header, his first for United, had given the visitors hope of taking something away from north London but Nketiah's late flick during a spell of sustained pressure – and when United sorely missed the suspended Casemiro – ensured that the better team won.
With 19 goals in his last 26 starts and 13 in as many at home, Nketiah has proved to be a worthy replacement for the injured Gabriel Jesus but surely, the sight of the Brazilian beaming on the pitch after the game would please Gooners. As would the return of Emile Smith-Rowe from injury and the start made by new signing Leandro Trossard after Arsenal lost Mykhaylo Mudryk to what Arsene Wenger would call "financial doping."
Arsenal have been the best team in the league and that is not something written often over most of the past 20 years. Unbeaten in six games (five wins) since the World Cup, they hit the season's second half with wins against difficult rivals. The 2-0 victory at north London rivals Tottenham Hotspur was Arsenal's first in nine years. From averaging 1.5 points per away game in 2021-22, Arsenal have aggregated 2.5 this time; the home record has improved from 2.2 to 2.8 too.
On Sunday, the reaction after Rashford's goal and the way they ended the game showed two things: Arsenal are not rattled by adversity and three points is their target in every game. "It is how we deal with moments when we lose that control, and we are able to reset and take the game into a direction that we want and finding different ways to do that," Arteta has said.
Just as nothing seemed to be going right in the first three games of last season, nothing seems to be going wrong for the Gunners now. Arteta has forged a formidable force comprising skipper Martin Odegaard, Thomas Partey, Granit Xhaka, Gabriel Martinelli, Saka, Aaron Ramsdale, Gabriel Magalhaes and Oleksandr Zinchenko among others. They are more comfortable on the ball than before and more composed at the back. They play quickly among themselves – check out how Arsenal broke after a Said Benrahma shot against West Ham or how quickly they got the ball to Odegaard after Harry Kane lost it in the north London derby – and try to beat the press.
But if any team knows how easily things can go south it is Arsenal. The Champions League berth last term was theirs for the taking but injuries and a lack of depth in the squad led to defeats at Spurs and Newcastle. In 2015-16, Arsenal beat eventual champions Leicester City twice but their campaign unspooled on the home stretch.
Should Arsenal slip, City know how to produce a second-half surge. Not used to losing two games in a row, they erased a 0-2 deficit at home to beat Spurs 4-2 before Haaland fired them to a 3-0 win against Wolves . There were moments against Manchester United and Spurs when City's passes were not going to feet and the team used to playing sophisticated football was looking out of sorts. "I want a reaction from the whole club," manager Pep Guardiola said after the 4-2 win against Spurs. He got one on Sunday. Also, City have huge depth and have won four of the last five league seasons so they should push Arsenal till the end.
Like Liverpool did to City last term. But hit by injuries to forwards and a midfield that needs recalibrating, they are 29 points behind Arsenal after a bland 0-0 draw against Chelsea, where new signings worth $494m and a new coach are yet to settle down leaving them without an away league win in six games. The stalemate was also Klopp's 1000th game in charge. His main target would be to seal a Champions League berth which was crucial to Liverpool toppling Manchester United in the latest world clubs' rankings.
The top four fight
Erik ten Hag failed to be the first manager since Alex Ferguson to win 10 games in a row in all competitions but he has got United to where it didn't look possible after their worst finish in the Premier League in 2021-22. Off-loading Cristiano Ronaldo has helped as have the new signings that cost nearly $250m. But Ten Hag's biggest contribution has been in bringing Marcus Rashford back. With Wout Weghorst bedding in, Bruno Fernandes being at the top of his game, David de Gea set for a new deal, things look bright for United who are the only English club still in four tournaments.
"We have already seen how the mentality from the players has changed over the last couple of months, but we also have to notice today we have a way to go to be on the top level," said Ten Hag on Sunday.
That means anything above sealing a top-four finish will be a bonus. The same can be said of Newcastle who, like United, are on 39 points from 20 games. They have let in one goal in their past 10 games in all competitions but equally, have scored only once in four league games. In terms of big chances missed, at 36 Newcastle are third behind Liverpool (44) and City (37), according to stats provider Opta. Unbeaten in 15 league games, a club record, manager Eddie Howe has transformed the team to one where a Champions League berth may not feel like a mid-summer pipedream. Six points adrift of the top four and still a work in progress under Antonio Conte, Spurs, however, may have something to say about that.
The battle for survival should be no less enthralling with the bottom seven teams separated by three points. Among them is Everton who haven't won their last 10 league games, Leicester City, whose squad needs an overhaul with players such as Jamie Vardy and Youri Tielemans looking off-colour, and West Ham who ended a run of seven games without a win at the weekend. Following a 5-2 win against Cardiff City in the FA Cup, Leeds United manager Jesse Marsch spoke of having so much to do. He could be speaking for all seven.
A ₹724 crore boost in union sports budget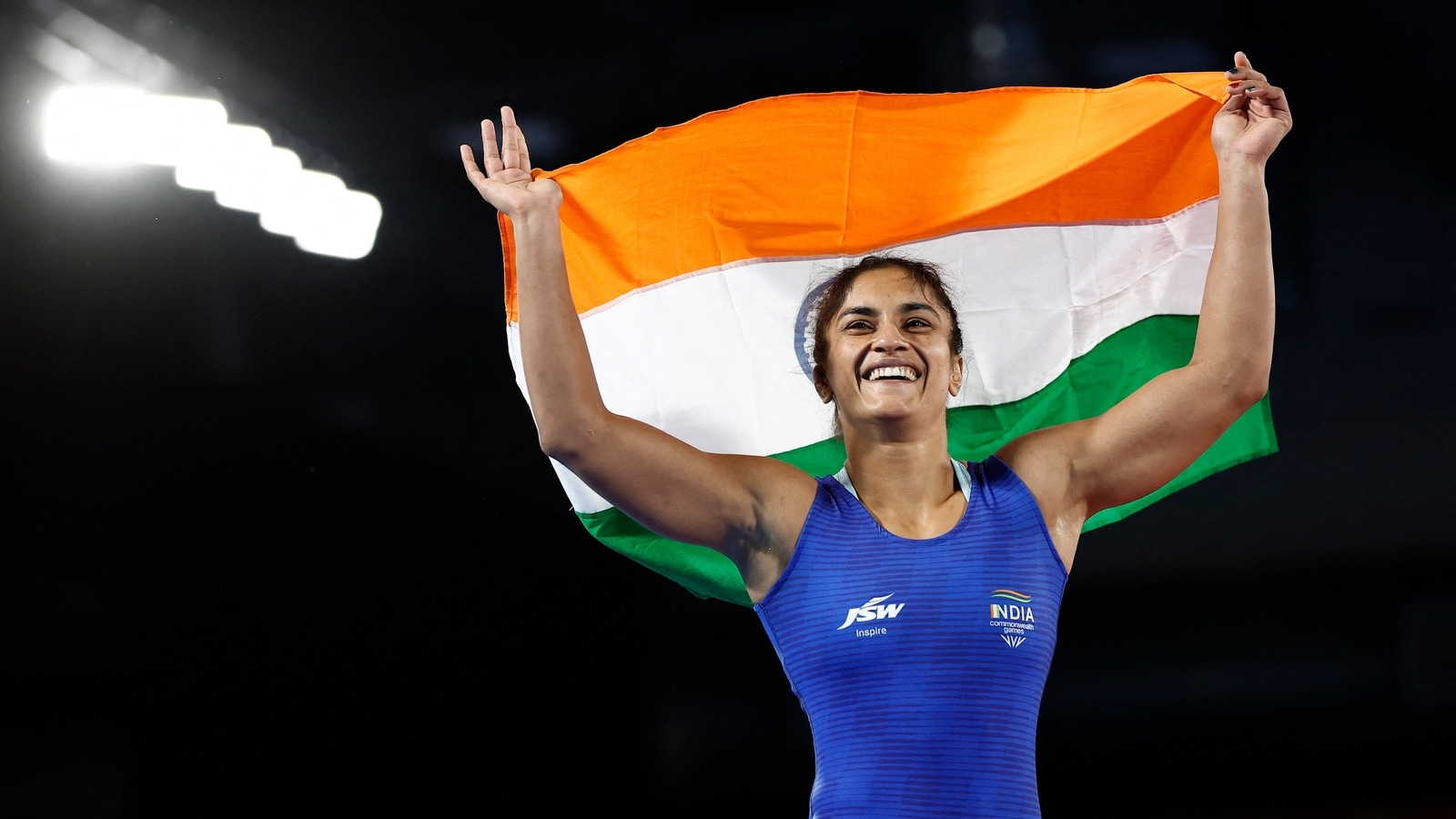 In the year of the Asian Games and qualifications for the 2024 Paris Olympics, the union sports budget saw a significant jump in allocation on Wednesday. The sports ministry has been allocated ₹3397.32 crore for 2023-24 – an increase of 723.97 crore from the previous fiscal. The budget for the previous financial year was ₹3062.60 crore (revised: ₹2673.35cr).
The Asian Games, postponed last year due to Covid, are due to be held in Hangzhou, China from September 23-October 8. India's elite athletes have also started preparing for various Olympic qualification events.
Also Read | Sai Praneeth, Kiran George in men's singles second round in Thailand Open
The allocation for National Sports Federations (NSFs) and Sports Authority of India (SAI) have gone up. Assistance to NSFs has been increased to ₹325 crore from ₹280 crore in 2022-23.
SAI has been allocated ₹785.5 crore, an increase from last year's revised budget of ₹749.43 crore. It was originally allocated ₹653 crore in the last financial year. SAI oversees the preparation of national teams, manages national camps, provides infrastructure and other facilities to athletes besides appointing coaches, including foreign experts.
A big chunk of the sports budget will go for government's flagship programme, Khelo India. It gets ₹1,000 crore, an increase of ₹400 crore from the revised allocation of ₹600 crore set aside for it in the previous budget. Under the scheme, Khelo India Youth Games and Khelo India University Games are organised. It has become the platform for talent identification and nurturing through its various schemes. The budget for Khelo India has steadily risen since its inception in 2018.
A major allocation of ₹107.84 crore has been made for the National Sports University in Imphal. Set up in 2018, NSU is a first-of-its-kind institution which imparts studies in sports science and medicine, coaching, sports management and technology.
The National Centre of Sports Science and Research, under which financial assistance is given to medical colleges and Universities to develop centres of sports science and research, has been allocated ₹13 crore.
There has been a ₹10 crore dip in incentives to athletes, from ₹55 crore last year. To fight the doping menace, the National Anti Doping Agency has been allocated ₹21.73 crore. The National Dope Testing Laboratory in Delhi, whose accreditation was restored by the World Anti-Doping Agency in December, 2021, gets ₹19.50 crore. A National Anti-Doping Bill was passed last year to create a statutory body for regulating anti-doping activities in sports.
Sai Praneeth, Kiran George in men's singles second round in Thailand Open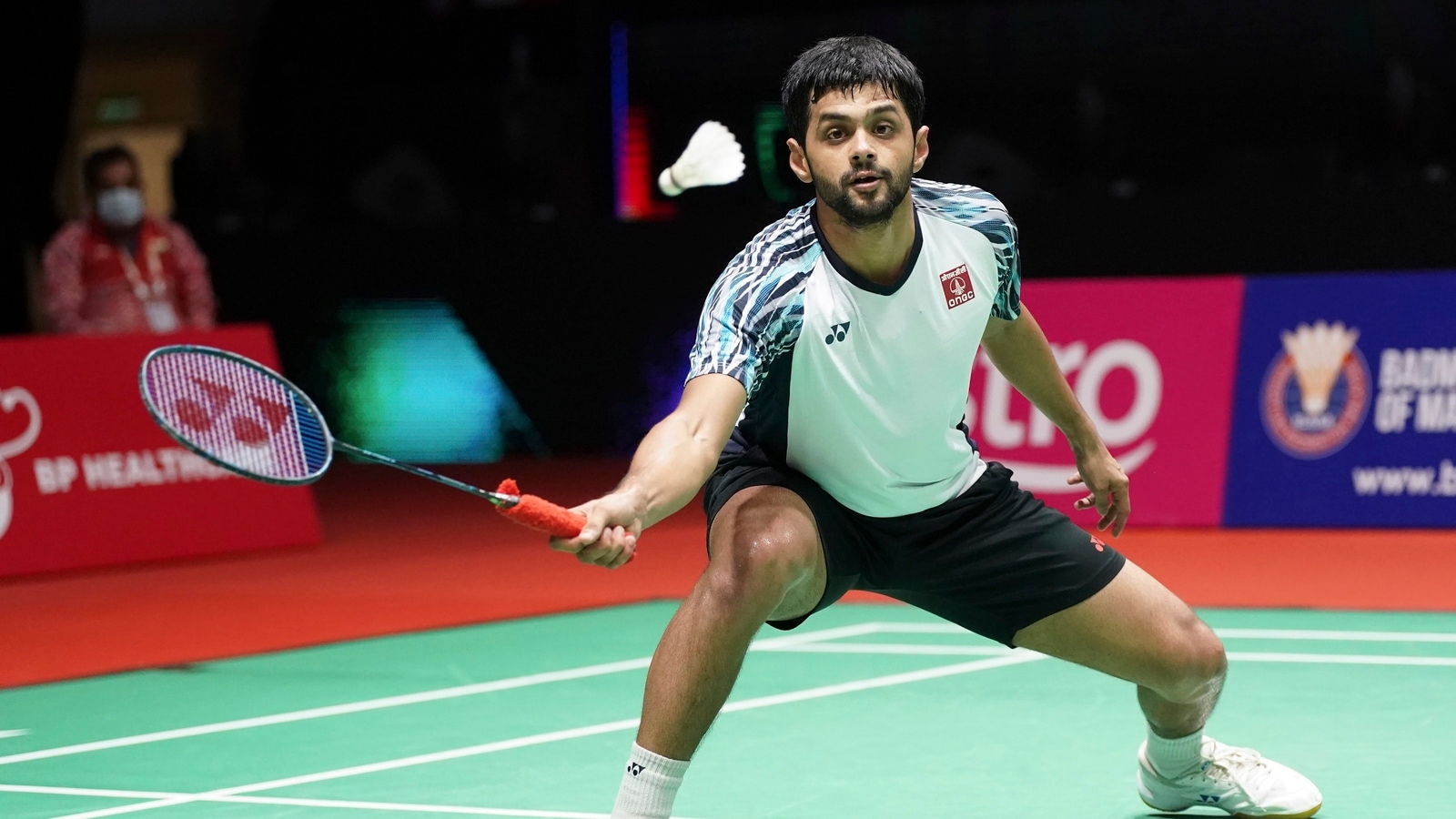 Indian shuttlers B Sai Praneeth and Kiran George advanced to the second round of the Thailand Open Super 300 badminton tournament with contrasting wins over their respective opponents on Wednesday.
Praneeth beat Mads Christophersen of Denmark 21-13 21-14 in a battle lasting 31 minutes. He faces Hyeok Jin Jeon of South Korea in second round.
George, on the other hand, staved off a tough challenge from Lee Chia Hao of Chinese Taipei before emerging 21-17 19-21 23-21 victorious. He is up against third seed Cheuk Yiu Lee of Hong Kong in the second round.
However, Sameer Verma, Priyanshu Rajawat and Mithun Manjunath lost their first round matches. While Verma suffered 14-21 16-21 defeat against sixth seeded Chinese Shi Feng Li, Rajawat lost to Kwang Hee Heo of South Korea 21-14 19-21 25-27 and Manjunath was beaten 18-21 12-21 by fifth seeded Kenta Nishimoto of Japan.
In women's singles, Ashmita Chaliha beat compatriot Anupama Upadhyaya 21-16 21-19 to reach the second round where she will face sixth seed Line Hojmark Kjaersfeldt of Denmark.
The pair of Simran Singhi and Ritika Thaker lost to sixth seeded Sheng Shu and Shu Xian Zhang of China 8-21 10-21 in the women's doubles.
In mixed doubles, Rohan Kapoor and Sikki Reddy beat Canadian pair of Ty Alexander Lindeman and Josephine Wu 21-11 21-16 to enter the second round. But the pair of B Sumeeth Reddy and Ashwini Ponnappa lost to fourth seeded Indonesian pair of Rehan Naufal Kusharjanto and Lisa Ayu Kusumawati 11-21 17-21.
Djokovic played Australian Open with 3cm tear in hamstring, says Tiley | Tennis News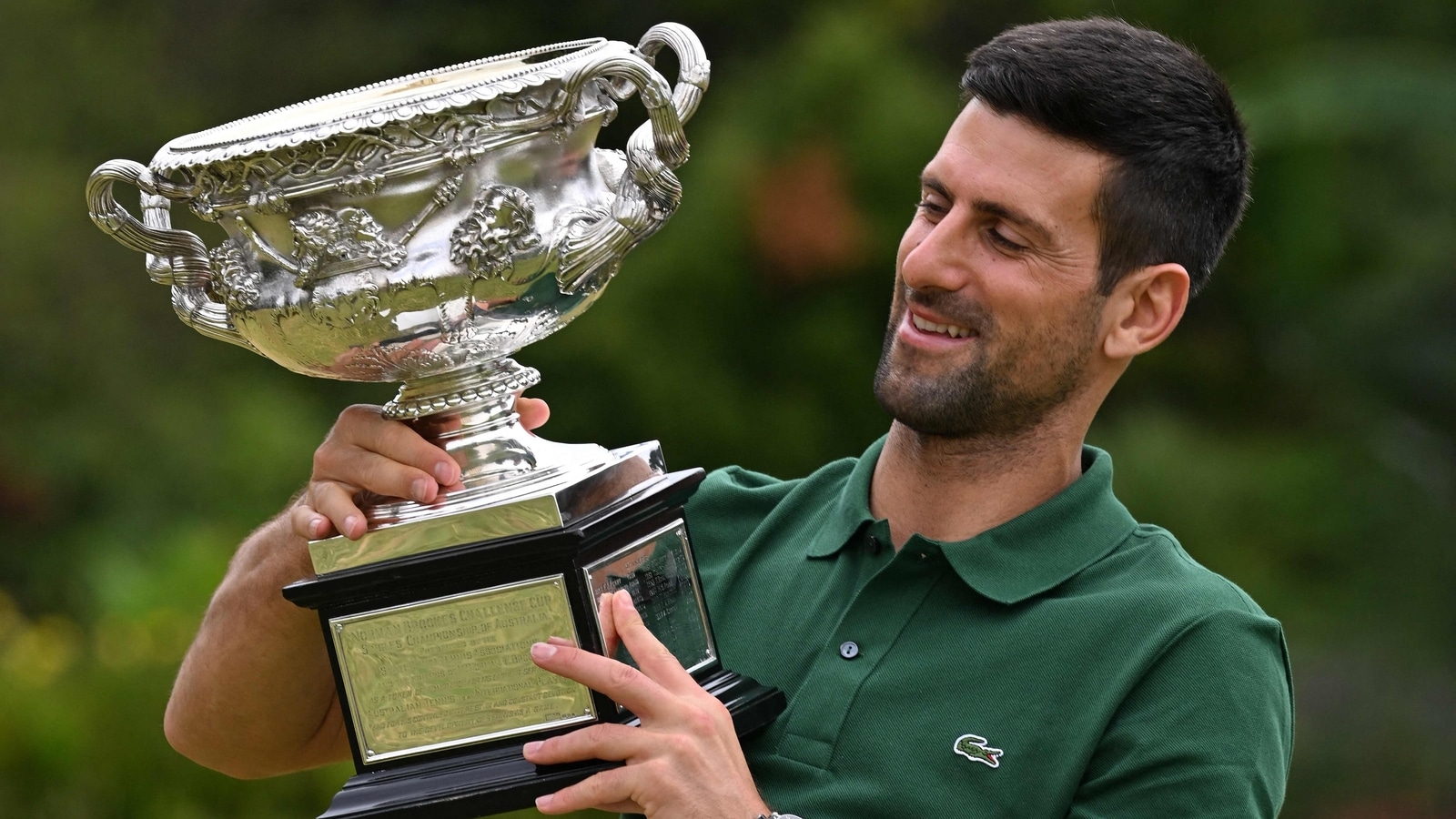 Novak Djokovic played with a three-centimetre (1.2 inches) tear in his hamstring during his run to a record-extending 10th Australian Open title, tournament director Craig Tiley said on Wednesday.
The Serbian, who suffered the hamstring injury en route to winning the warm-up title in Adelaide, won the season-opening major after beating Stefanos Tsitsipas in Sunday's final for a men's record 22nd Grand Slam title, matching Rafa Nadal's haul.
"This guy I did see, he had a three-centimetre tear in his hammy," Tiley told SEN Sportsday. "Absolutely (I saw the scans), the doctors are going to tell you the truth.
"There was a lot of speculation about whether it was true or not, it's hard to believe that they can do what they do with those kinds of injuries.
"He's remarkable, to deal with it extremely professionally."
Djokovic's coach Goran Ivanisevic said after the final that the world number one battled the injury, which would have forced most players to quit.
"He's so focused on everything he does, with every single minute of the day," Tiley added. "That's what he eats, what he drinks, when he does it, how he does it.
"There's no breakdown or mental breakdown in anything that he does. He's been through a lot and to win 10 Australian Opens, I don't think that's ever going to be repeated… He'll hold a significant place in the history of the Australian Open."