Pressure, poor execution sank India's World Cup hopes | Hockey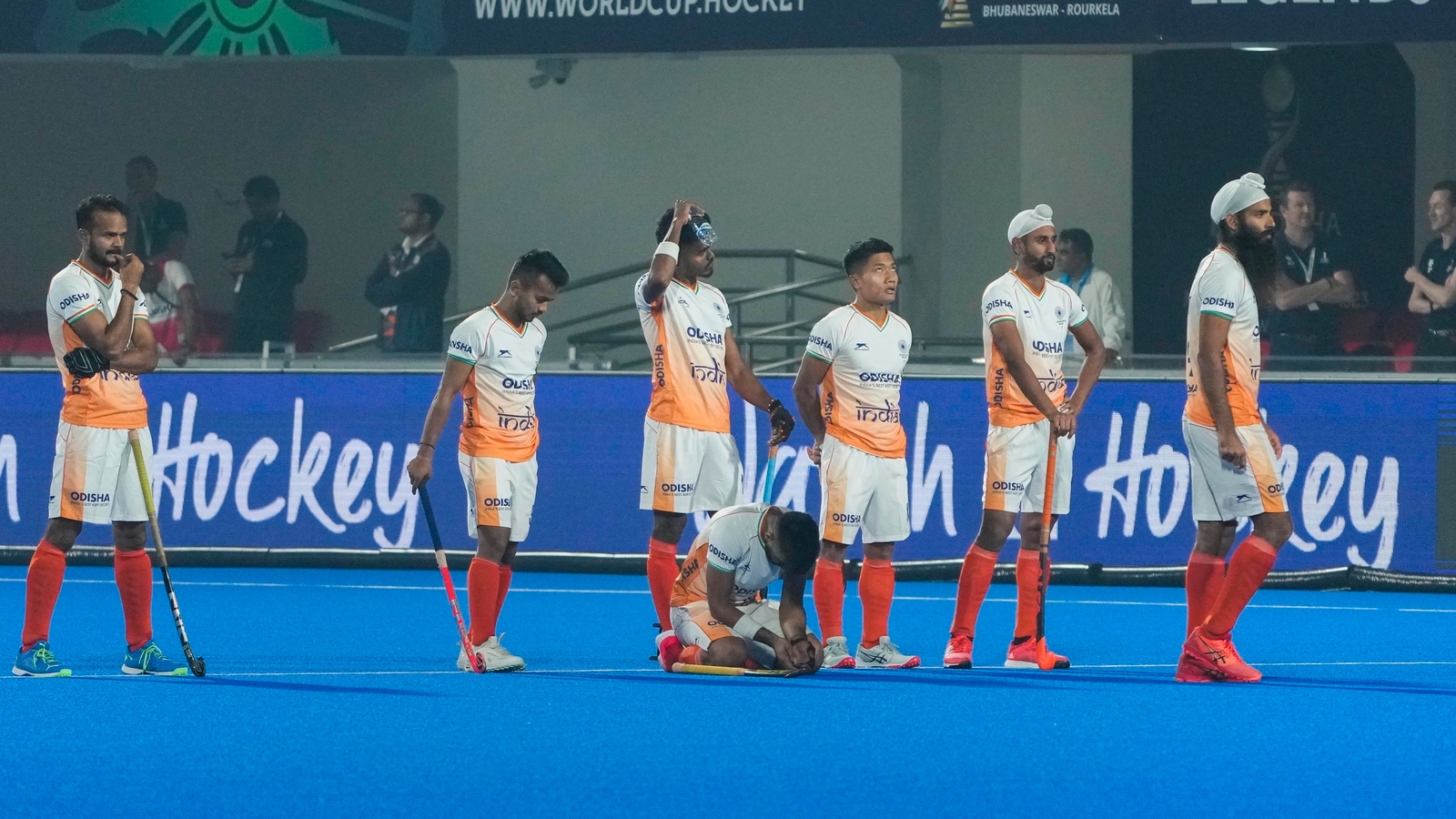 "I am not a hockey fan but my son saw India win bronze at the Tokyo Olympics and started playing the sport. We came to watch India win but return with a lot of disappointment," a dejected Prasanto Mohanty, his son Prodip in an India jersey and the tricolour painted on his cheek standing next to him, said.
The Mohanty family like 16,000 others at the Kalinga Stadium saw India's World Cup campaign fizzle out. The world No 6 side was eliminated by New Zealand, a side with players doing regular jobs who come together only a few times in a year, in Sunday's crossover clash.
But that was also the Tokyo Olympics impact. A bronze medal 41 years in the making had raised expectations. This World Cup is the first since the 1982 Mumbai edition when India went in as Olympic medallists.
It increased the pressure, and India wilted after going in as a favourite for the podium. "Let alone the crossover, India didn't look in shape even in the pool stages. When you play a tournament, each time (game) you must improve, not stay at the same level," said Dutch legend Jacques Brinkman, winner of two Olympic and World Cup titles each.
India's 2021 Olympics bronze came in front of almost empty stands at Tokyo's Oi Hockey Stadium. In contrast, packed stadiums — 21,800 in Rourkela and 16,000 in Bhubaneswar — scores of media personnel asking tough questions, poor penalty corner (PC) attempts, burden of being Olympic medallists all seemed to overwhelm the players.
The Graham Reid-coached side had a golden opportunity to build on Tokyo. But India's wait for a World Cup medal since the 1975 triumph at Kuala Lumpur continues. "I am sure pressure and expectations all come into the mix. But I don't think it is the only thing. We made mistakes which we don't normally make. We need to analyse, talk and come up with solutions," the Aussie coach said.
The main reason for India's debacle was poor PC conversion. Though they started with a 2-0 win over Spain, they missed several open chances. The forward line faltered when it came to converting chances. At their exit, India had made the most circle entries (94), but of their 49 shots at goal in the four games, only nine went in.
"We had a lot of circle penetrations but couldn't convert. Even against New Zealand, we scored three goals which would normally be enough. In the defence, we probably needed to be in front a bit more, and a bit tighter," Reid said.
In Tokyo, India had started poorly. They scraped past New Zealand and lost 1-7 to Australia before the players got used to the conditions. They then scored successive wins, over Spain, Olympic champions Argentina, Asian Games champions Japan and Great Britain. Six-team groups in Tokyo helped India bounce back. Odisha featured four-team groups with only the topper directly qualifying for the quarterfinals.
A major concern was the poor PC conversion. Only five of the 27 PCs were scored off, a conversion rate of 18.51%. India's spearhead, skipper and PC specialist Harmanpreet Singh scored once in the four games. The absence of a world class drag-flicker like Rupinder Pal Singh — he retired after Tokyo — hurt as the other flickers Amit Rohidas, Nilam Sanjeep Xess and Varun Kumar are largely one dimensional.
A team needs multiple world class drag-flickers to win tournaments in modern hockey. Belgium have four — Alexander Hendrickx, Tanguy Cosyns, Tom Boon and Loick Luypaert. Australia have Blake Govers and Jeremy Hayward. Multiple flickers give pushers more options and confuse the first rushers.
His triple role – captaincy, leading the defence and executing PCs – put Harmanpreet under pressure. "I know everyone is talking about me not scoring enough. I also wanted to. I tried, but it didn't happen. When you go on to the field, you don't think you won't score, you go in thinking you will," the highest scorer (18) in the 2021-22 Pro League sounded helpless.
Failing at man-to-man marking, defensive lapses, Manpreet Singh not delivering as playmaker and the midfield led by him not using both the flanks during attacks, few aerial balls used to scatter the defence, regular loss of possession and not pressing high were the errors India made, in the last group game against Wales and against New Zealand. "We let ourselves down, throwing the ball away made it difficult. Every time we won the ball, we gave it back. That was the telling factor. At this level you can't do that."
There will be debate over the players selected for the shootout. Reid believes in youth – he picked young Shamsher Singh over Akashdeep Singh for the Olympics. That approach backfired on Sunday. Instead of the experienced Manpreet, Akashdeep and Mandeep Singh, Reid opted for youngsters like Abhishek, Shamsher and Sukhjeet Singh who all missed.
"The most important thing is hockey at the international level, the decision is made via shootouts. In them, I was wondering what India were doing. Harmanpreet, great player, best in the world, but what was he doing? They have to train for shootouts," said Brinkman.
Though 13 of the 19 players at Tokyo were at the World Cup, India perhaps missed the likes of Sumit, Gurjant Singh, Dilpreet Singh and Simranjeet Singh, who scored twice in the bronze playoff in Tokyo against Germany.
Hardik Singh's injury after the second game hurt as the midfielder was India's best player until then. Goalkeeper PR Sreejesh got injured at a crucial stage of the shootout. "Excuses don't count. Differences at the top are small. I hope India continue because they are on the right way. The Dutch, for example, won their last World Cup in 1998, which is 25 years ago. It's not so easy though they have the quality," Brinkman said.
Leading Mexico players snub Davis Cup tie over differences with federation | Tennis News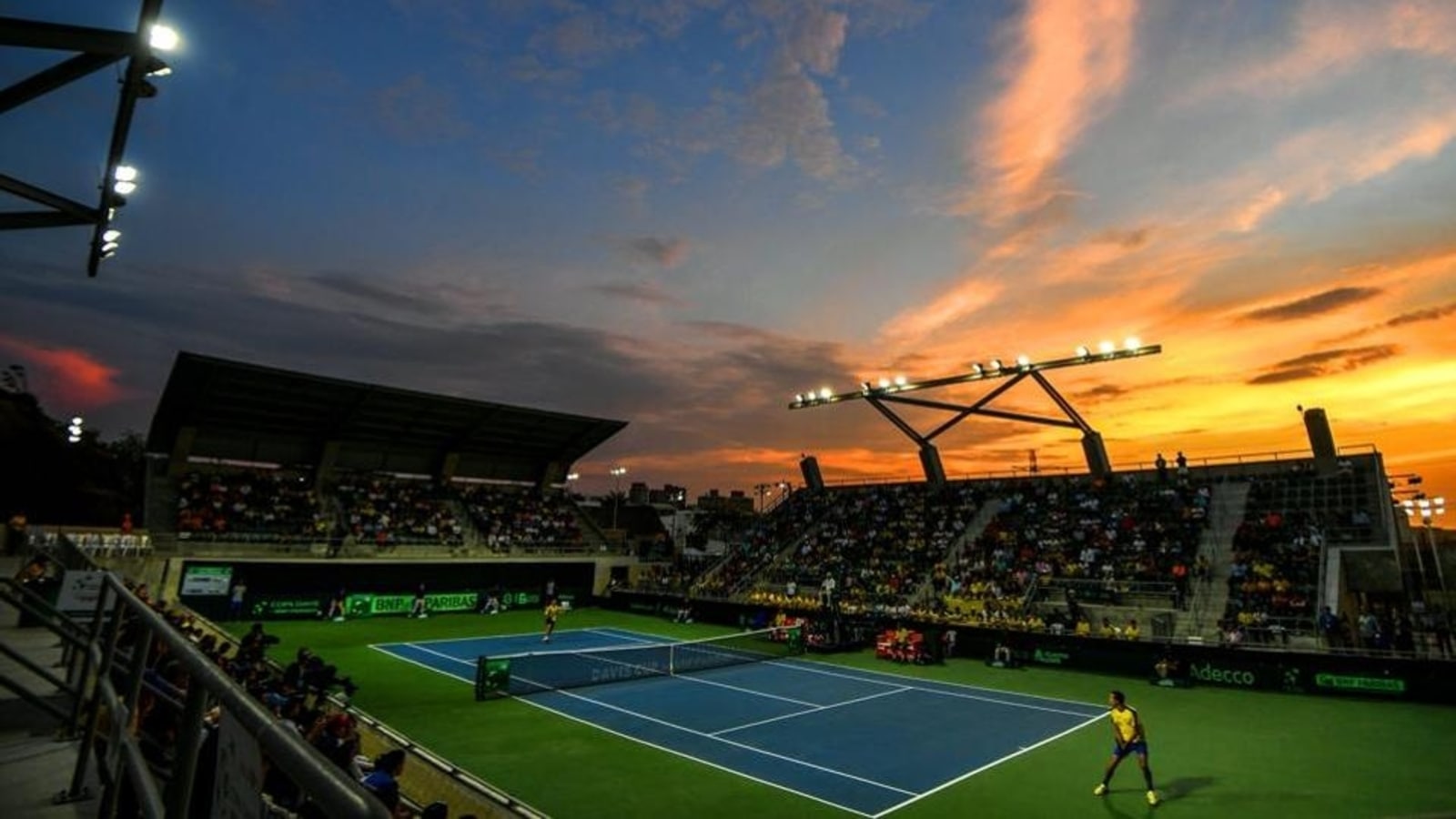 Mexico's leading tennis players have decided not to play in next week's Davis Cup World Group playoff tie against Taiwan due to differences with the Mexican Tennis Federation (FMT).
Led by Santiago Gonzalez, Alejandro Hernandez and Miguel Angel Reyes-Varela, the players said they will not take part in the Feb. 4-5 Group I playoff tie in Metepec, State of Mexico.
"After a difficult deliberation, we have not reached a positive conclusion, so we have decided not to participate in the upcoming series against the Chinese Taipei team," said the players' statement, published on social media on Monday.
"The lack of communication, lack of planning and lack of interest show that the situation has not been handled in the right way and that personal interests have taken precedence over sporting ones.
"It is sad that the FMT does not have the minimum standards in dealing and planning with the best national representatives."
The players said they had already informed the federation of their reasons for not participating in the Davis Cup tie.
The statement was also signed by players Ernesto Escobedo, Lucas Gomez, Hans Hach, Gerardo Lopez, and Manuel Sanchez.
The FMT was not immediately available to comment.
West Ham set up Man United tie by beating Derby | Football News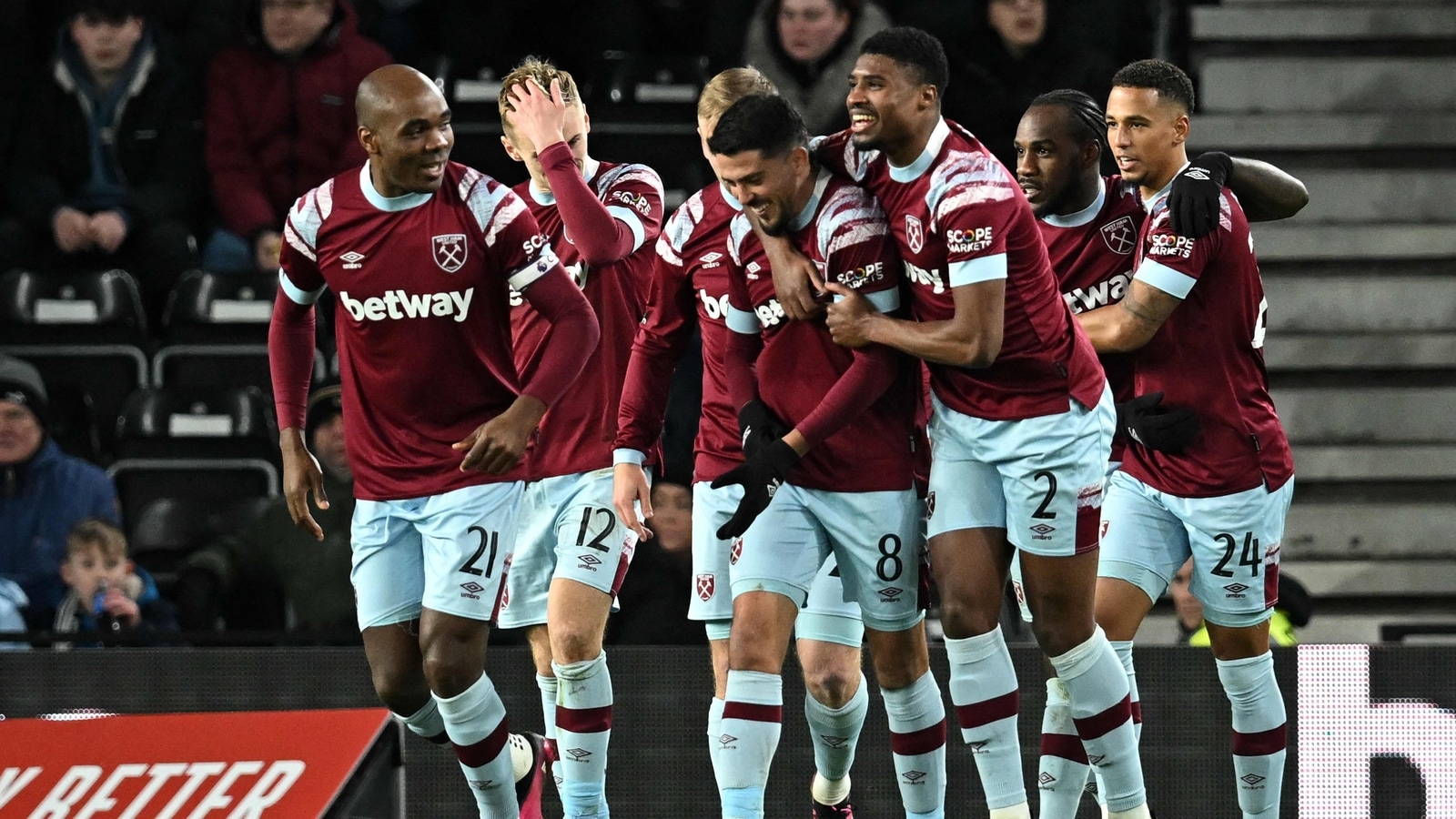 West Ham United eased into the FA Cup fifth round with a comfortable 2-0 victory away to third-tier Derby County on Monday to set up a meeting with Manchester United.
Derby, fourth in League One, went into the match on the back of 14 matches unbeaten in all competitions but were quickly overrun by the Premier League side, who took the lead in the 10th minute with a close-range volley from Jarrod Bowen.
Bowen went 12 matches without a goal before netting twice against Everton last week and now has three in his last two games.
The forward then crossed for striker Michail Antonio to head in a second goal five minutes after the interval to break his own goal drought stretching back to November.
David Moyes' side saw out the victory without conceding many chances, recording back-to-back wins for the first time since October, and Bowen said he hoped the win would boost his side, who are 16th in the table, one point above the relegation zone.
"Two wins on the bounce is good for us it's all about results and momentum and we can use this as a real springboard," he said.
Midfielder Pablo Fornals added: "Everyone knows it hasn't been an easy season so every game we can win gives us massive confidence.
"We work hard every day in training to get a chance and then you have to take it. That's what the players tried to do tonight."
Valencia sacks coach Gennaro Gattuso for poor results | Football News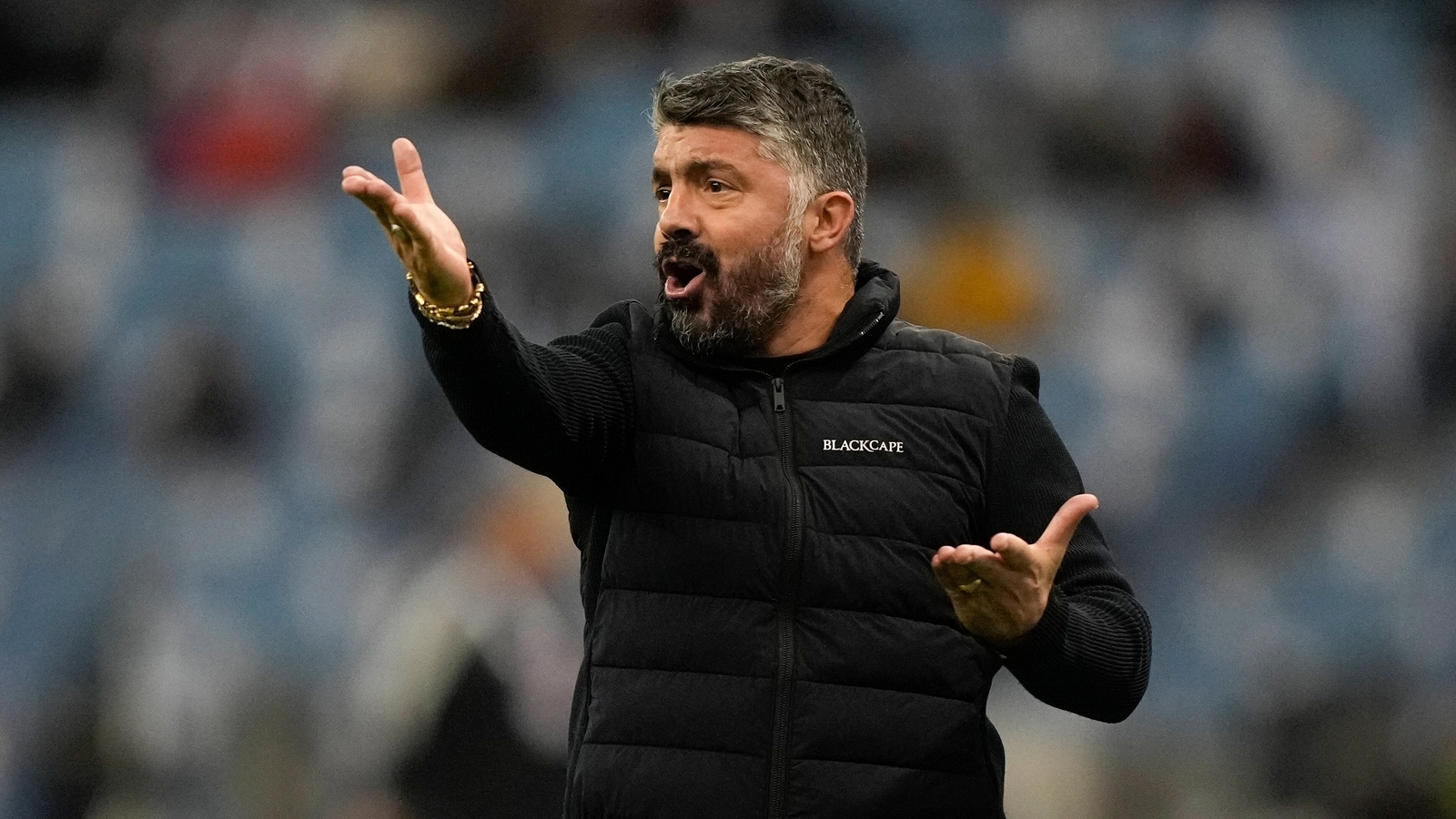 Spanish club Valencia sacked coach Gennaro Gattuso on Monday following the team's poor results.
Valencia said in a statement it reached a mutual agreement with Gattuso to end their contract.
The announcement came after a 1-0 loss at Valladolid in the Spanish league on Sunday. The club has won only one of its last 10 league games, before the World Cup.
The latest defeat dropped Valencia to 14th place, one point above the relegation zone.
Its only two wins this year came in the Copa del Rey, though it was eliminated in the quarterfinals by Athletic Bilbao at home last week. In the Spanish Super Cup, Valencia lost to Real Madrid in a penalty shootout in the semifinals.
The 45-year-old Gattuso arrived last June on a two-year contract.
The former defensive midfielder helped Italy win the 2006 World Cup and AC Milan win two Champions League titles, both as a player. He coached Milan and Napoli in Italy.
Valencia did not announce a replacement for Gattuso.