The man facing Indian wrestling's greatest rebellion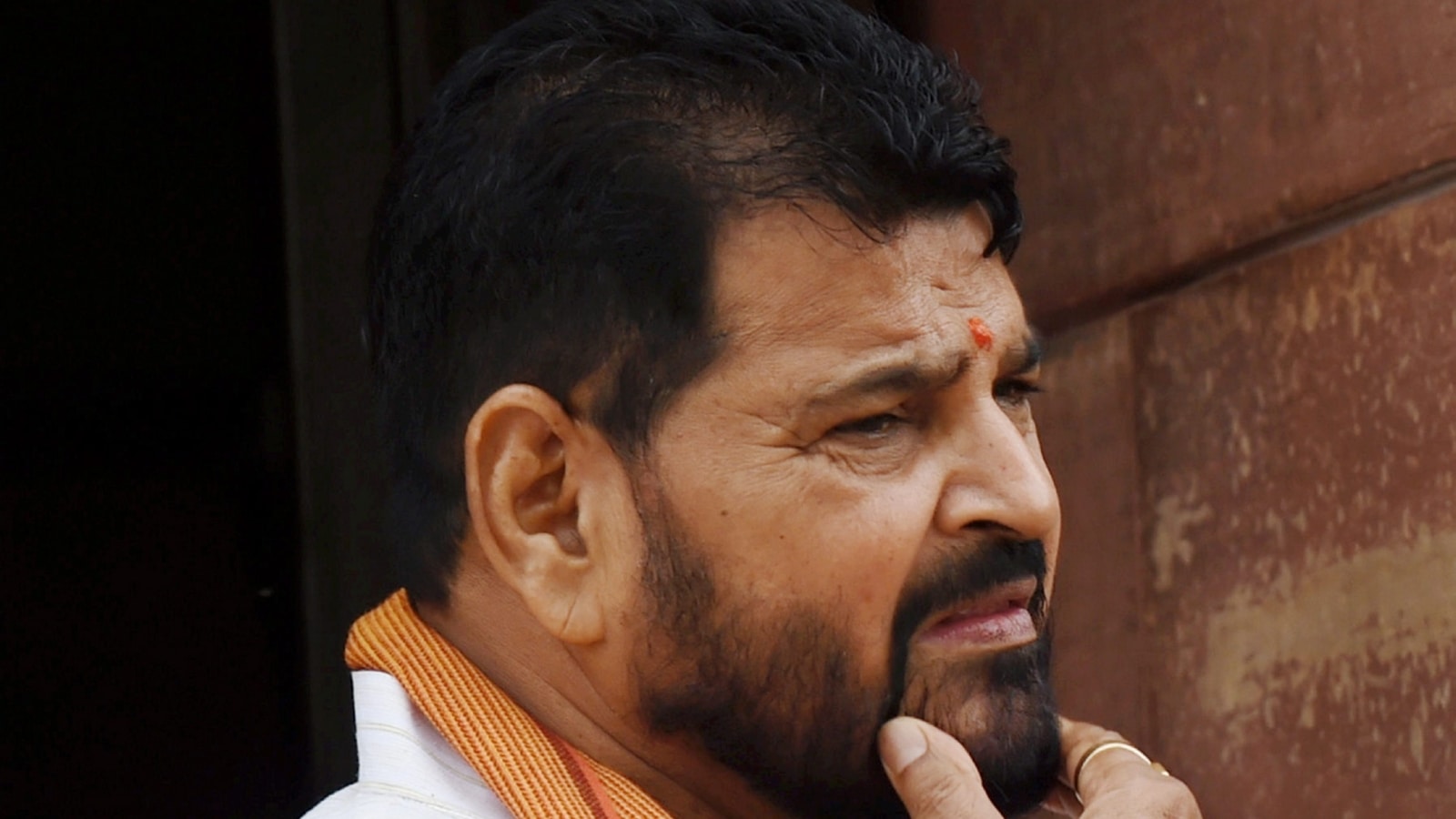 When Brij Bhushan Sharan Singh enters the wrestling hall, one can't help but notice. He arrives in a cavalcade of SUVs, with a throng of 20-30 followers in tow. The officials bow to him, touch his feet, and chant "Neta ji zindabad" as he settles in his chair. It is clear that he is the man in charge, and that he enjoys the attention.
The bouts continue but only until Singh, the 66-year-old who has been the president of the Wrestling Federation of India (WFI) since 2012, starts talking. He shouts at wrestlers, offers advice, cracks jokes, threatens to throw parents out, goes after referees if he thinks they missed a move, calls himself the most "shaktishali (powerful)", and his posse responds by laughing and cheering him on.
The cheers, though, might have fallen silent on Thursday as calls for his ouster reached fever pitch.
Singh has been accused of mental torture and sexual harassment by a group of wrestlers led by Olympians Vinesh Phogat and Sakshi Malik. Other wrestlers — Bajrang Punia and Ravi Dahiya — have called for an end to his dictatorial ways. The wrestlers, as a group, have said they won't get back on the mat as long as Singh remains at the helm.
Singh has been defiant against the onslaught. After all, he is a difficult man to intimidate. The six-time parliamentarian who first entered the Lok Sabha in 1991 is currently the sitting MP for the Bharatiya Janata Party (BJP) from Kaiserganj in Uttar Pradesh. He has faced charges before, with multiple criminal cases against him including attempt to murder, punishment for dacoity, causing disappearance of evidence, and deterring a public servant from doing his duty. He has not been convicted in any.
But unlike the previous charges against him — he was named in the Babri mosque demolition case and even rallied seers to oppose Maharashtra Navnirman Sena chief Raj Thackeray's Ayodhya visit in May 2022 — the latest controversy has come at a time when the BJP is readying for the 2024 Lok Sabha polls. And at this point, with public sentiment building against him, it remains to be seen if he can survive a revolt by Indian sporting superstars.
"97% of players are with the WFI. Their (the protesting wrestlers) careers are over, they can't win medals anymore. I am hurt by the sexual harassment allegations. Not a single player can bring such charges against me or the chief coach (Jitender Yadav). Some wrestlers were pressured to sit on a dharna," Singh said as the walls appeared to be closing in.
Stepping back, though, will be a huge loss of face for a man used to doing things his way. At almost every nationals, while carrying a mike in his hand, he has been taking top wrestlers for a round of all the mats just to show his people how they follow his instructions.
In January 2021, during the national championships in Noida, he suspended a Railways coach for being "too animated" on the sidelines. He publicly slapped an athlete at Ranchi in December 2021. Despite the act being caught on camera, he wasn't apologetic. Instead, his statement had a rather boastful tinge to it: "It was light tap, didn't hit him hard, had I done so, he would have landed far away."
In August 2022, he stopped the trials to pick India's representation in the 59kg category for the World Wrestling Championship just 54 seconds after it had begun because a group of seers from Ayodhya, who were the chief guests, were not invited to "bless" the two competitors before the start of the bout.
Over the years, such incidents have become all too common because this is how Singh believes people are kept in line. He says he uses these methods during political rallies and believes they work in sport as well.
Once asked if he was a leader first or a wrestler, he said, "Pehle pehalwan (first a wrestler)".
Strength is a way of life for him and that is how he made his way to the top of the wrestling federation. He started off by becoming president of Gonda district wrestling association in 2004, and then became the President of Uttar Pradesh Wrestling Association in 2008, before finally becoming the national wrestling association chief in 2012. In 2019, Singh was elected unopposed as president of WFI — the third time that Singh had assumed the post.
But Singh now appears to be running out of time. The Union sports ministry on Wednesday gave WFI 72 hours to respond to the allegations. But he still has the support of his political peers. "I have known Brij Bhushan since he was a student in Ayodhya's Saket College. He was good in studies, played a prominent role in Ram temple movement and ever since been a darling of saints. I don't know who is behind these allegations, but to me it appears this could be some kind of conspiracy against him," said Mahant Ram Vilas Das Vedanti, former BJP MP and a co-accused in the Babri mosque demolition case.
Singh has been claimed that the sexual harassment allegations were motivated and that he would "hang himself" if any of those charges were true.
So, the battle lines have been drawn. Will Singh discover the vagaries of sport where the applecart can be upset in ways few can predict? Or will the "shaktishali" leader somehow manage to survive?
A ₹724 crore boost in union sports budget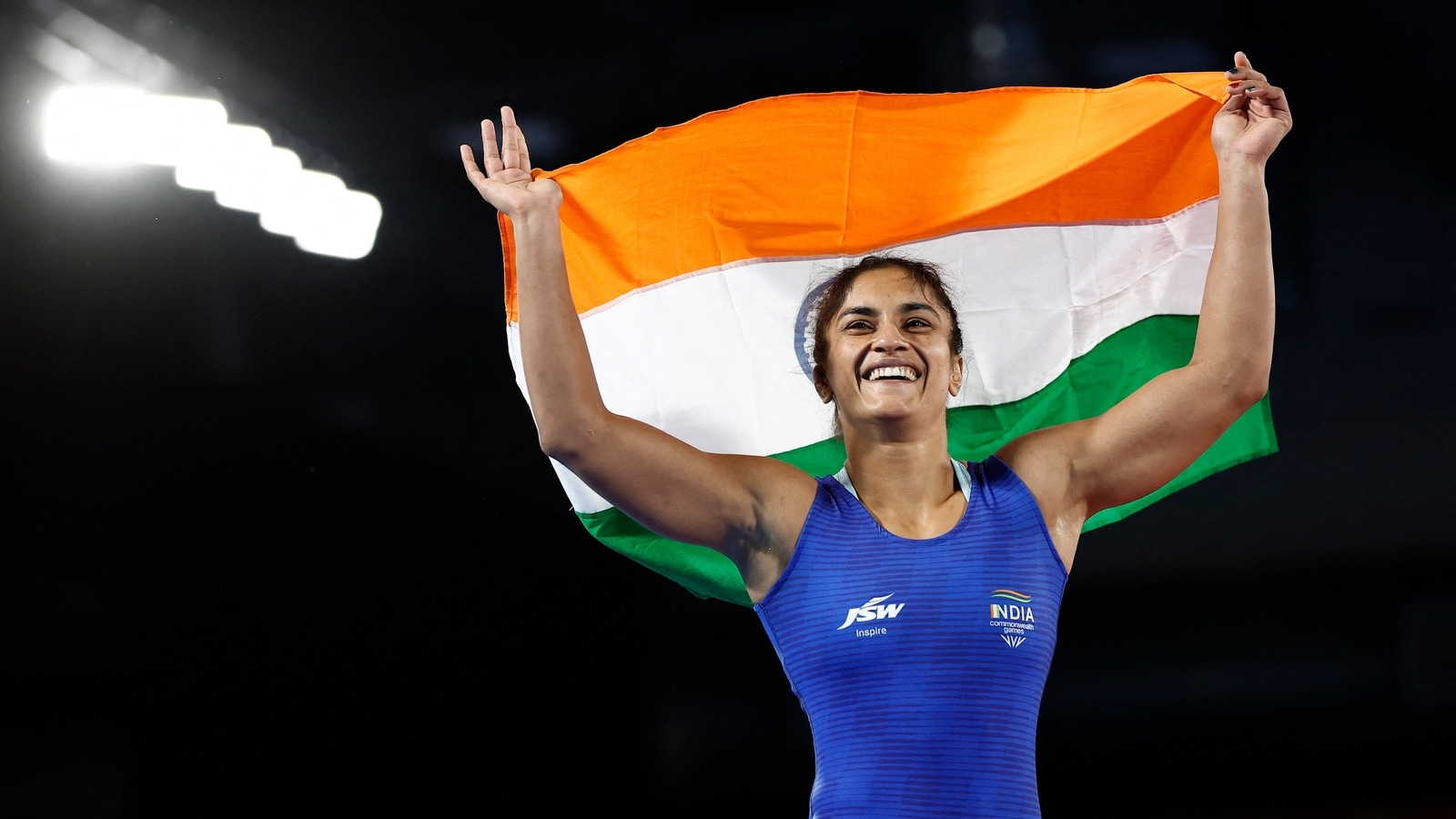 In the year of the Asian Games and qualifications for the 2024 Paris Olympics, the union sports budget saw a significant jump in allocation on Wednesday. The sports ministry has been allocated ₹3397.32 crore for 2023-24 – an increase of 723.97 crore from the previous fiscal. The budget for the previous financial year was ₹3062.60 crore (revised: ₹2673.35cr).
The Asian Games, postponed last year due to Covid, are due to be held in Hangzhou, China from September 23-October 8. India's elite athletes have also started preparing for various Olympic qualification events.
Also Read | Sai Praneeth, Kiran George in men's singles second round in Thailand Open
The allocation for National Sports Federations (NSFs) and Sports Authority of India (SAI) have gone up. Assistance to NSFs has been increased to ₹325 crore from ₹280 crore in 2022-23.
SAI has been allocated ₹785.5 crore, an increase from last year's revised budget of ₹749.43 crore. It was originally allocated ₹653 crore in the last financial year. SAI oversees the preparation of national teams, manages national camps, provides infrastructure and other facilities to athletes besides appointing coaches, including foreign experts.
A big chunk of the sports budget will go for government's flagship programme, Khelo India. It gets ₹1,000 crore, an increase of ₹400 crore from the revised allocation of ₹600 crore set aside for it in the previous budget. Under the scheme, Khelo India Youth Games and Khelo India University Games are organised. It has become the platform for talent identification and nurturing through its various schemes. The budget for Khelo India has steadily risen since its inception in 2018.
A major allocation of ₹107.84 crore has been made for the National Sports University in Imphal. Set up in 2018, NSU is a first-of-its-kind institution which imparts studies in sports science and medicine, coaching, sports management and technology.
The National Centre of Sports Science and Research, under which financial assistance is given to medical colleges and Universities to develop centres of sports science and research, has been allocated ₹13 crore.
There has been a ₹10 crore dip in incentives to athletes, from ₹55 crore last year. To fight the doping menace, the National Anti Doping Agency has been allocated ₹21.73 crore. The National Dope Testing Laboratory in Delhi, whose accreditation was restored by the World Anti-Doping Agency in December, 2021, gets ₹19.50 crore. A National Anti-Doping Bill was passed last year to create a statutory body for regulating anti-doping activities in sports.
Sai Praneeth, Kiran George in men's singles second round in Thailand Open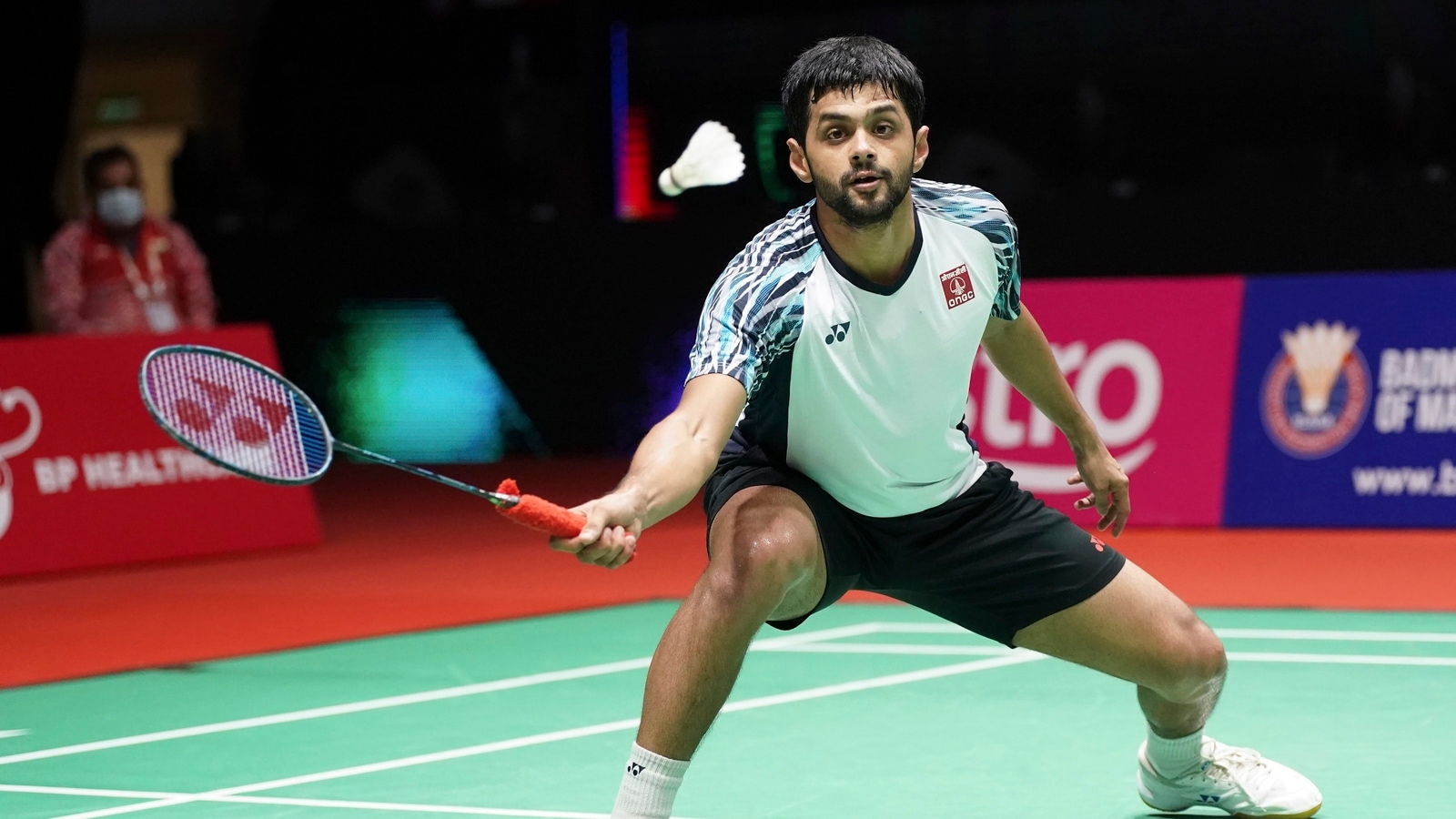 Indian shuttlers B Sai Praneeth and Kiran George advanced to the second round of the Thailand Open Super 300 badminton tournament with contrasting wins over their respective opponents on Wednesday.
Praneeth beat Mads Christophersen of Denmark 21-13 21-14 in a battle lasting 31 minutes. He faces Hyeok Jin Jeon of South Korea in second round.
George, on the other hand, staved off a tough challenge from Lee Chia Hao of Chinese Taipei before emerging 21-17 19-21 23-21 victorious. He is up against third seed Cheuk Yiu Lee of Hong Kong in the second round.
However, Sameer Verma, Priyanshu Rajawat and Mithun Manjunath lost their first round matches. While Verma suffered 14-21 16-21 defeat against sixth seeded Chinese Shi Feng Li, Rajawat lost to Kwang Hee Heo of South Korea 21-14 19-21 25-27 and Manjunath was beaten 18-21 12-21 by fifth seeded Kenta Nishimoto of Japan.
In women's singles, Ashmita Chaliha beat compatriot Anupama Upadhyaya 21-16 21-19 to reach the second round where she will face sixth seed Line Hojmark Kjaersfeldt of Denmark.
The pair of Simran Singhi and Ritika Thaker lost to sixth seeded Sheng Shu and Shu Xian Zhang of China 8-21 10-21 in the women's doubles.
In mixed doubles, Rohan Kapoor and Sikki Reddy beat Canadian pair of Ty Alexander Lindeman and Josephine Wu 21-11 21-16 to enter the second round. But the pair of B Sumeeth Reddy and Ashwini Ponnappa lost to fourth seeded Indonesian pair of Rehan Naufal Kusharjanto and Lisa Ayu Kusumawati 11-21 17-21.
Djokovic played Australian Open with 3cm tear in hamstring, says Tiley | Tennis News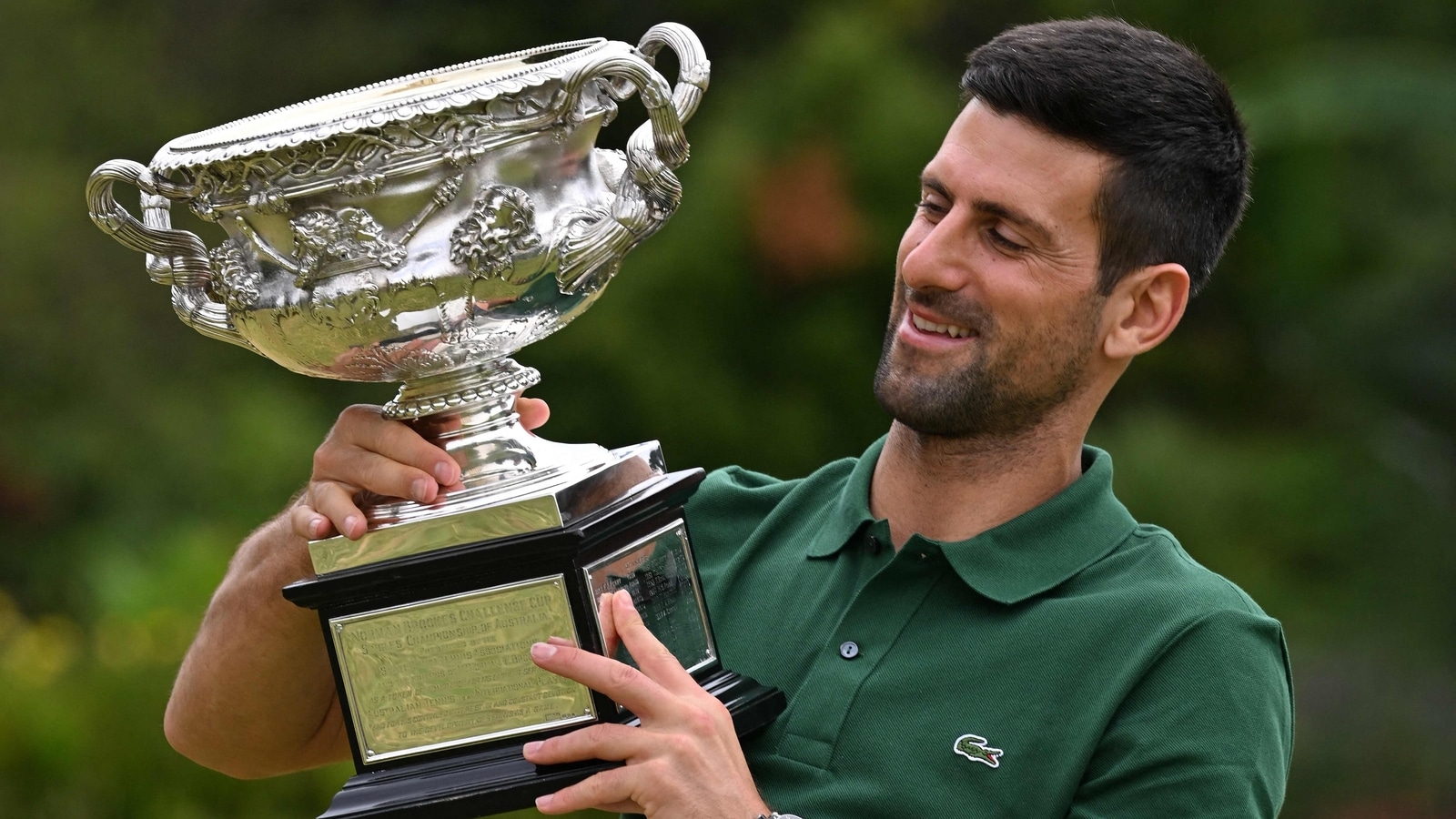 Novak Djokovic played with a three-centimetre (1.2 inches) tear in his hamstring during his run to a record-extending 10th Australian Open title, tournament director Craig Tiley said on Wednesday.
The Serbian, who suffered the hamstring injury en route to winning the warm-up title in Adelaide, won the season-opening major after beating Stefanos Tsitsipas in Sunday's final for a men's record 22nd Grand Slam title, matching Rafa Nadal's haul.
"This guy I did see, he had a three-centimetre tear in his hammy," Tiley told SEN Sportsday. "Absolutely (I saw the scans), the doctors are going to tell you the truth.
"There was a lot of speculation about whether it was true or not, it's hard to believe that they can do what they do with those kinds of injuries.
"He's remarkable, to deal with it extremely professionally."
Djokovic's coach Goran Ivanisevic said after the final that the world number one battled the injury, which would have forced most players to quit.
"He's so focused on everything he does, with every single minute of the day," Tiley added. "That's what he eats, what he drinks, when he does it, how he does it.
"There's no breakdown or mental breakdown in anything that he does. He's been through a lot and to win 10 Australian Opens, I don't think that's ever going to be repeated… He'll hold a significant place in the history of the Australian Open."