U-25 CK Nayudu Trophy: Musheer completes triple ton, Ankolekar double century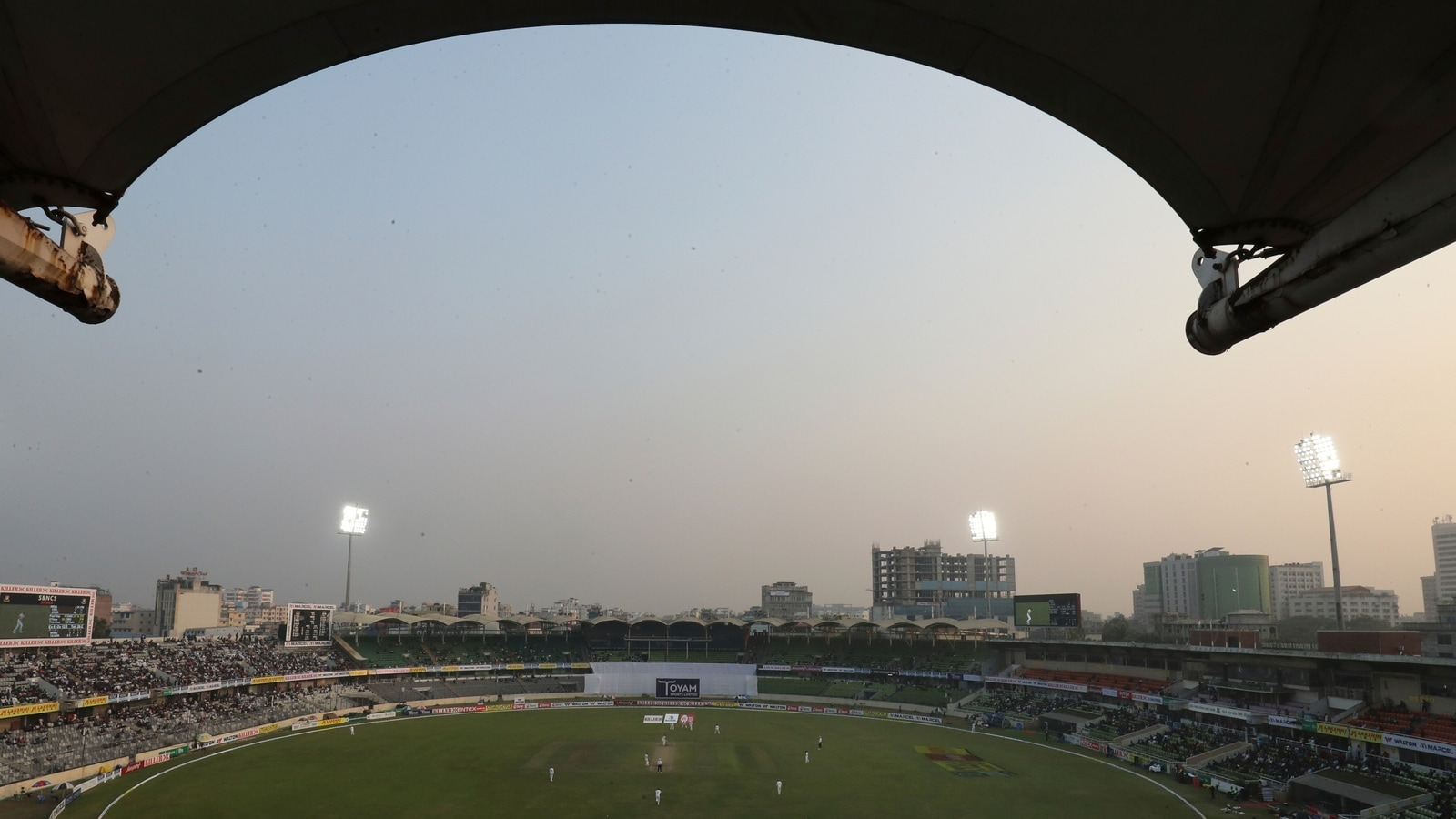 Continuing from where they left off on the first day, Mumbai's Musheer Khar compiled a triple century and captain Atharva Ankolekar a double ton against Hyderabad on Day Two of their Group D Under-25 Col CK Nayudu Trophy match at the Gymkhana Ground in Hyderabad on Monday.
Resuming on an unbeaten 201, Musheer scored 339 off 367 balls with the help of 34 fours and nine sixes before being finally dismissed by Shrunjith Reddy. Ankolekar, starting the day on 109, made a 249-ball 214 (15×4, 11×6) as Mumbai declared their innings at a mammoth 704 for eight. At stumps, Hyderabad were 123 for three.
Brief scores: Mumbai 704/8d in 138 overs (Musheer Khan 339, Atharva Ankolekar 214; Rishab Baslas 5/179, Shrunjith Reddy 3/123) vs Hyderabad 123/3 in 38 overs (K Krithik Reddy 68*; Suryansh Shedge 2/38)
Ex-India hockey goalkeeper Asaikar-Rane no more
Former India hockey goalkeeper Neena Asaikar-Rane breathed her last in a city hospital on Monday following a protracted illness. She was 75.
Neena was part of two hockey World Cups—in Paris (1974) and Edinburgh (1979). The Indian women's hockey team had entered the semi-finals of the tournament for the only time in Paris. Neena was also a member of the team that won the six-nation tournament at Madras in 1975.
Junior squash: Maharashtra's Paarth lifts title
Maharashtra's Paarth Ambani made short work of second seed Sharan Punjabi in a 11-4, 11-1, 11-2 victory to lift the boys' U-19 title of the All-India Willingdon JSW Junior Open at the Willingdon Sports Club.
Results (all finals): Boys' U-19: Paarth Ambani bt Sharan Punjabi 11-4, 11-1, 11-2; Boys' U-17: Arihant KS bt Avalokit Singh 11-4, 11-3, 11-5; Girls' U-17: Navya Sundararajan bt Ananya Narayanan 12-10, 10-12, 11-3, 9-11, 11-7; Boys' U-15: Yusha Nafees bt Rahul Balakrishnan 9-11, 11-6, 6-11, 11-6, 11-6; Girls' U-15: Rudra Singh [3/4] bt Akanksha Gupta 9-11, 11-8, 11-8, 8-11, 11-8; Boys' U-13: Shresht Iyer bt Dhruv Bopana 11-3, 8-11, 12-10, 11-9; Girls' U-13: Fabiha Nafees bt D Nityasree 11-7, 7-11 11-6, 11-7; Boys' U-11: Sahil Waghamare bt Kiaan Kanade 8-11, 11-5, 11-7, 11-3; Girls' U-11: Aashi Shah bt Sudhanjali Yadav 11-5, 11-2, 11-6; Boys' U-9: Vihaan Chandhok bt Tilakvir Kapoor 11-8, 11-5, 11-2; Girls' U-9: Jerusha Jebindran bt Sandhya Yadav 11-0, 11-4, 11-2.
CCI Snooker Classic: Kadian powers past Jaiswal
National junior snooker champion Digvijay Kadian of Haryana constructed four substantial breaks to record a 4-0 (80(66)-28, 81(71)-1, 96(82)-7, 76(76)-30) victory against Priyan Jaiswal of Madhya Pradesh in a Round of 64 match of the CCI Snooker Classic.
Results: Round of 64: E Pandurangaiah (Rlys) bt Saad Sayed (Mah) 4-1 (66-59, 104(100)-0, 29-75, 67-32, 68-40); Sumerh Mago (Mum) bt Tahaa Khan (Mah) 4-2 (64-21, 67-68, 46-60, 61-59, 84-50, 96-37); Sandeep Gulati (Del) bt R Santosh (Ktk) 4-0 (62-24, 77-20, 75-15, 83-34); Jaison Malhotra (Del) bt Luv Kukreja (Del) 4-3 (1-82(55), 10-72(68), 52-41, 2-63, 52-45, 67-36, 53-21); K Srinu (Rlys) bt Kreishh Gurbaxani (Mum) 4-2 (60-53, 0-92, 50-71, 79(79)-17, 66-27, 68-43); Ketan Chawla (MP) bt Simranjeet Singh (Mum) 4-1 (57-48, 67-9, 77-15, 52-54, 62-32); Paras Gupta (UP) bt Anant Mehta (Mah) 4-0 (49-42, 70-8, 76-14, 72-37); Shivam Arora (Mah) bt Anurag Giri (MP) 4-0 (67-21, 68-63, 63-39, 93-23); Dilip Kumar bt Krish Bajaj 4-1 (54-14, 9-71(67), 62-29, 95(92)-3, 51-42); Digvijay Kadian (Har) bt Priyank Jaiswal (MP) 4-0 (80(66)-28, 81(71)-1, 96(82)-7, 76(76)-30); Shoaib Khan (Del) bt Faisal Khan (Rlys) 4-0 (48-36, 56-48, 68-9, 53-21).
Mogaveera SC, Bombay Fort set up final
Mogaveera Sports Club struck twice in the first half in a 2-0 win against Jaihind Sports Club in the semi-final of the Karnatak Sporting Association organised 15th Adv AR Kudrolli Memorial Football tournament at the KSA ground. In the second semi-final, Mangalore Blues Sports Club got the better of Bombay Fort Sports Club.
Results: Semi-finals: Mogaveera SC 2 (Sumedh Kandala, Royston Veigas) beat Jaihind SC 0; Mangalore Blues SC 3 (Nehal Salian, Aaron Machado, Raul Almeida) beat Bombay Fort SC 1 (Pranit Shetty).
Shinde scores winner for South Mumbai United
Omkar Shinde scored the winner to ensure South Mumbai United overcame Somaiya Sports Academy 1-0 in a first-round match of the Republic Day football tournament for the Nitu Mandke Cup organised by the Mumbai Football Association at the Neville D'Souza ground, Bandra, on Monday.
Results: CFCI Utkarsh Mandal 2 (Pascol Kusherao, Mayank Rao) beat D'Souza FA 0; South Mumbai United FC 1 (Omkar Shinde) beat Somaiya SA 0; Millat FC Colts 3 (Saarim Pathan, Ahad Qureshi, Zaif Allah Shaikh) beat Anstrengung United 1 (Indra Kuntha); Kopana FC 3 (Gaurav Mangela, Kartik Yadav, Roshan Mangela) beat Bhavesh Soccer Foundation 1 (Yampal Fabre).
Leading Mexico players snub Davis Cup tie over differences with federation | Tennis News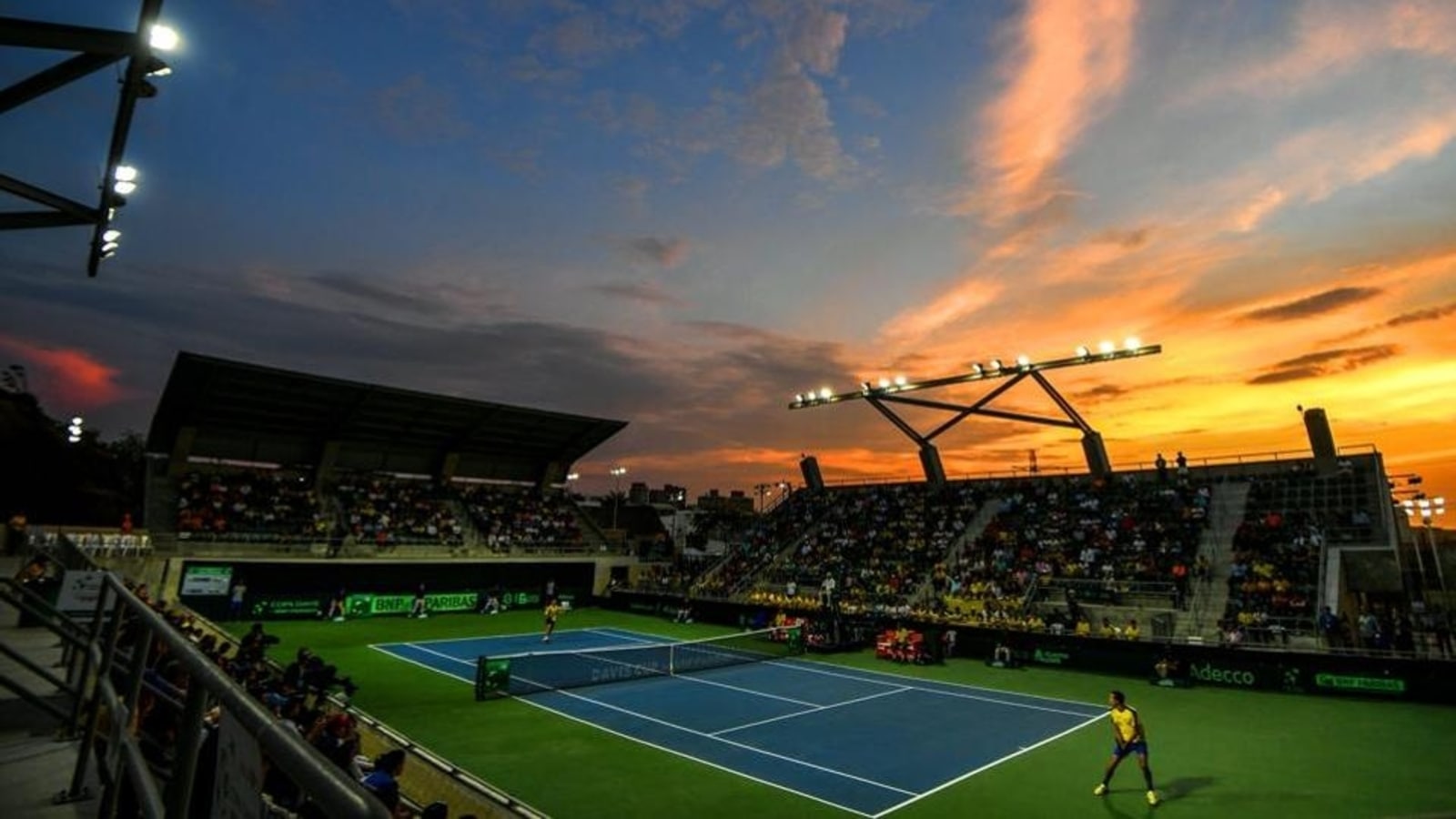 Mexico's leading tennis players have decided not to play in next week's Davis Cup World Group playoff tie against Taiwan due to differences with the Mexican Tennis Federation (FMT).
Led by Santiago Gonzalez, Alejandro Hernandez and Miguel Angel Reyes-Varela, the players said they will not take part in the Feb. 4-5 Group I playoff tie in Metepec, State of Mexico.
"After a difficult deliberation, we have not reached a positive conclusion, so we have decided not to participate in the upcoming series against the Chinese Taipei team," said the players' statement, published on social media on Monday.
"The lack of communication, lack of planning and lack of interest show that the situation has not been handled in the right way and that personal interests have taken precedence over sporting ones.
"It is sad that the FMT does not have the minimum standards in dealing and planning with the best national representatives."
The players said they had already informed the federation of their reasons for not participating in the Davis Cup tie.
The statement was also signed by players Ernesto Escobedo, Lucas Gomez, Hans Hach, Gerardo Lopez, and Manuel Sanchez.
The FMT was not immediately available to comment.
West Ham set up Man United tie by beating Derby | Football News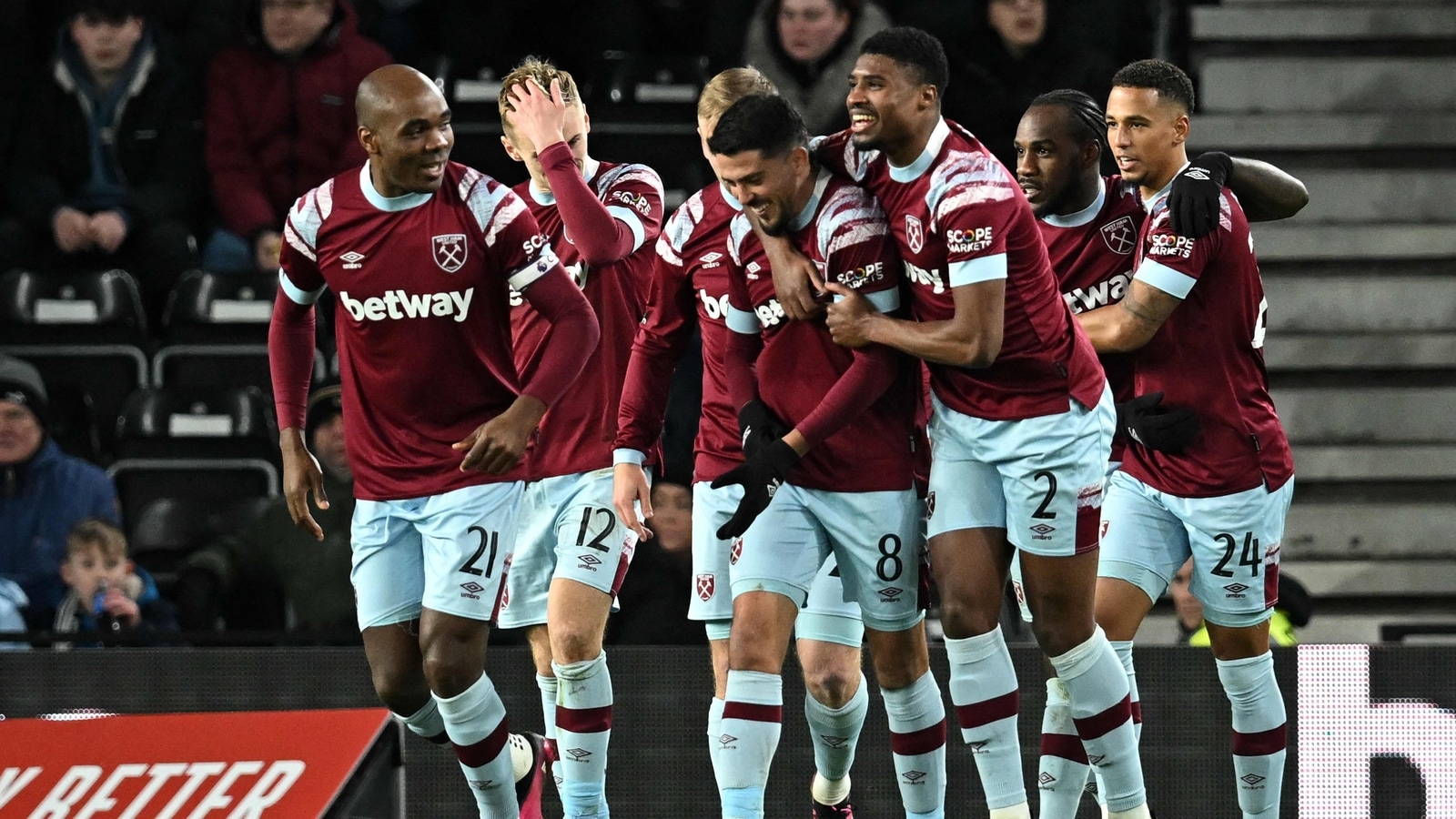 West Ham United eased into the FA Cup fifth round with a comfortable 2-0 victory away to third-tier Derby County on Monday to set up a meeting with Manchester United.
Derby, fourth in League One, went into the match on the back of 14 matches unbeaten in all competitions but were quickly overrun by the Premier League side, who took the lead in the 10th minute with a close-range volley from Jarrod Bowen.
Bowen went 12 matches without a goal before netting twice against Everton last week and now has three in his last two games.
The forward then crossed for striker Michail Antonio to head in a second goal five minutes after the interval to break his own goal drought stretching back to November.
David Moyes' side saw out the victory without conceding many chances, recording back-to-back wins for the first time since October, and Bowen said he hoped the win would boost his side, who are 16th in the table, one point above the relegation zone.
"Two wins on the bounce is good for us it's all about results and momentum and we can use this as a real springboard," he said.
Midfielder Pablo Fornals added: "Everyone knows it hasn't been an easy season so every game we can win gives us massive confidence.
"We work hard every day in training to get a chance and then you have to take it. That's what the players tried to do tonight."
Valencia sacks coach Gennaro Gattuso for poor results | Football News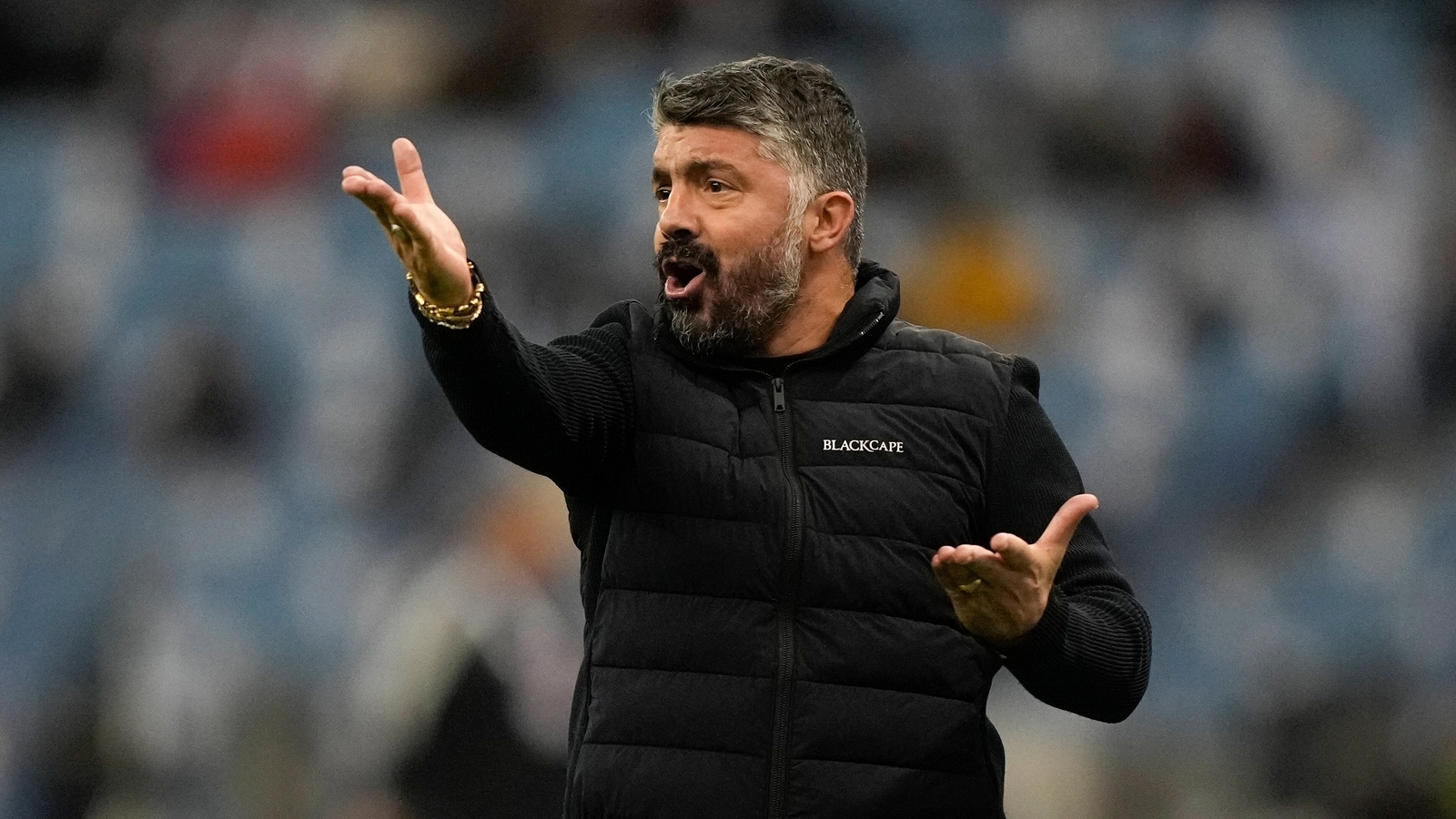 Spanish club Valencia sacked coach Gennaro Gattuso on Monday following the team's poor results.
Valencia said in a statement it reached a mutual agreement with Gattuso to end their contract.
The announcement came after a 1-0 loss at Valladolid in the Spanish league on Sunday. The club has won only one of its last 10 league games, before the World Cup.
The latest defeat dropped Valencia to 14th place, one point above the relegation zone.
Its only two wins this year came in the Copa del Rey, though it was eliminated in the quarterfinals by Athletic Bilbao at home last week. In the Spanish Super Cup, Valencia lost to Real Madrid in a penalty shootout in the semifinals.
The 45-year-old Gattuso arrived last June on a two-year contract.
The former defensive midfielder helped Italy win the 2006 World Cup and AC Milan win two Champions League titles, both as a player. He coached Milan and Napoli in Italy.
Valencia did not announce a replacement for Gattuso.