Elon Musk's Tesla tweets controversy resurfaces, to face trial in US court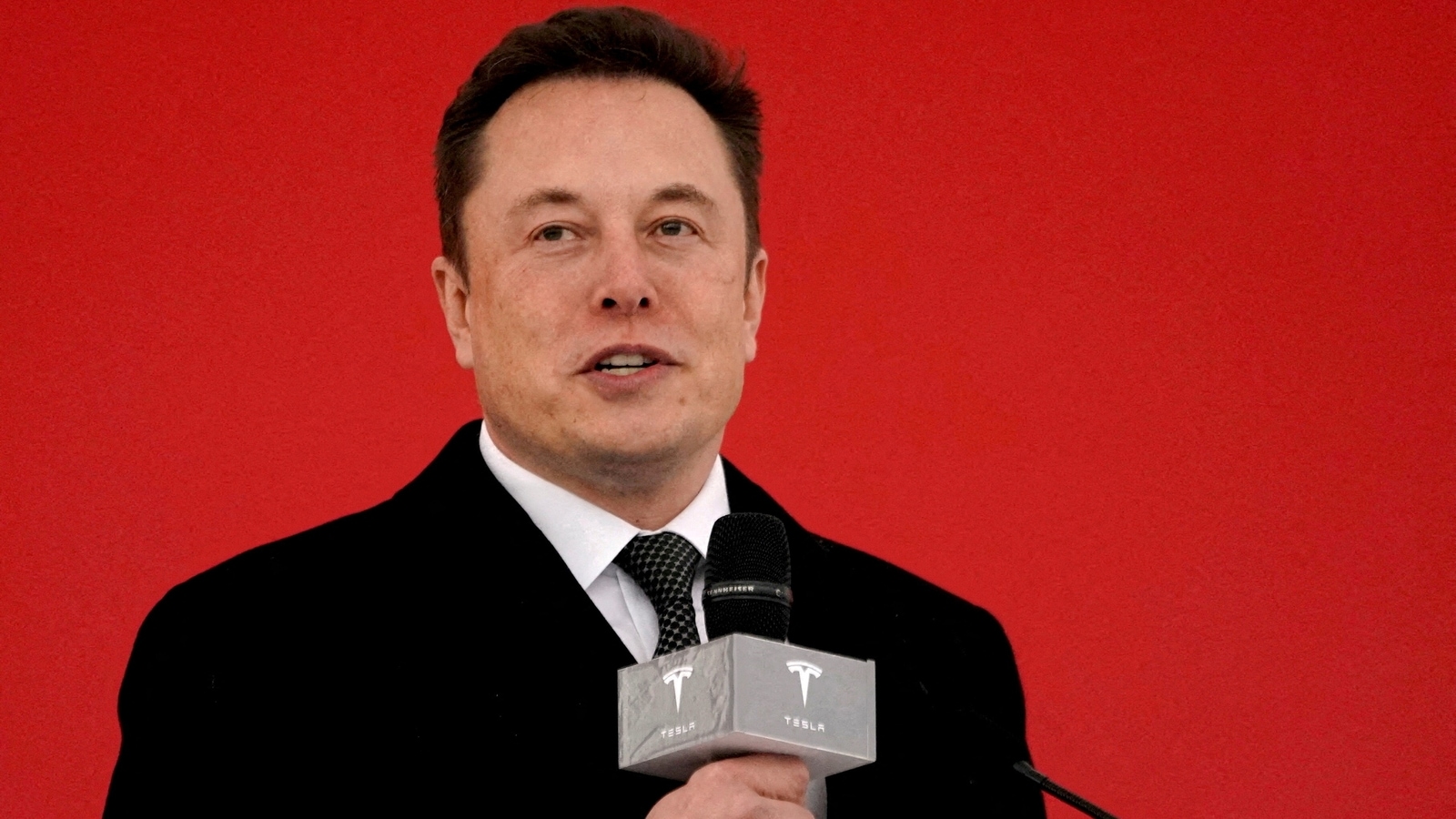 It took only a couple of tweets to plunge Elon Musk into the morass of a securities fraud trial that could cost him billions of dollars from his rapidly diminishing fortune.
The Tesla Inc. chief executive officer is set to be the star witness at a jury trial that starts Tuesday in San Francisco federal court over his infamous tweets 4 1/2 years ago about a plan to take the electric-car maker private with "funding secured."
Lawyers for the shareholders will try to show jurors that Musk lied in the statement, and that it caused them deep losses from wild stock price swings over a 10-day period before the plan was abandoned. Musk's defence team will work to tear down that narrative.
Losing a class-action case of this magnitude could put Musk on the hook for damages in the billions of dollars, according to Adam Pritchard, a professor at University of Michigan Law School.
"Elon enjoys a good fight," Pritchard said. "He has a lot of money, and is apparently willing to take substantial risks with that money."
ALSO READ: Taliban officials buying Elon Musk's Twitter blue tick paid verification: Report
The trial comes as Musk's wealth has dwindled from a peak of $340 billion in November 2021. He became the first person in history to lose more than $200 billion, all while he spent $44 billion to acquire Twitter Inc. Last month, he was dethroned as the world's richest person and Tesla's stock plummeted 37% since December 1, with the electric car maker facing increased competition and a looming recession.
The stir created by the August 2018 tweets is best remembered for throwing Musk into the orbit of the US Securities and Exchange Commission. It resulted in a pledge from Musk to have his future social media posts screened by a Tesla lawyer.
Investors must prove Musk knew his tweets were misleading, and that they were "material," or important to a reasonable investor. Shareholders would also need to tie Musk's tweets to their trading losses.
US District Judge Edward Chen has already hobbled Musk with a pretrial ruling that the tweets were reckless and false — and he will tell the 12-member jury to assume that from the get-go, to set the parameters of the trial.
That instruction to the jury puts Musk at a "huge disadvantage," Pritchard said.
ALSO READ: Tesla's price move in US and Europe. Aim: Drive up sales
To beat back the allegations he was deceitful, Musk has said in court filings he may call on others who can vouch for the take-private plan, including friend and confidant Larry Ellison, as well as executives at Goldman Sachs, Morgan Stanley and private-equity firm Silver Lake Management.
Musk's lawyers have failed repeatedly to persuade Chen not to share his finding with the jury, saying as recently as last week that it could be "highly prejudicial" to the CEO's defence.
A lawyer for Musk declined to comment before the start of the trial and an attorney for the shareholders didn't respond to a request for comment.
Musk has insisted his short-lived plan to take Tesla private was solid based on discussions he had with Saudi Arabia's sovereign wealth fund. He subpoenaed the governor of the Kingdom's Private Investment Fund to testify at the trial, but withdrew the request after attorneys for Yasir Al-Rumayyan argued he isn't legally obligated to show up.
It's not clear that Al-Rumayyan would be all that helpful to Musk as a witness. Court filings revealed a text exchange in which the Tesla CEO said he thought they had reached a handshake agreement on funding to take the company private, but the Saudi official said he needed more information to make a decision.
Proving Musk's state of mind will be nuanced and tricky. Ordinary investors understand that deals can get done even if they're not 100% nailed down, Pritchard said. Musk might have believed in his ability to take Tesla private, even if he wasn't across the finish line yet.
"Elon Musk is an achiever, he gets things done," Pritchard said. "If he says he's going to take Tesla private, in his mind he's going to take Tesla private. Did you ever decide that you were going to put a rocket in space? Elon did. He did it. He believes in Elon. He's a little crazy. Which is part of the secret of his success. He might believe that because he's Elon Musk. "
Number Theory: What does the Economic Survey tell us about the Budget?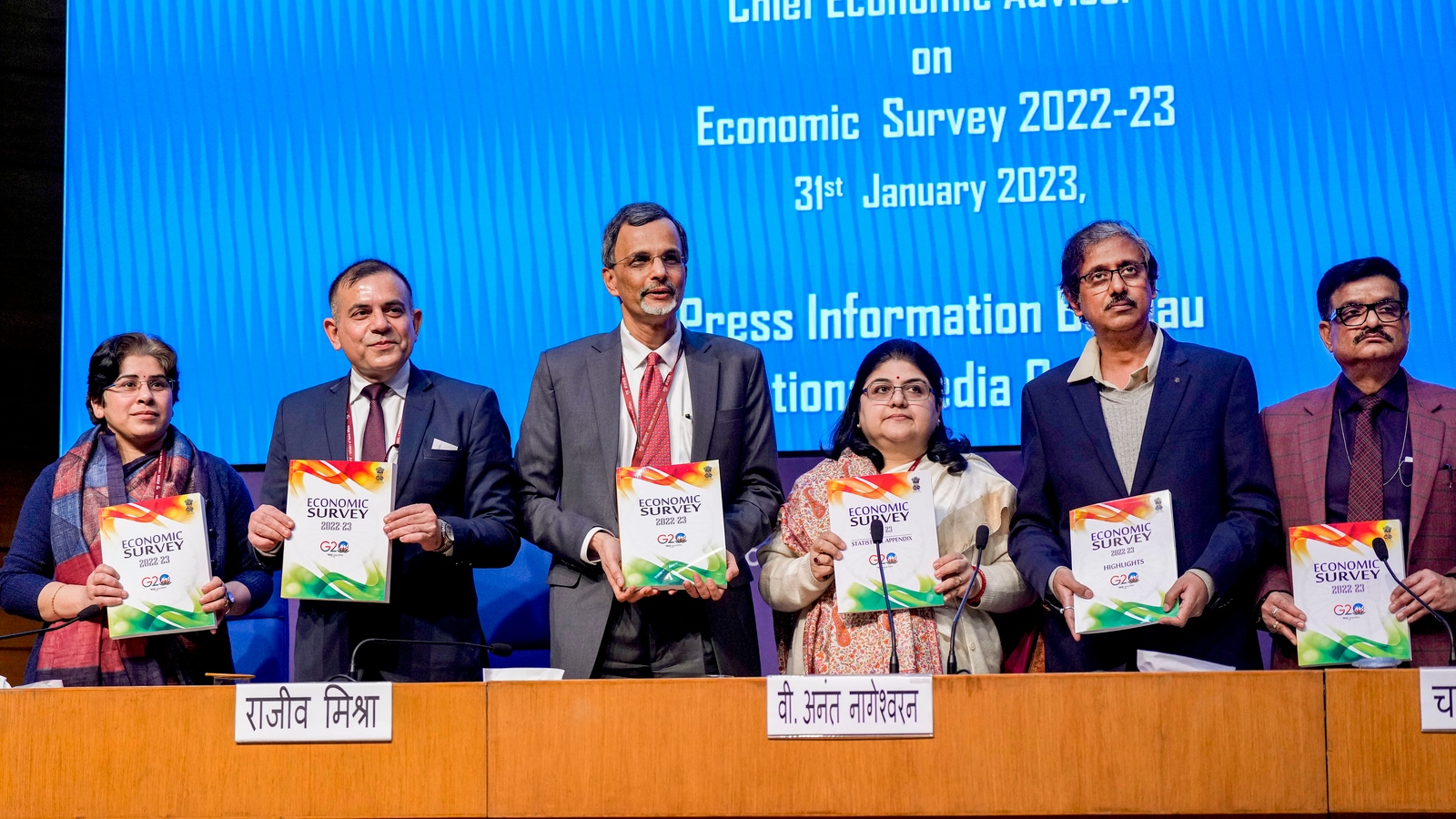 What does the 2022-23 Economic Survey — it was tabled in Parliament on January 31 — tell us about the Union Budget? Here are four things that stand out.
Revenue growth in 2023-24 could slow down with a lower nominal GDP growth
The survey has projected a nominal growth rate of 11% for 2023-24. Real GDP growth, according to the survey, is expected to be in the range of 6-6.8%. The first advanced estimate of GDP, which was released by the National Statistical Office (NSO) earlier this month, put nominal GDP growth in 2022-23 at 15.4%. This means that nominal growth is expected to slow down significantly in the next fiscal. Unless there is a significant increase in tax buoyancy – the change in tax collections per unit change in GDP – growth in tax revenues in 2023-24 will likely be lower than what it was in 2022-23. To be sure, the moderation in nominal growth is more because of a decline in inflation rather than a fall in real GDP growth, which as per survey's baseline projection is likely to be 6.5% next year.
UNION BUDGET 2023: FULL COVERAGE
The government will likely achieve its fiscal deficit target for 2022-23 and consolidate further in FY24
Last year's Budget estimated fiscal deficit for 2022-23 at 6.4% of GDP. While the Revised Estimate (RE) for fiscal deficit will presented in tomorrow's budget (and even RE numbers are liable to changes) the survey does drop a hint that the government will be able to achieve its fiscal deficit target for 2022-23. This, the survey suggests, has happened because of buoyant growth in direct taxes and Goods and Services Tax (GST) and limited revenue expenditure, "which should ensure the full expending of the Capex budget within the budgeted fiscal deficit".
ALSO READ: After 'smart recovery' from Covid, what do MSMEs expect from Budget 2023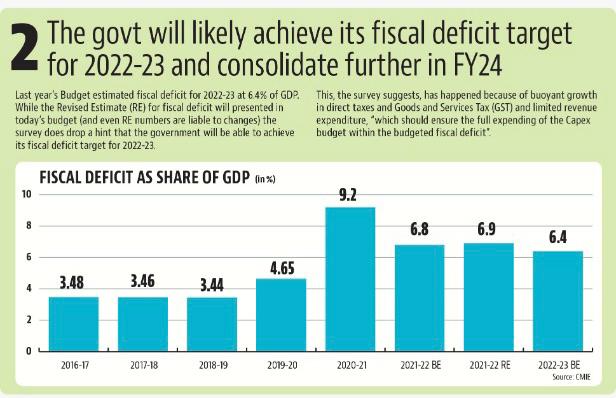 Focus on disinvestment and asset monetisation programme will continue
One area where the budget has fallen significantly short of its targets in the recent past is disinvestment. For example, the Budget Estimate (BE) for disinvestment receipts in the 2021-22 Budget was ₹1.75 lakh crore, which was brought down to ₹78,000 crore in the RE numbers for 2021-22. BE numbers for 2022-23 put disinvestment receipts at ₹65,000 crore. While the RE numbers for 2022-23 are likely to be lower than this number, the survey suggests that the government's disinvestment push is likely to continue. The survey, in fact, has tied disinvestment and the asset monetisation programme of the government to the capex tilt in government spending. "A capex thrust in the last two budgets of the Government of India was not an isolated initiative meant only to address the infrastructure gaps in the country. It was part of a strategic package aimed at crowding-in private investment into an economic landscape broadened by the vacation of non-strategic PSEs (disinvestment) and idling public sector assets", the survey said.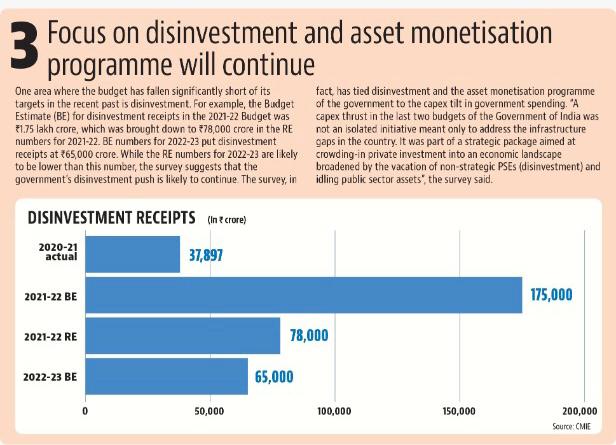 A big stimulus to mass demand may not be in the offing
Here the survey has said more by way of omission than commission. Chapter two of the survey, which talks about India's medium-term growth prospects, makes an argument that India is set to leapfrog into a sustained high growth trajectory in 2023-2030 as a result of policy driven reforms during the 2014-2022 period. The growth boom, the survey argues, was delayed because of "balance sheet stress caused by the credit boom in the previous years and secondarily due to the one-off global shocks that followed". "Once these global shocks of the pandemic and the spike in commodity prices in 2022 fade away, the Indian economy is well placed to grow faster in the coming decade".
To be sure, it is to be expected that the Economic Survey – it is after all a government document – will paint a comforting picture of the state of the economy. However, this year's survey has made a larger argument to suggest that the concerns of a K-shaped recovery in the economy where the rich (both firms and households) have done better and emerged as the primary driver of the growth revival, are unfounded. This also means that the government does not see any need to support the aggregate demand of the non-rich, which would entail larger spending on the revenue and not just capital account.
This has in fact been the driving philosophy of the budget in the post-pandemic period, and the survey's line of argument suggests that it will continue to be the case. While such as approach has helped India's macroeconomic fundamentals, keeping the fiscal deficit and debt-GDP ratio in check, its exact implications for long-term growth are still to be seen. That India does not have a Consumption Expenditure Survey after 2011-12 has only made this debate more difficult to resolve.
What Economic Survey says about education: Decline in…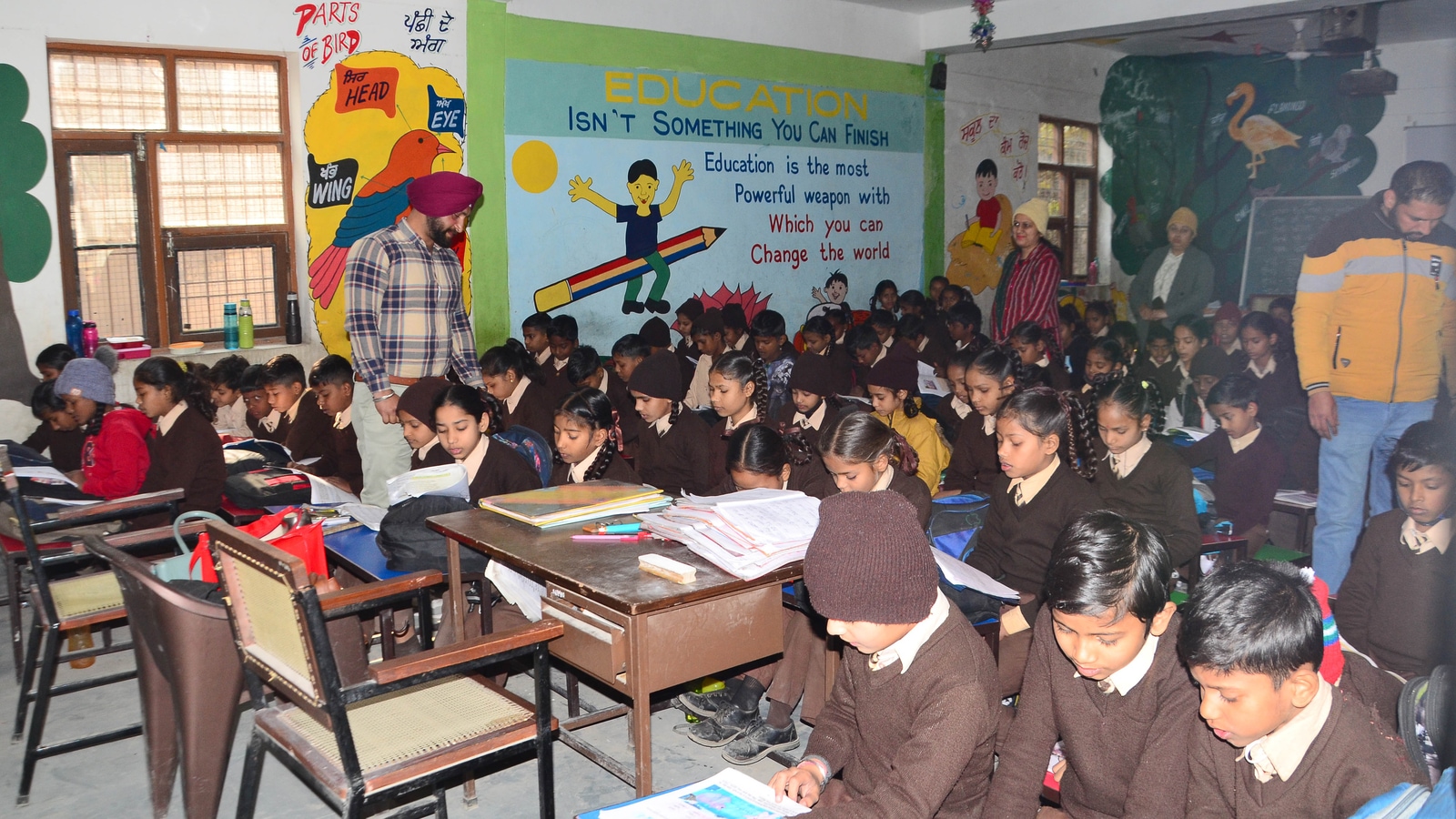 Enrolment of students increased in schools across the country in financial year 2022, with an additional 194 million students being enrolled, while at the same time the drop-out rate witnessed a "steady decline", the economic survey 2022-23 said.
The survey tabled by Union finance minister Nirmala Sitharaman in Parliament on Tuesday said financial year 2021-2022 (FY22) witnessed an improvement in the gender parity in school enrolment, growth in basic infrastructure facilities at school level, and a better pupil-teacher ratio in schools.
UNION BUDGET 2023: FULL COVERAGE
According to the survey, 265 million children were enrolled in schools across the country with around 194 million additional children being enrolled in primary to higher secondary levels. Of these 194 million, around 10 million children were enrolled in pre-primary (pre-nursery, nursery and kindergarten), 122 million in primary (classes first to fifth), 67 million in upper primary (classes sixth to eighth), 39 million in secondary (classes 9 and 10) and 29 million in higher secondary classes (classes 11 and 12).
The enrolment has increased at all levels except for pre-primary. "At the pre-primary level, enrolment reduced from 1.1 crore [11 million] in 2021 to 1.0 crore [10 million] in 2022," said the survey.
Read | What does the Economic Survey tell us about the Budget?
The survey says that the financial year 2021-22 saw an improvement in Gross Enrolment Ratios (GER) in schools across all levels. GER stands for the enrolment in a specific level of education, regardless of age, expressed as a percentage of the eligible official school-age population corresponding to the same level of education in a given school year.
"The GER in the primary enrolment in class I to fifth as a percentage of the population in age 6 to 10 years – for girls as well as boys have improved in FY 22. This improvement has reversed the declining trends between FY17 and FY19," the survey said.
According to the survey, at the upper primary and primary level, the GER for girls is better than that for boys.
For instance, at the primary level, 104.8% girls and 102.1% boys were enrolled in 2021-22. It recorded an improvement from 2020-21 when 104.5% girls and 102.2% boys were enrolled. Similar trends have been observed at the upper primary level as well. In 2021-22, 94.9 % girls were enrolled as opposed to 94.5% boys. This was 92.7% and 91.6% for girls and boys respectively in 2020-21.
In higher education, the total enrolment increased to nearly 41 million in FY21 from 39 million in FY20. Since FY15, there has been an increase of around 7.2 million in enrolment , approximately by 20%. "The female enrolment has increased to 20 million in FY21 from 19 million in FY20," said the survey.
The survey highlighted an increase in the GER in higher education as well. "The GER in higher education, based on 2011 population projections (revised), was recorded at 27.3 in FY21, which is an improvement from 25.6 in FY20. The GER for males increased from 24.8 in FY20 to 26.7 in FY21 while GER for females has also shown improvement from 26.4 to 27.9 during the same period," it said.
The survey highlighted a "steady decline" in school drop out rates at all levels from 14% in 2020-21 to 12.6% in 2021-22. The survey emphasised that government schemes such as Samagra Shiksha, and Right to Education (RTE) Act 2009, improvement in school infrastructure and facilities, residential hostel buildings, availability of teachers, regular training of teachers, free textbooks, uniforms for children, and the PM POSHAN Scheme played the major role in increasing enrollments and retaining students.
It also mentioned that distance education in India also witnessed a 7% increase in enrolment in the financial year 2021-22 from FY20, and 20% increase since FY15.
"Basic facilities in schools continued to improve in FY22 over earlier years except for medical check-ups in schools as the schools remained closed physically in the wake of Covid-19 curbs," the survey stated.
In terms of school basic facilities, including toilets (girls or boys), drinking water, and hand-washing facilities, and digitisation, the survey showed a significant improvement. For instance, the number of schools having the internet increased to 33.9% in 2021-22 from 24.5% in 2020-21.
Terming Pupil-Teacher Ratio as an indicator which is inversely related to improvement in quality of education, the survey stated that it has improved at all levels continuously between FY13 to FY22. "It has increased from 34.0 to 26.2 at primary, 23.0 to 19.6 at upper primary, 30.0 to 17.6 at secondary, and 39.0 to 27.1 at the higher secondary level. The improvement in the number of schools, teachers' availability, and facilities in schools is expected to help improve enrolment and reduce dropout rates," the survey started.
January GST collection at ₹1.55 lakh crore, second highest-ever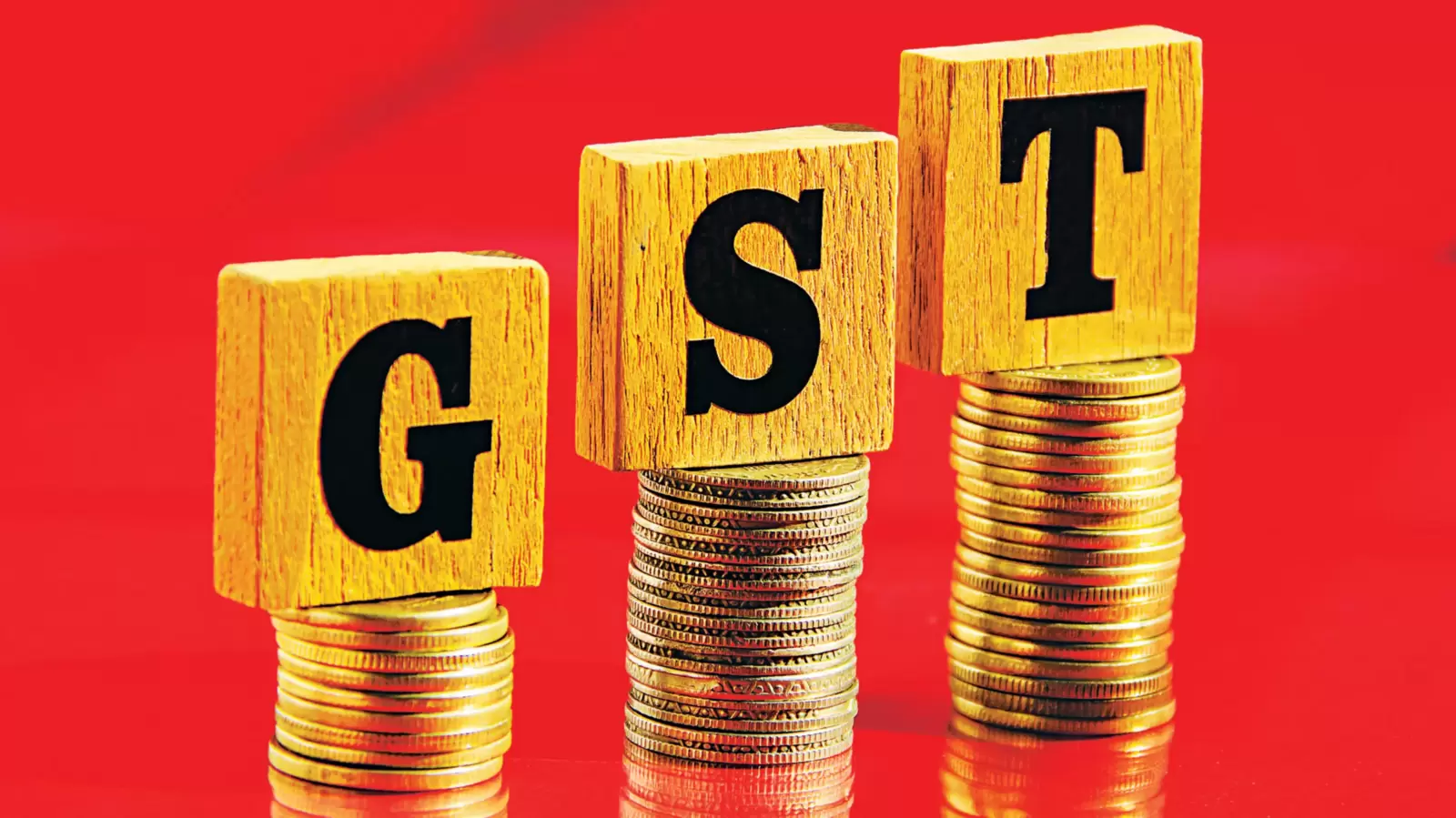 PTI | | Posted by Ritu Maria Johny
The GST collection in January surged to over ₹1.55 lakh crore, the second highest-ever mop-up, the finance ministry said on Tuesday.
"The gross GST revenue collected in the month of January 2023 till 5:00 PM on 31.01.2023 is ₹1,55,922 crore of which CGST is ₹28,963 crore, SGST is ₹36,730 crore, IGST is ₹79,599 crore (including ₹37,118 crore collected on import of goods) and cess is ₹10,630 crore (including ₹768 crore collected on import of goods)," the ministry said in a statement.
The revenues in the current financial year up to January 2023 are 24 per cent higher than the GST revenues during the same period last year.
This is for the third time, in the current financial year, GST collection has crossed ₹1.50 lakh crore mark. The GST collection in January 2023 is the second highest next only to the ₹1.68 lakh crore gross mop-up reported in April 2022.
"Over the last year, various efforts have been made to increase the tax base and improve compliance. The percentage of filing of GST returns (GSTR-3B) and of the statement of invoices (GSTR-1), till the end of the month, has improved significantly over years," the ministry said.
In the October-December 2022 quarter, a total of 2.42 crore GST returns were filed till the end of the next month compared to 2.19 crore in the same quarter of the last year. This is due to various policy changes introduced during the year to improve compliance, it added.