Birthday Boy Sidharth Malhotra plays rapid fire, answers interesting fan questions | Bollywood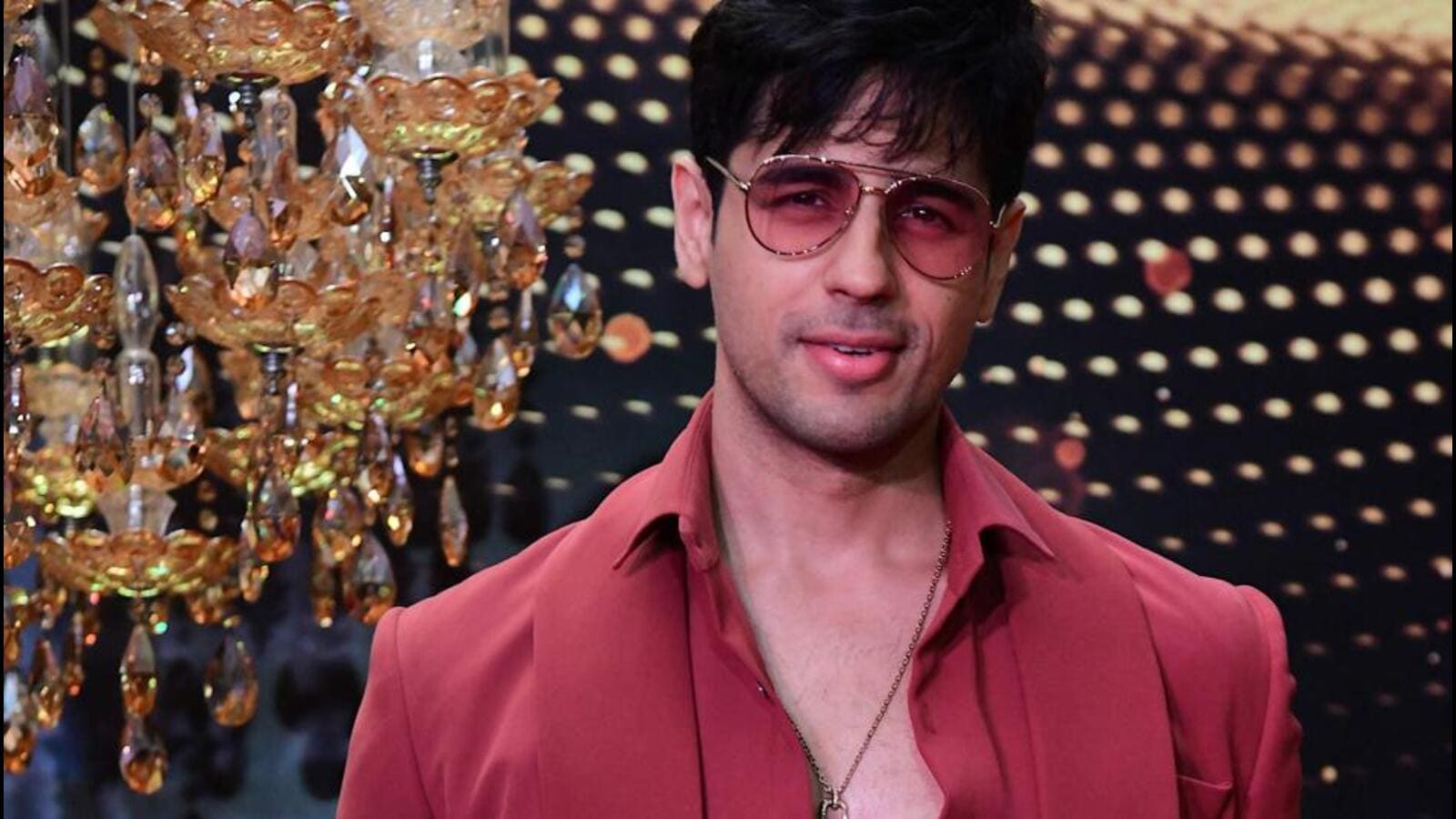 The kind of fandom Sidharth Malhotra enjoys is unmatched! His loyal fanclubs never miss an opportunity to ask their favourite star questions that let them know him better. As Sidharth turns 38 today, we have a little something to make his fans happy. As it had been quite sometime since the actor did an #AskSid session on Twitter, we asked him to answer some fan questions that we had received on TRwitter during a recent interview with HT City. Check out how Sidharth spilled the beans in this rapid fire round…
Three things on your bucket list for 2023
To do a superhero film or a play a superhero character. Maybe produce a film, or get involved more than just an actor on a project. And third maybe take up some interesting project, internationally.
What's next after Mission Majnu, Yodha and Indian Police Force?
There's something very interesting brewing up, which is in the pipeline, but as and when we have the correct title, we will make the announcement.
Have you and Disha Patani performed action together in Yodha?
Yes! Disha is someone who loves action genre, which I realised during shooting Yodha, and people will be very happy to know that she's done some really cool moves and action bits in the film.
When are you doing an intense romantic film, an out-and-out love story?
Oh, actually that's number four on my bucket list this year (laughs). I'm with my fans on this, and as I said, we'll make it soon… it's all in the pipeline, hopefully soon, we will let everyone else know.
You've slowed down in your film promotions post-pandemic. Why aren't you more active on social media.
Or really? They're finding a difference in me pre and post pandemic! Not at all. There's more energy being put into content development or working on a project to make it more polished and certain level in quality, as my endeavour is always to contribute to my movies. But, thank you for reminding me, I'll do a quick chat on social media soon.
When would you be back with stubble or full grown beard?
They should ask (filmmaker) Mr. Rohit Shetty for that. Indian Police Force is a massive show, so we're taking a while to shoot at different locations and different sets. So, whenever my fans see me in the recent months, it's all thanks to Rohit sir and the IPF look. We still have more shoot left and this year we'll finish, and then people will see me in a different avatar.
We loved your chemistry with Shraddha Kapoor in Ek Villain. Would you team up with her for Malang 2?
Oh, wow, I like that they're now asking me for specific films. It's so exciting to see their level of excitement and love into it. Well, I don't know what Malang 2 is about but Shraddha for sure. Whenever we meet, we've always spoken about doing a film or project together. Now, it's up to a director to come up with a film and a story that both of us feel extremely excited about.
After Shershaah, are you and Kiara Advani doing director Shashank Khaitan's next?
Hahaha, as I said, all in good time. We want to make a certain announcement, in a proper way. As and when all the things are in place, it will be announced. So far, I think I have enough and more for my audience with a busy 2023, with three different big projects coming up.
If a remake has to be made, which Amitabh Bachchan film would you want to do?
I am a big Mr Bachchan fan. It's so funny that you talk about him because this is the first time in Mission Majnu that I get to portray a character which is from the '70s. So, our references for silhouette of shirts and pants were a lot from Mr Bachchan's earlier body of work. Not that I have tried to emulate him but I feel he's a true hero and star in the action zone. It's actually very difficult for me to pick any one film. I love them all from The Great Gambler, Zanjeer to Deewar, Kaalia and more. With Mission Majnu, I have lived little bit of his times, his look and his era in my head.
Interact with the author on Twitter/@monikarawal
Athiya Shetty gets a sweet kiss from hubby KL Rahul at after-party. Watch video | Bollywood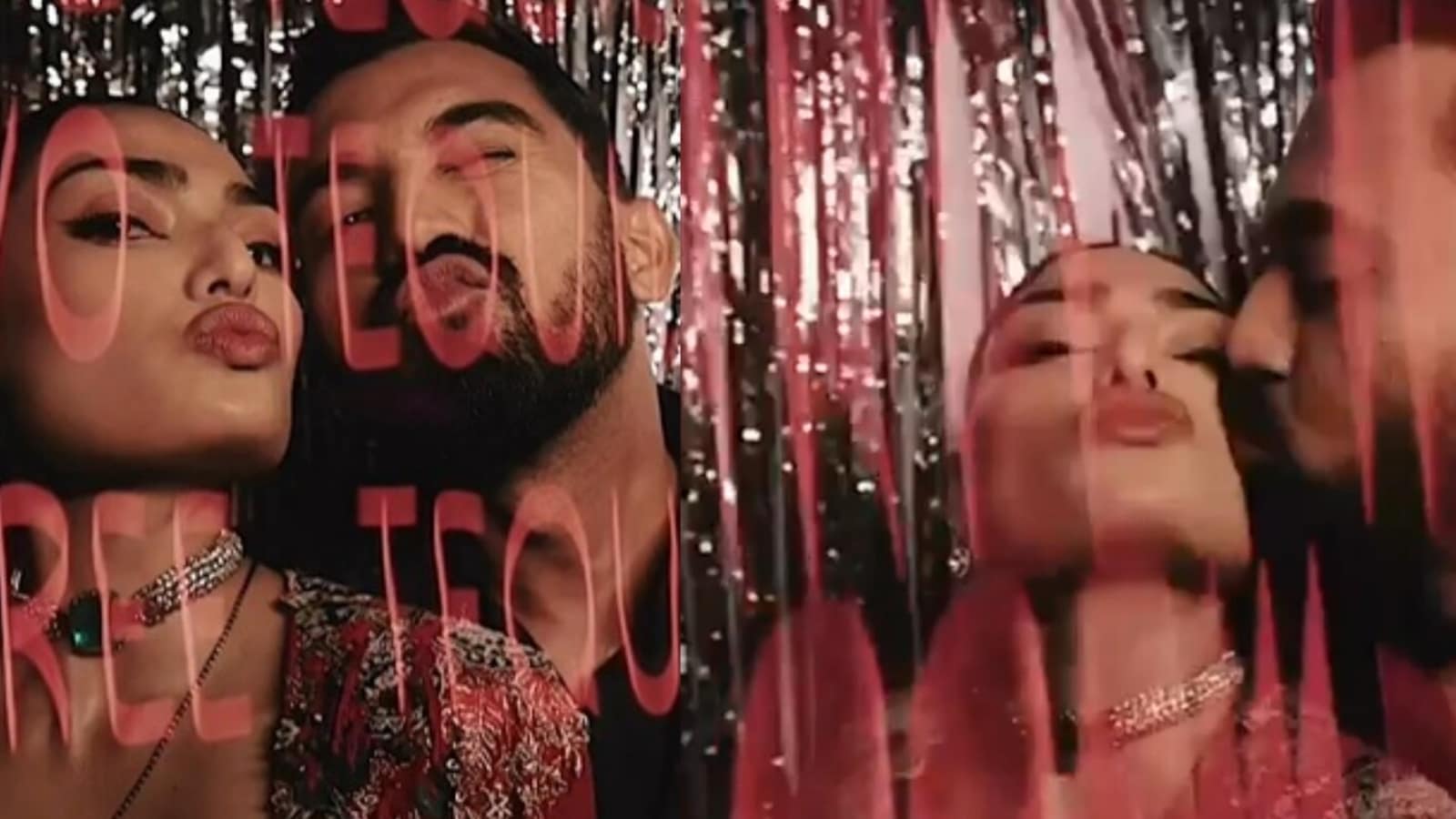 Newlyweds Athiya Shetty and KL Rahul had a blast at their wedding after party and a new video has surfaced. The couple tied the knot on January 23 at Suniel Shetty's Khandala house. In the new video, the couple is seen planting sweet kisses on each other's cheeks. Also read: Athiya Shetty, KL Rahul spotted on dinner date for first time after wedding
The video clip consists of several photos featuring Athiya and Rahul at a photo booth. The two posed with different expressions and were seen goofing around with each other.
In one of them, Rahul placed an adorable kiss on Athiya's cheeks. She also did the same in another one. While Athiya wore a maroon traditional dress in the photos, Rahul sported a black sequined outfit. The actor also sported a minimal mangalsutra.
The video has been shared by the celebrity wedding planner, Shaadi Squad who arranged Athiya and Rahul's D-day. Sharing the video, their caption read, "One Tequila, Two Tequila, Three Tequila Floooor!! Best after party with the best peeps dancing the night away on the best beats."
Later, KL Rahul too shared the video but ditched the caption. Reacting to it, Athiya's best friend Anushka Ranjan wrote in the comment section, "Loooove." "Kisi ki Nazar na lge aap dono ko (May God protect you from evil)," added a fan. "You both are always my favourite," another one mentioned.
KL Rahul and Athiya Shetty got married last week after dating for several years. Their wedding ceremony was an intimate affair, with less than 100 guests, including family members and close friends. For the pre-wedding festivities, the house was decorated with white flowers. It changed to a marigold theme for the haldi ceremony.
The couple made their first public appearance as husband and wife on Monday, days after they had posed for the paparazzi on their wedding day. Suniel told the media the couple's wedding reception will be held after the Indian Premier League (IPL) season, most likely in Mumbai.
Talking about his son-in-law, Suniel said in a post, "Despite having the adulation of the nation, Rahul remains humble. He's well mannered, intelligent, & extremely composed. Mana & Rahul are a riot together! Most importantly, like all athletes, he's seen ups & downs – which is something that will help him long after he's done with cricket. Athiya is blessed to have found such a loving family, because his parents are really just the nicest people." Athiya was last seen in Motichoor Chaknachoor (2019), co-starring Nawazuddin Siddiqui.
Jawan director Atlee, wife Priya become parents to baby boy: We loved you from…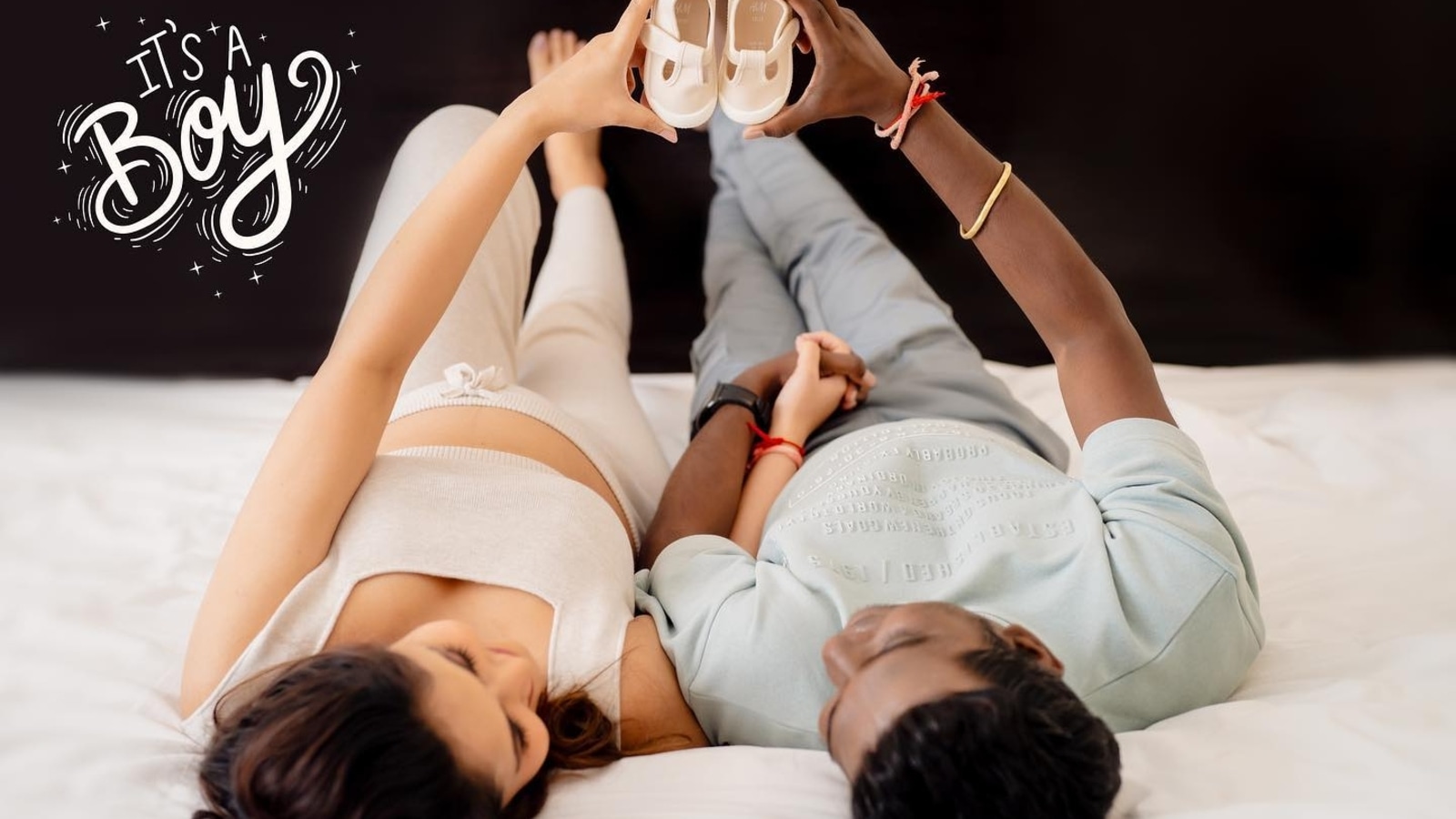 Jawan director Atlee Kumar and his wife Priya Mohan have revealed that they have become parents to a baby boy. Taking to Instagram on Tuesday, Atlee and Priya shared a joint post announcing the birth of their first child. The couple also posted two pictures. (Also Read | Vijay attends Atlee's wife's baby shower. Watch)
In the first photo, Atlee and Priya lay on a bed as they each hold tiny shoes in their hands. The duo looked at each other as they smiled. The words 'it's a boy' was written on the photo. The next photo showed the duo smiling for the camera. They also held each other while twinning in cream outfits for a photoshoot.
The couple captioned the post, "They were right (heart eyes emoji). There's no feeling in the world like this (black heart emoji). And just like tat our baby boy is here! A new exciting adventure of parenthood starts today! Grateful. Happy. Blessed. (hug, black heart and folded hands emojis)."
Reacting to the news, celebrities as well as fans congratulated the couple. Actor Samantha Ruth Prabhu wrote, "Congratulations my loves." Actor Kalyani Priyadarshan said, "He is going to have so much love surrounding him. Congratulations." A fan commented, "Congratulations darling @priyaatlee welcome to motherhood. God bless." "Awwwwwww congratulations darlings," said an Instagram user.
Taking to his Instagram Stories, Atlee posted a video also featuring Priya. The clip ended with the words, "Little boy, we loved you from the very start, you stole our breath, embraced our hearts. Our life together has just begun, you're a part of us, cute little one. Welcome more…"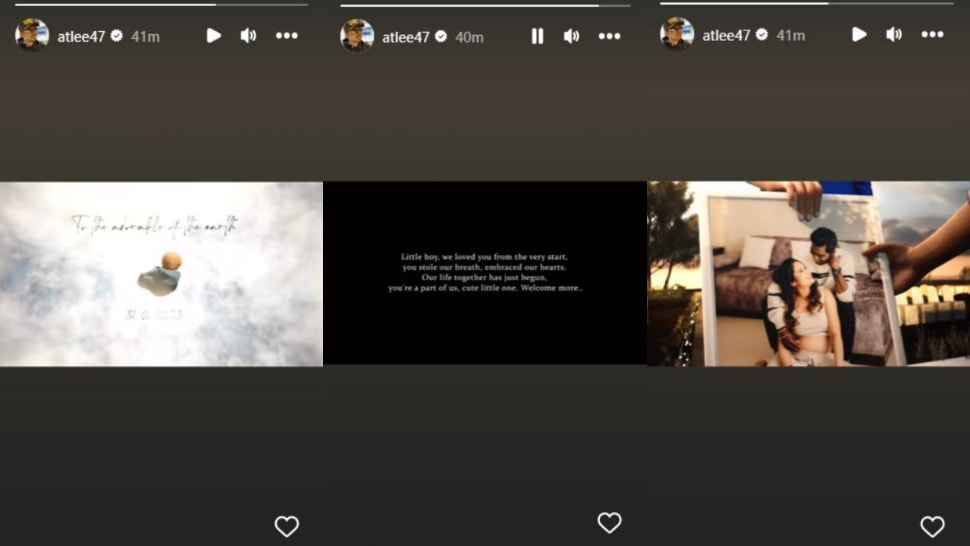 In December, Atlee announced Priya's pregnancy. On Instagram, Atlee shared pictures with Priya from her pregnancy photoshoot. A note was also added to the photo and it read, "Happy to be sharing that our family is growing. Yes! We are pregnant. Need all your blessings and prayers throughout this wonderful journey of ours. With love Atlee, Priya and Becky." Atlee captioned the post, "Happy to announce that we are pregnant need all your blessing and love. Wit love Atlee & Priya Pc by @mommyshotsbyamrita."
Known for helming Tamil films such as Raja Rani, Theri, Mersal, and Bigil, Atlee will make his Bollywood debut with Jawan. The film stars Shah Rukh Khan, Nayanthara, and Vijay Sethupathi among others. It is set to release on June 2 this year. It is produced by Shah Rukh's production company Red Chillies Entertainment. It will release worldwide in Hindi, Tamil, Telugu, Malayalam and Kannada.
ott:10
Nawazuddin Siddiqui, his family gave 'no food, bathroom' to actor's wife: Lawyer | Bollywood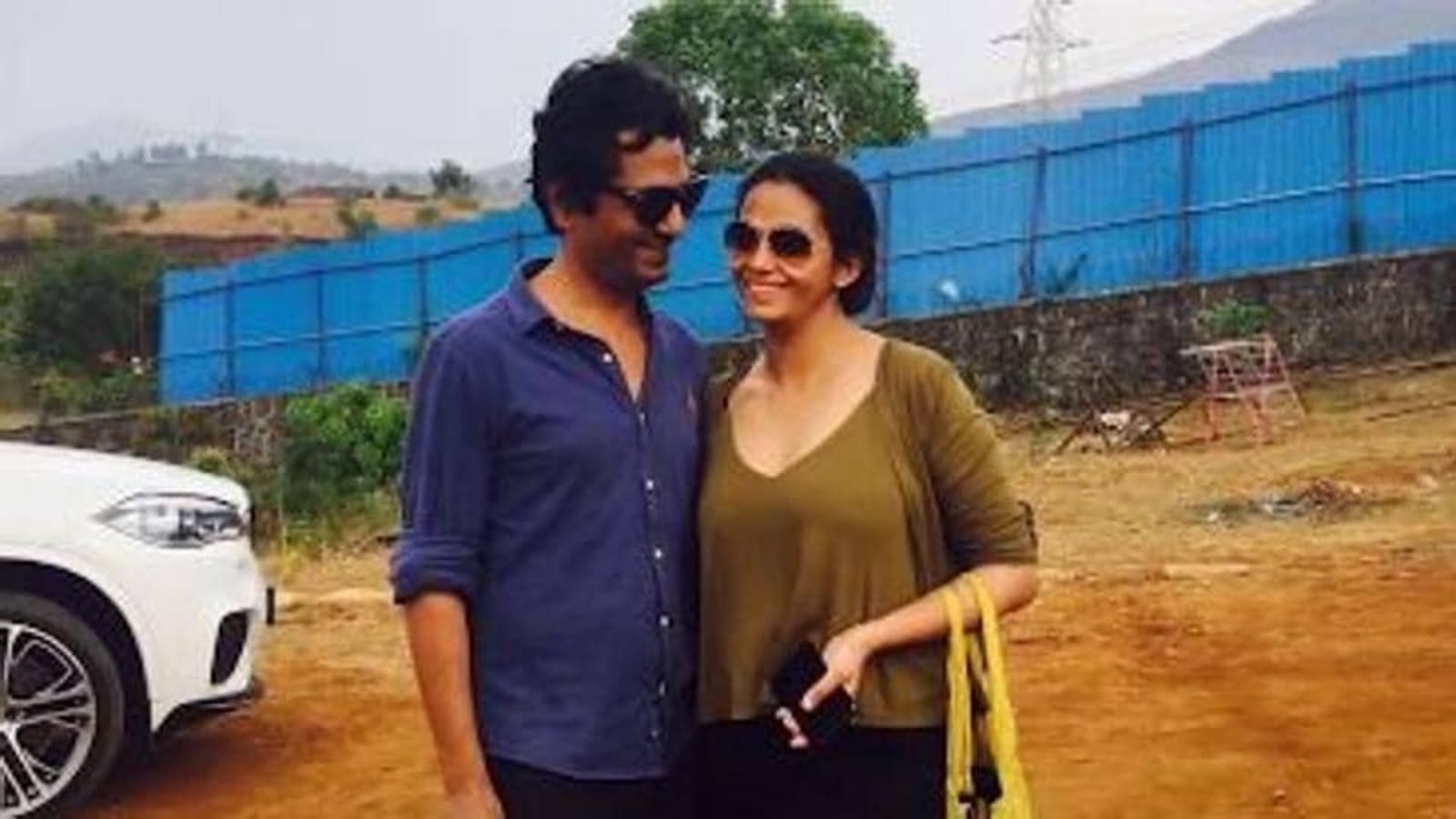 The advocate of Aaliya Siddiqui, wife of Nawazuddin Siddiqui, has alleged that the actor and his family members haven't provided 'food, bed, bathroom to take bath' to his client in the last week. In a statement, Rizwan Siddiquee said, "Mr Nawazuddin Siddiqui and his family members did everything possible to remove my client Mrs Aaliya Siddiqui from the house. They filed an untenable criminal complaint of trespass against her. Thereafter, through the police they threatened to arrest her and were calling her each day to the police station, after sunset." (Also Read | Nawazuddin Siddiqui's wife Aaliya feels 'trapped' inside actor's house after FIR against her)
"Whilst, I do not want to directly attribute the actions and the failures of the police department to them, yet the fact remains that no police officer ever came to protect my clients rights, even when her modesty was insulted before the police officers. Not only her relationship with Mr Nawazuddin Siddiqui was questioned before the police officer, but even the legitimacy of the minor son was questioned. Yet the police officer did not act on the written complaint given by my client under Section 509 of IPC," the advocate added.
"Mr Nawazuddin Siddiqui and his family members have in the last seven days ensured that no food, no bed, and no bathroom to take bath is given to my client. They have even posted innumerable male bodyguards all around my client and further installed CCTV cameras in the hall, where my client is currently staying with her minor children," he continued.
"To add to all of this, they even ensured that I do not obtain any signatures of my client to file appropriate court cases against Mr. Nawazuddin Siddiqui and his family members. Despite being stopped and threatened at multiple levels and no police officer coming to the aid of my client, me and my team managed to obtain signatures of my client for the court cases. Accordingly, multiple cases are being filed in the courts now," the advocate concluded.
Last week, Aaliya claimed that she was being harassed at her home after Nawazuddin's mother filed a complaint against her over property dispute. Aaliya is currently staying at Nawazuddin's Andheri house. Aaliya reportedly returned from Dubai with her kids, Yaani and Shora, due to passport issues.