'The Bloodline are not ready for us': Rhea Ripley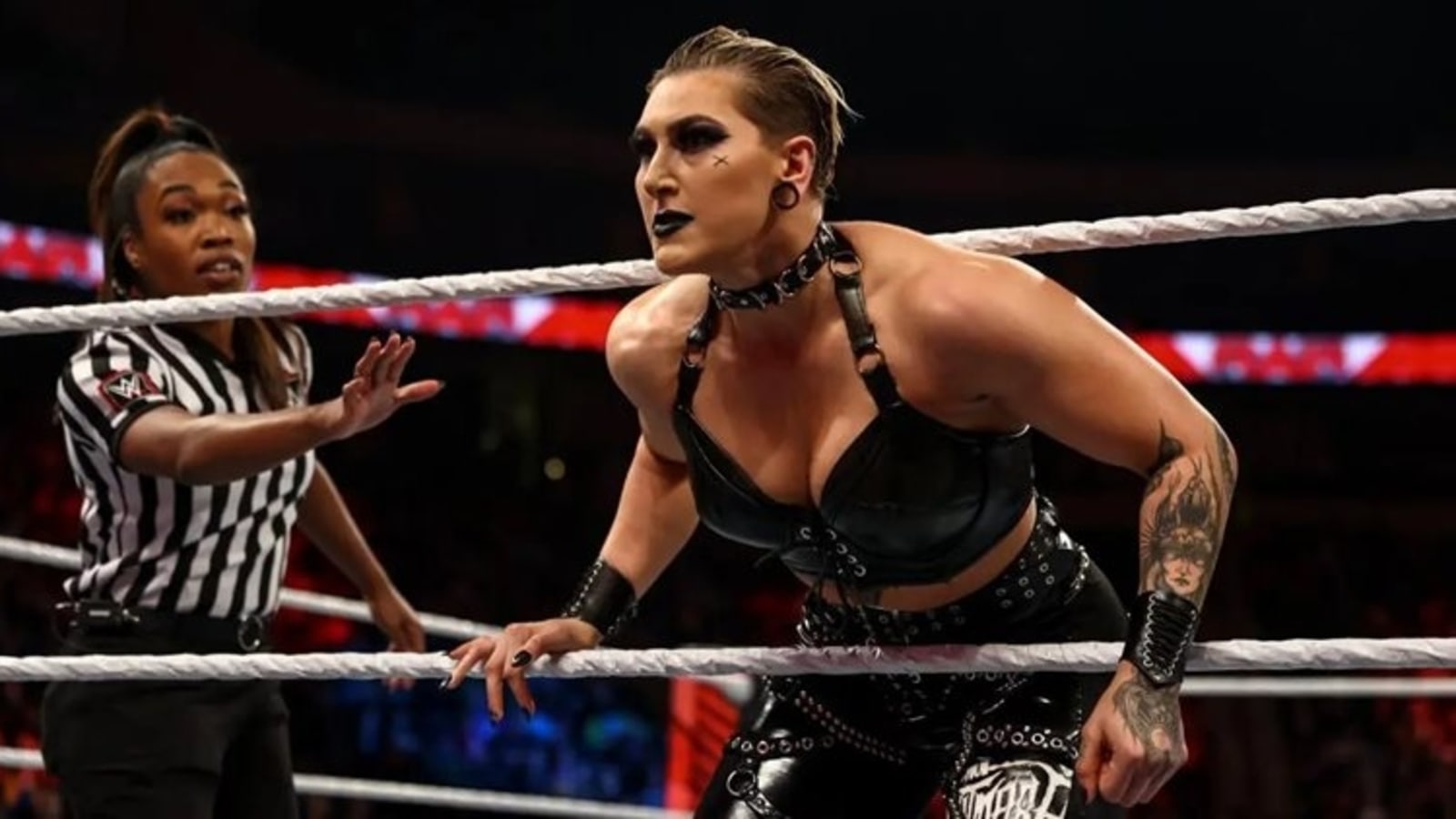 WWE has seen many alliances and the ones, who have been ruling the SmackDown and Raw charts, are The Bloodline, headed by the Tribal Chief Roman Reigns and The Judgement Day. They have been ruthless, destroying one superstar after the other, and it has led to a debate among the fans online on which is the stronger between the two. While they are yet to faceoff inside the ring, Rhea Ripley, one of the key members of The Judgement Day, has already passed her verdict.
Rhea was in India for WWE promotion last week, where she made a bold claim, stating The Bloodline are not ready for her and teammates. "I think The Bloodline are not ready for us. They are underestimating us and our capabilities. They don't think that we can step to them and be on the same level, and that's something that they're gonna regret."
While Rhea could be right, given the powerhouse The Judgement Day has shown, but taking down The Bloodline won't be a walk in the park. However, Rhea insists The Judgement Day has "got many tricks up their sleeves and they're (Bloodline) gonna find out real soon."
Also Read | 'No Holds Barred': Bobby teases idea of third Lashley vs Lesnar showdown
If we focus on Rhea solely, the superstar has been projected as one of the fiercest members in WWE at present. She goes by the name Eradicator and has been doing the same. The scathing attack on WWE Hall of Famer Edge's wife Beth Phoenix is one of the many examples. "I'm enjoying every single second of it. I legit go out there and I just have fun. I'm just myself and I think you can see that when you watch it. You can tell that I'm just going out there and I'm just living in the moment, and I think that's a cool thing about what I'm doing at the moment.
"Plus, I get to step in there with the men and I show them that us women we're strong too and we can handle ourselves. So it's a cool little evolution there for the women's division. But I am enjoying every single second of it, and I want to see how far I can push it," Rhea said as she reflected on her current run in Raw.
Apart from her brute power, another storyline, which has got the fans hooked is Rhea's chemistry with Dominik Mysterio, son of Rey and a member of The Judgement Day. "My chemistry with Dom, Dom; it sort of just clicks. We didn't really talk to each other too much before I showed him the light, and I showed him his potential without his father. It's funny how our relationship sort of started, I was targeting him for a while because I thought he was weak, but then he showed all of us exactly how strong he truly is by taking out Edge, taking out Rey, and just choosing his own path and getting out of his father's shadow, which is all that we really wanted to see from him. So seeing him grow every single week has been a highlight of mine and he makes me proud every single Monday.
"Our chemistry kept growing and growing and growing, and that's what you see today. Like it was just meant to be," she said.
Rhea, who is open to the idea of featuring in Men's Royal Rumble, also expressed her desire to square off against Dominik's father and WWE legend Rey Mysterio. "I would love to step in the ring with Beth Phoenix if she were to come back after I put her out. If she makes her way back into the WWE and back into the ring, I would love to step in the ring with her and have a match and put her out again. But apart from her, I'm always down to throw Rey Mysterio around as well.
"I'm down for it. We'll see if it gets booked that way. We'll see if he's down for it. But if he's not, that means he's a little bit of a chicken, doesn't it?"
Rhea will be one of the top contenders taking part in the Women's Royal Rumble and she is confident of finishing as the last member standing in the ring. "The goal is to win the Royal Rumble. I've had matches with pretty much everyone that I know is gonna be in it. Of course there's gonna be wild cards and I don't know who they're gonna be, but I'm in it to win it. I don't care what number I come in. I am gonna make it to the end and I'm gonna throw absolutely everyone out. I'm gonna get my golden ticket to WrestleMania.
"I'm gonna take on either Charlotte or Bianca or whoever the hell is the champion at that current time," she signed off.
Leading Mexico players snub Davis Cup tie over differences with federation | Tennis News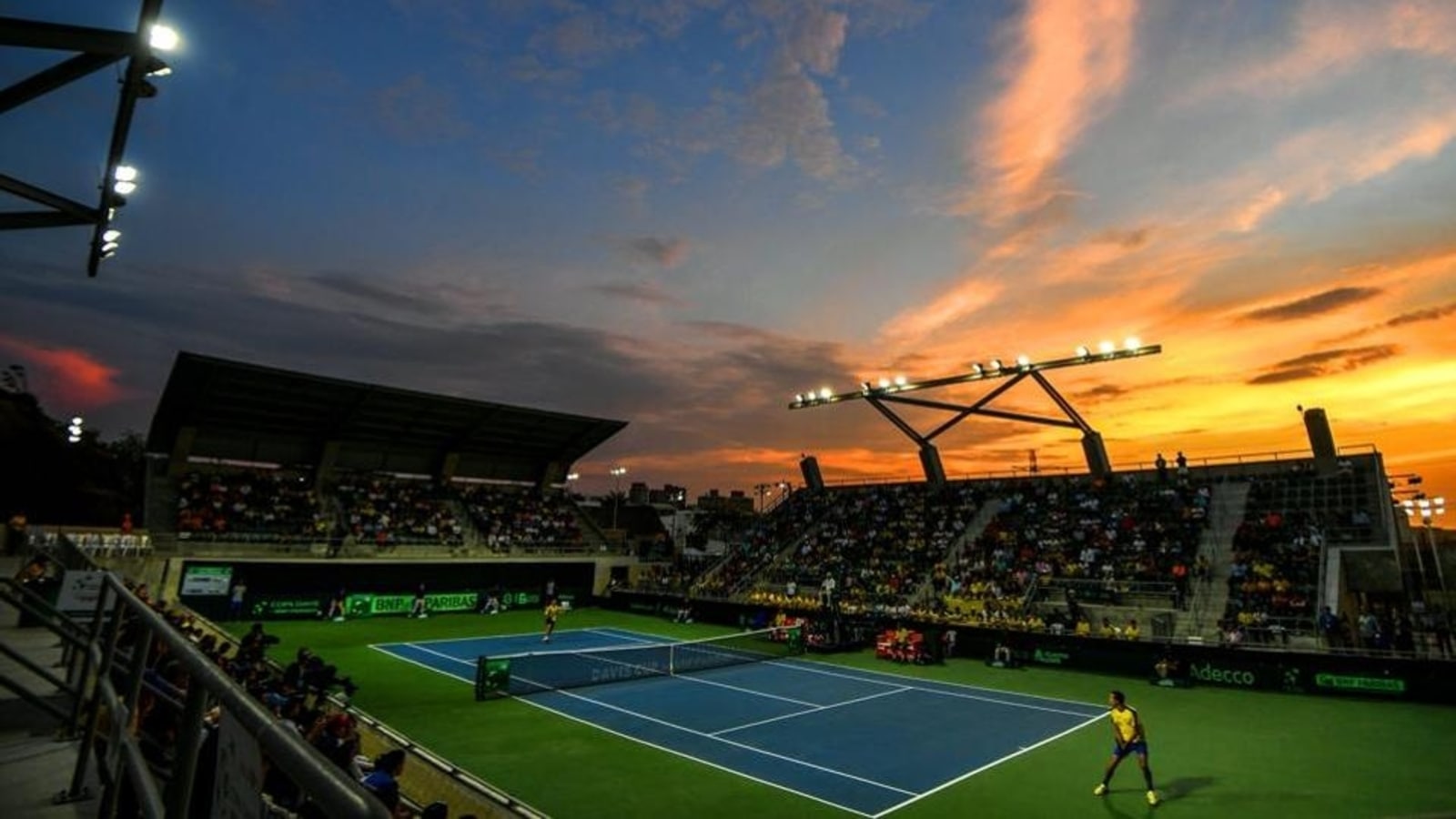 Mexico's leading tennis players have decided not to play in next week's Davis Cup World Group playoff tie against Taiwan due to differences with the Mexican Tennis Federation (FMT).
Led by Santiago Gonzalez, Alejandro Hernandez and Miguel Angel Reyes-Varela, the players said they will not take part in the Feb. 4-5 Group I playoff tie in Metepec, State of Mexico.
"After a difficult deliberation, we have not reached a positive conclusion, so we have decided not to participate in the upcoming series against the Chinese Taipei team," said the players' statement, published on social media on Monday.
"The lack of communication, lack of planning and lack of interest show that the situation has not been handled in the right way and that personal interests have taken precedence over sporting ones.
"It is sad that the FMT does not have the minimum standards in dealing and planning with the best national representatives."
The players said they had already informed the federation of their reasons for not participating in the Davis Cup tie.
The statement was also signed by players Ernesto Escobedo, Lucas Gomez, Hans Hach, Gerardo Lopez, and Manuel Sanchez.
The FMT was not immediately available to comment.
West Ham set up Man United tie by beating Derby | Football News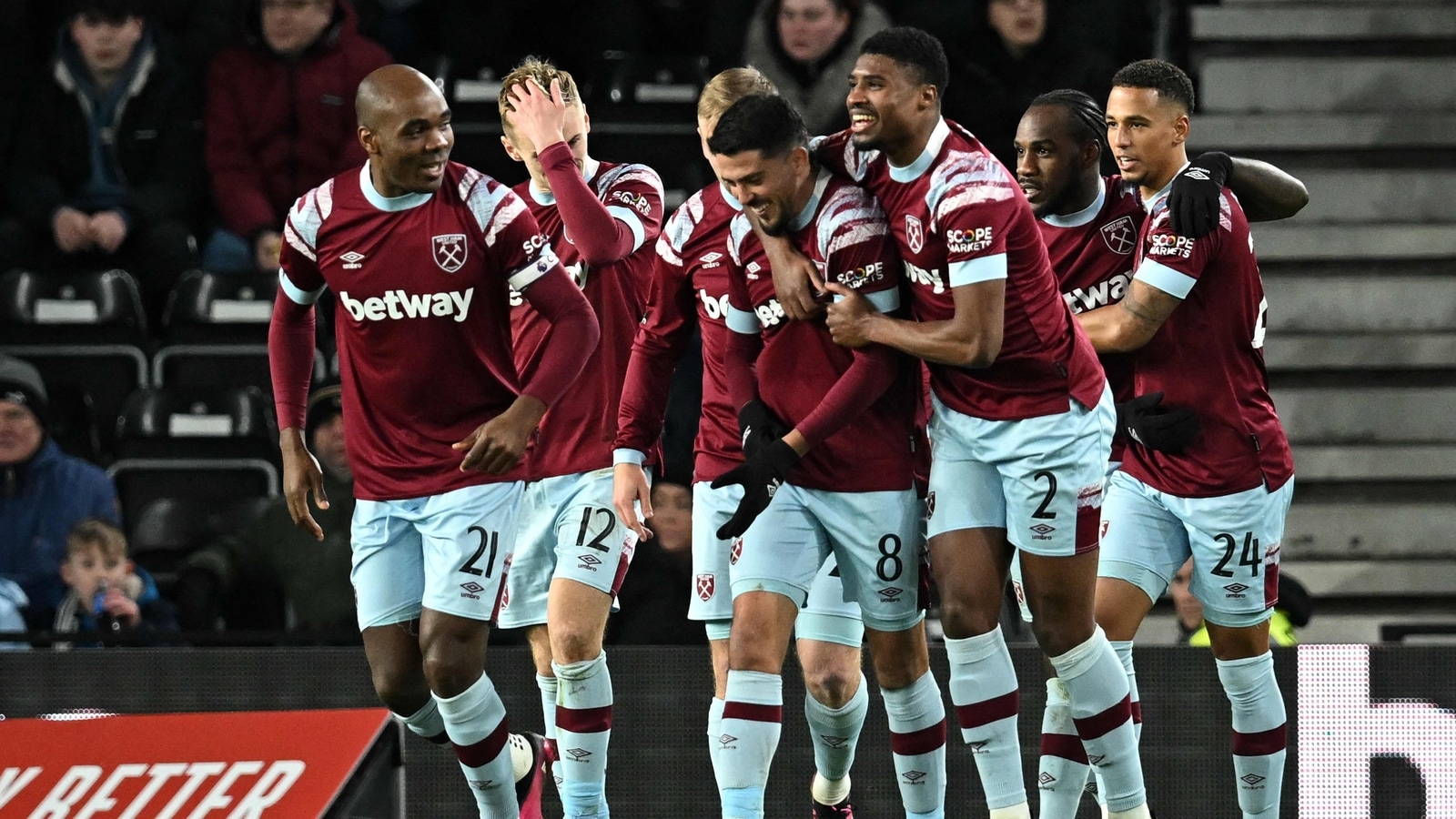 West Ham United eased into the FA Cup fifth round with a comfortable 2-0 victory away to third-tier Derby County on Monday to set up a meeting with Manchester United.
Derby, fourth in League One, went into the match on the back of 14 matches unbeaten in all competitions but were quickly overrun by the Premier League side, who took the lead in the 10th minute with a close-range volley from Jarrod Bowen.
Bowen went 12 matches without a goal before netting twice against Everton last week and now has three in his last two games.
The forward then crossed for striker Michail Antonio to head in a second goal five minutes after the interval to break his own goal drought stretching back to November.
David Moyes' side saw out the victory without conceding many chances, recording back-to-back wins for the first time since October, and Bowen said he hoped the win would boost his side, who are 16th in the table, one point above the relegation zone.
"Two wins on the bounce is good for us it's all about results and momentum and we can use this as a real springboard," he said.
Midfielder Pablo Fornals added: "Everyone knows it hasn't been an easy season so every game we can win gives us massive confidence.
"We work hard every day in training to get a chance and then you have to take it. That's what the players tried to do tonight."
Valencia sacks coach Gennaro Gattuso for poor results | Football News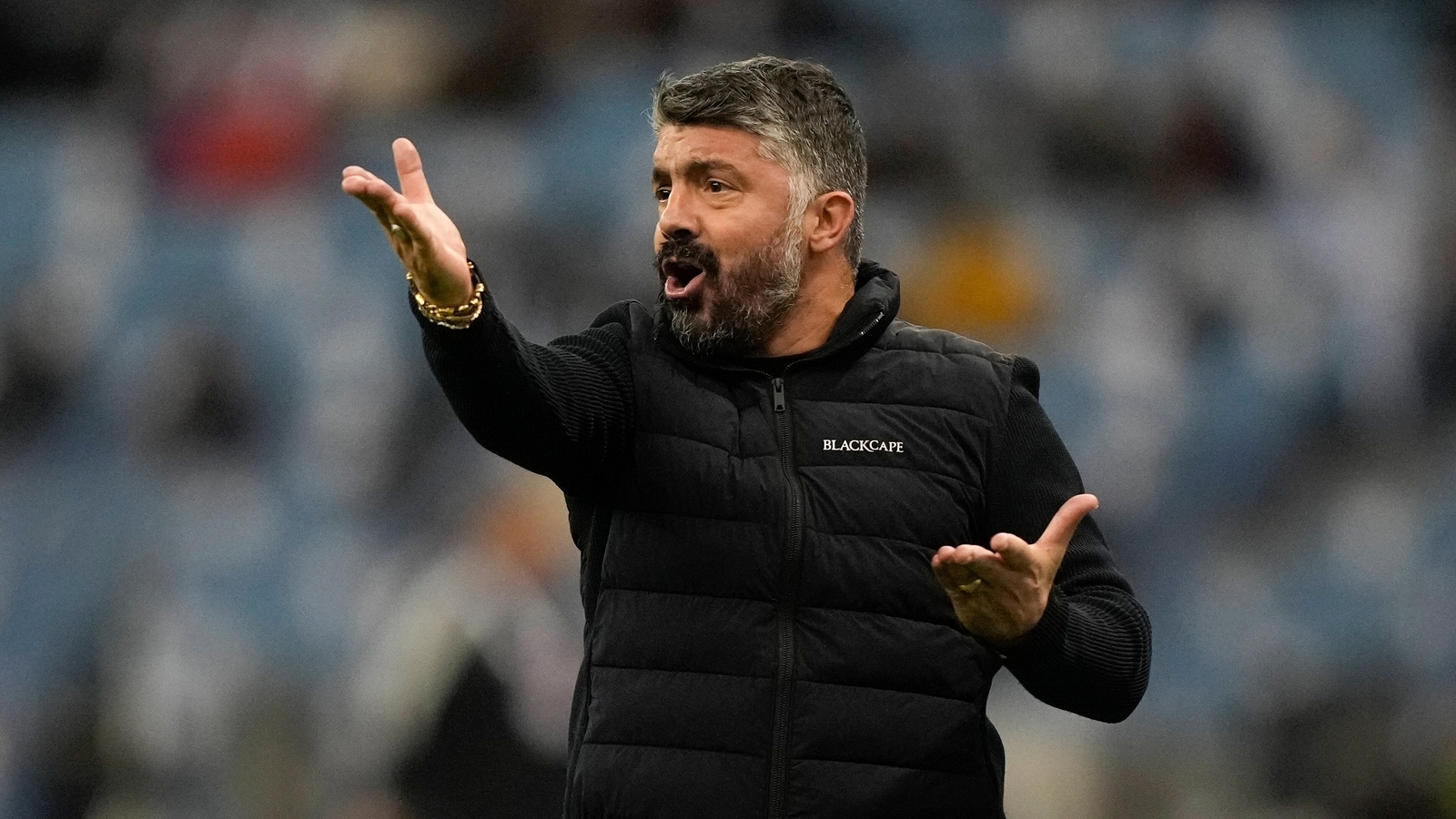 Spanish club Valencia sacked coach Gennaro Gattuso on Monday following the team's poor results.
Valencia said in a statement it reached a mutual agreement with Gattuso to end their contract.
The announcement came after a 1-0 loss at Valladolid in the Spanish league on Sunday. The club has won only one of its last 10 league games, before the World Cup.
The latest defeat dropped Valencia to 14th place, one point above the relegation zone.
Its only two wins this year came in the Copa del Rey, though it was eliminated in the quarterfinals by Athletic Bilbao at home last week. In the Spanish Super Cup, Valencia lost to Real Madrid in a penalty shootout in the semifinals.
The 45-year-old Gattuso arrived last June on a two-year contract.
The former defensive midfielder helped Italy win the 2006 World Cup and AC Milan win two Champions League titles, both as a player. He coached Milan and Napoli in Italy.
Valencia did not announce a replacement for Gattuso.